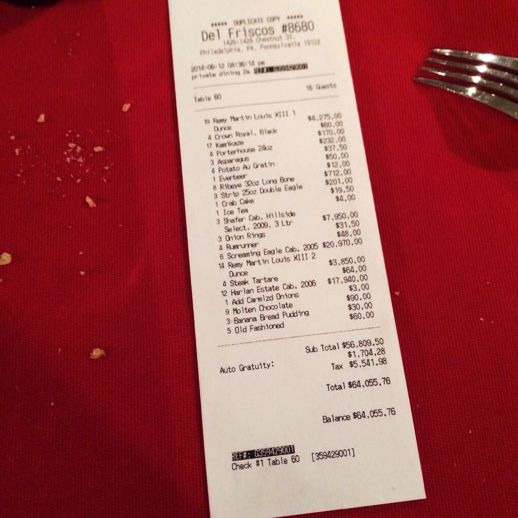 Well done.
Photo: evanmathis69/Twitter
All week, the sports world has been groaning after Lane Johnson, a 2013 Philadelphia Eagle draft pick, tweeted a $17,747.86 "rookie dinner" bill from Del Frisco's. So, understandably, Twitter was outraged last night when veteran teammate Evan Mathis countered with a Del Frisco's receipt for $64,055.76. Except, as with many fascinating receipt stories, this one wasn't what it seemed.
You can see the original:
It sparked outrage, but, alas, this morning, Mathis posted a new pic, this time with his camera pulled back a tad:
Last night was fun. Thanks for the great reactions. pic.twitter.com/WMNSXjM8WH— Evan Mathis (@EvanMathis69) June 13, 2014

We'll give Mathis this: The crumbs were a nice touch.
Eagles' Evan Mathis Admits Picture of $64,055 Dinner Bill Was a Joke [NJ.com]