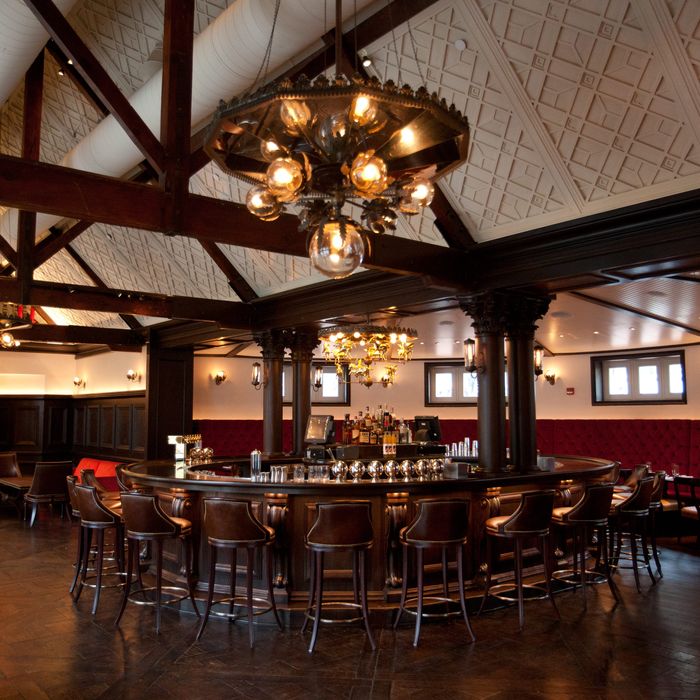 The Bar Room at Tavern on the Green.
Photo: Konstantin Sergeyev
Prefacing with "You may hear a few teaspoons of added regret when I say that it's not a good restaurant yet by any measure," New York Times food critic Pete Wells today files a no-star review of Tavern of the Green. A few weeks back, you may recall, New York critic Adam Platt also filed an overwhelmingly negative review of the New York City institution, which was recently revived after its untimely demise in 2009.
Platt wrote that the ceviche trio tasted like cleaning chemicals and the garden salad was something "you'd be served at a third-rate country club," then explained to Grub's Alan Sytsma why zero-star reviews should serve a purpose extending beyond slamming the establishment. In any event, Wells fared no better at the restaurant, and in particular has gripes with Katy Sparks's menu: "Prying tiny quail bones away from meat that was griddled until it was as dry as a week-old English muffin wasn't very wonderful," he writes. "Neither was the greasy scattering of mushrooms and gummy, flavorless farro strozzapreti baked under a mound of ricotta that had no idea it was supposed to act like a sauce." [NYT, Related, Related]