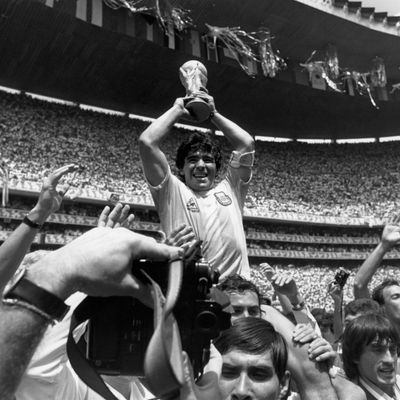 Maradona would definitely be excited about free beer.
Photo: Reuters/Corbis
The World Cup starts this Thursday, June 12, which is of course great news for fans of the beautiful game and possibly even better news for people who enjoy food and drink specials. Bars and restaurants all over New York will be celebrating the monthlong competition with a variety of viewing parties and match-related deals. (So even if you don't love fútbol, you can enjoy some free beer.) We've rounded up — and mapped — the best of the bunch, so you can find the ideal spot to plant yourself for the duration of the tournament.
Don Antonio by Starita
309 W. 50th St., nr. Eighth Ave.
The Special: Themed pizzas
The action at Don Antonio by Starita begins June 11, when it hosts a private kickoff party. Once the tournament officially begins, stop by this Hell's Kitchen pizza joint for commemorative World Cup special pizzas and cocktails.
Blaue Gans
139 Duane St., nr. West Broadway
The Special: Half-price beers, prizes
At Blaue Gans, it will pay to be fashionably early — those who show up 30 minutes prior to kickoff will get Bitburger beers at half price. After that, it will still be worth your while to stop by, as this German-Austrian restaurant will expand its food and drink menus to include international specials. It will also raffle off wunderbar prizes that may or may not include soccer tickets and a free dinner with wine pairings.
F.C. Gotham
409 W. 13th St., nr. Ninth Ave.
The Special: 28 HD TVs!
Things will get rowdy in the Meatpacking when this massive British-American sports lounge, inspired by the design of European homes — dark wooden paneling, vintage Oriental rugs, and big leather couches — screens the games on any one of 28 HD televisions. Just like the Royals would do it.
Distilled
211 West Broadway, at Franklin St.
The Special: Brazil's national cocktail
The sprawling restaurant and bar in Tribeca pairs screenings of the World Cup in Brazil with specially crafted cocktails made with cachça, Brazil's beloved spirit. Drink specials include Caiprinha, which is Brazil's national cocktail (made with Avuá Prata Cachaça, lime wedges, and sugar).
Ribalta
48 E. 12th St., nr. Broadway
The Special: Guacamole pizza
Ribalta in Greenwich Village will show every World Cup match on its 16-foot HD projector screen. Though the Naples-born proprietors are proud Italian soccer fans and have made a name for themselves with their Neapolitan-style pizzas, during June and July they nod to other World Cup countries with items like guacamole pizza in honor of Mexico, and a frankfurter and sauerkraut for Germany. Opening weekend festivities include a party with a Brazilian DJ (June 12), and Brazilian dancers (June 14).
Daruma-Ya
428 Greenwich St., nr. Vestry St.
The Special: Free beer
New to Tribeca, this izakaya's menu — featuring homemade soba noodles and modern Japanese specialties — is meant for sharing. The communal ethos will continue through the Cup, with free rounds of beer when either Japan or Team USA scores a goal.
Wa Bar
28 W. 32nd St., 2nd fl., nr. Fifth Ave.
The Special: Buy one, get one free drinks
The Korean gastropub will broadcast World Cup matches on eight HD televisions. During Korea's games, there will be halftime giveaways and buy one, get one free drink deals. Dollar oysters during happy hour and 25 cent wings on Thursdays make Wa Bar the place to cheer on everyone's favorite Korea.
Opia
130 E. 57th St., nr. Lexington Ave.
The Special: Champagne Thursdays
Call ahead for reservations: The games will occupy three separate rooms — all of which will be equipped with projectors — and the swanky restaurant will host Champagne Thursdays.
Bar Fogo
Fogo de Chão, 40 W 53rd St.
The Special: Capirinhas galore
If capirinhas are what you're after, the swanky mezzanine bar of the new Brazilian steakhouse hosts viewing parties featuring five (count them, five!) different versions of the drink, including a Bellini version with peach puree. Your mom will like it.
Boqueria
53 W. 19th St., nr. Sixth Ave.; 171 Spring St., nr. Thompson St.
The Special: Beer sangria
Both locations of Boqueria will show the games on multiple HD screens. Cheer on La Furia Roja while feasting on tapas (or their big-enough-for-two paella), and wash it all down with beer sangria.
Empire Steakhouse
36 W. 52nd St., nr. Fifth Ave.
The Special: Cocktails representing different countries
For the kickoff night, Empire Steak House will be offering a special Brazilian menu of deep-fried cassava, fried chicken, and more, as well as specialty cocktails representing the team's countries: the ubiquitous caipirinha and for Croatia a CROCKTail, with cherry Maraska, liquor Marascino, and anracin. It is apparently Croatia's first national cocktail.
Reserve Cut
40 Broad St., 2nd fl. nr. Exchange Place
The Special: Private rooms
Those interested in high-end viewing parties might consider Reserve Cut in the Financial District, whose private rooms feature big-screen televisions and will be available for World Cup parties of 16, 25, and 50 guests. Their menu is kosher and includes short-rib tacos, sashimi pizza, and signature steaks.
Cómodo; Colonia Verde
58 MacDougal St., nr. Houston St.; 219 Dekalb Ave., nr. Adelphi St.
The Special: Latin American foods
Latin American restaurants Cómodo, in Soho, and sister restaurant Colonia Verde, in Fort Greene, will show every game from Tuesday through Sunday. Try to stop by when a Latin American country is playing to sample food and drink specials.

Tonic East; Tonic Bar & Restaurant
411 Third Ave., at 29th St.; 727 Seventh Ave. nr. 49th St.
The Special: Reserved space for certain fans
These two massive venues feature giant HD televisions and beer taps by the dozen. The folks at Tonic in Times Square are supporting Germany, Argentina, and the Netherlands, and will reserve space for fans of those teams during their respective games, so wear your fandom on your sleeve — literally.
Croxley Ales; Croxley's Abbey
28 Ave B, nr. 3rd St.; 63 Grand St., nr. Wythe Ave.
The Special: 10-cent wings
Croxley attempts to differentiate itself from typical sports bars by not serving Bud, Miller, and Coors, but retains some semblance of convention, with ten-cent chicken wings (Mondays through Wednesdays, from 5 p.m. to 1 a.m.) and 19 televisions. There are now two locations in the city to choose from (and three on Long Island).
The Monro
481 Fifth Ave., at 11th St., Park Slope
The Special: $5 Happy Hour drinks
At this Liverpool-supporting football pub, you can watch the game or play their own, with a selection of board games. Snacks include classic British foods like pork pies and crisps, with deals like $5 Carlsberg's, drink specials during happy hour, and shot specials during England's games.
Hecho en Dumbo; Sembrado
354 Bowery, nr. E. 4th St.; 432 E. 13th St., nr. 1st Ave.
The Special: Two-for-one tacos
If you find yourself in the East Village check out Danny Mena's Mexico City-inspired restaurant, Hecho en Dumbo, or his taquería, Sembrado. Both venues will display every game, though you'll be able to see the action on a slightly bigger screen at Hecho — ten feet as opposed to a mere seven at Sembrado. Promotions include two-for-one tacos ($2.50), and don't forget to enter Hecho's bracket contest: First prize is a party for you and 40 friends.
Woodwork
583 Vanderbilt Ave., at Dean St.
The Special: $15 for six beers
Year-round, Woodwork is Brooklyn's marquee soccer bar, so it's unsurprising that the first thing one sees when they log onto the Woodwork website is a clock ticking down the time until the 2014 Cup. This is a bar for soccer fanatics — where else will you be able to watch MLS games in between the national battles? — but anyone can enjoy their Fuckit Bucket ($15 for 6 of their $3 beers) and awesome menu. (It includes snack bacon. Snack bacon!)
Bogata Latin Bistro
141 5th Ave., nr. St. John's Pl., Park Slope
The Special: Happy Hour
With a Colombian Sampler of Fritanga and Empanadas, Aguila (Colombian beer) at $4 a bottle, and an addition of three flat screens to its patio, Bogata Bistro will be the place to cheer on Los Cafeteros. Plus, happy hour until 5 p.m. every day (and longer on Monday through Friday).
La Fusta
8032 Baxter Ave., at Layton St., Elmhurst
The Special: Free sangria
Founded in 1971, La Fusta is New York's oldest Argentinian restaurant and home to one of the city's best steaks. Stop by when the Argentinians play and receive a free pitcher of sangria.
O'Lavrador
138-40 101st Ave., nr. Cresskill Pl., Jamaica
The Special: Sangria Sundays: $5 goblets, $10 half pitchers, and $15 full pitchers
On June 22, the three day Saint John's Festival, held on 101st Avenue, comes to its conclusion. At 6 p.m., the party moves to O Lavrador, the Spanish/Portuguese restaurant and bar where the U.S. versus Portugal game will be on display on big screen televisions in O'Lav's two party halls and, weather permitting, on a giant, inflatable outdoor television.
Zum Stammtisch
6946 Myrtle Ave., nr. 70th St., Glendale
The Special: Free pretzels and sandwiches
Zum Stammtisch has a mean jaegerschnitzel, and their waitresses wear dirndls. If you need more incentive to travel to Glendale this World Cup, consider that the Lehner family's restaurant and bar will give out free pretzel rolls and leberkaese/cold cut sandwiches, as well as glassware, T-shirts, and other tchotchkes.