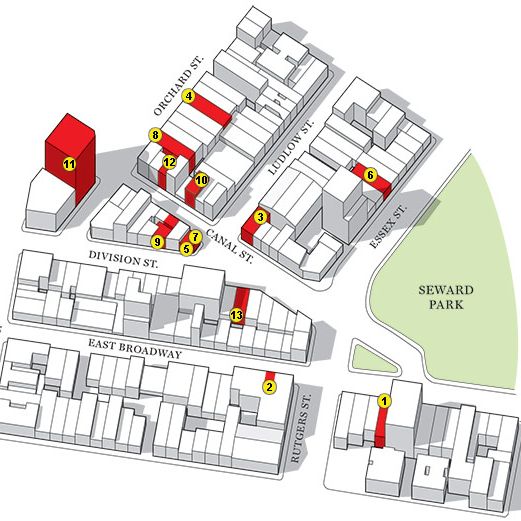 Photo: Illustration by Jason Lee
The wedge of Lower East Side real estate bounded by Allen Street on the west and Seward Park on the east, East Broadway on the south and Canal to the north, is an amalgam of cut-rate bus companies, Chinese dumpling factories, and 99-cents-plus stores, its oldest structures still inscribed with Hebrew lettering but long colonized by an ever-expanding Chinatown. Fifteen years ago, Good World Bar and Grill was a solitary, off-the-beaten-path pioneer of downtown cool at the foot of Orchard Street, serving up Nordic cuisine before it was New. Gentrification ensued, as it often does, in the form of third-wave coffee bars and Italian wine bars, multiculti bistros and upscale vegetarian restaurants. Lately, though, the pace has accelerated, with a flurry of new leases signed and the conversion of a neighborhood landmark, the Beaux-Arts Jarmulowsky Bank building, into a boutique hotel. Here, a few of the latest arrivals to the area and its environs, and some on the way.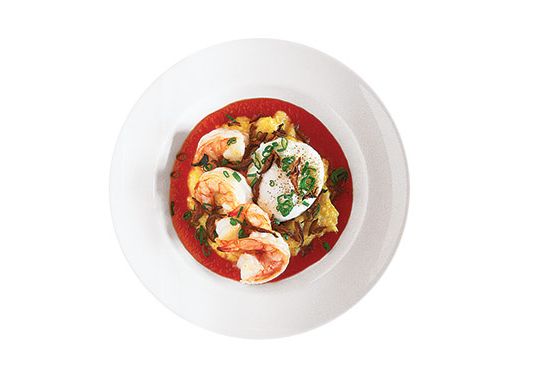 Photo: Sebastian Lucrecio
1. Rosette
171 E. Broadway, nr. Rutgers St.; 212-933-1176
At the latest in a line of vegetable-centric restaurants at this address, a parsnip "steak" shares chef Nick Curtin's menu with shrimp and grits and a burger.
2. 12 Corners
155 E. Broadway, nr. Rutgers St.; 646-717-2849
Nice little coffee bar and neighborhood social center with sponsored-sports-team trophies on the shelves and an owner-barista who used to work for Kobrick Coffee Co.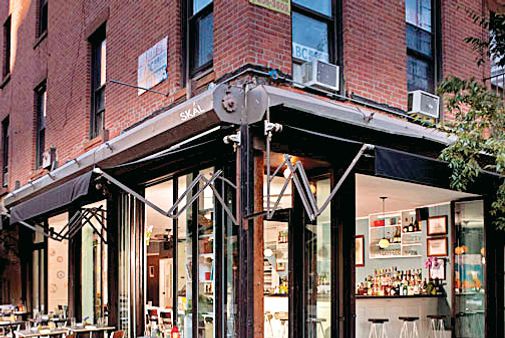 Photo: Bill Milne
3. Skál
37 Canal St., at Ludlow St.; 212-777-7518
Where once there was Afro-French (Les Enfants Terribles), now there is New Nordic.*
4. Fung Tu
22 Orchard St., nr. Canal St.; 212-219-8785
Beautiful, delicious, reimagined Chinese-American food from Per Se vet Jonathan Wu: duck-stuffed dates, pork-belly-and-olive-filled egg rolls, Chinese beef jerky with dill and peanuts—and that's just for starters.
5. Ludlow Inn
1 Ludlow St., at Canal St.; no phone yet; September
In the basement space below Three Points, Angel's Share veteran Shigefumi Kabashima will operate a similarly low-key cocktail bar.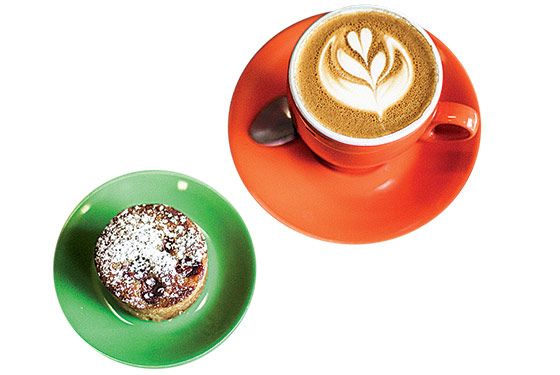 Photo: Alan Gastelum
6. Café Grumpy
13 Essex St., nr. Hester St.; 212-260-3454
Greenpoint-roasted coffee, offbeat house-baked pastries.
7. Three Points
1 Ludlow St., at Canal St.; no phone yet; September
Developer Ross Morgan renovated the building and plans, with partner Paul Italia and Numero 28's Luigi Porceddu, to open a Neapolitan pizza bar on the ground floor. The pies will be individual-sized and baked, along with most everything else, in the brick oven.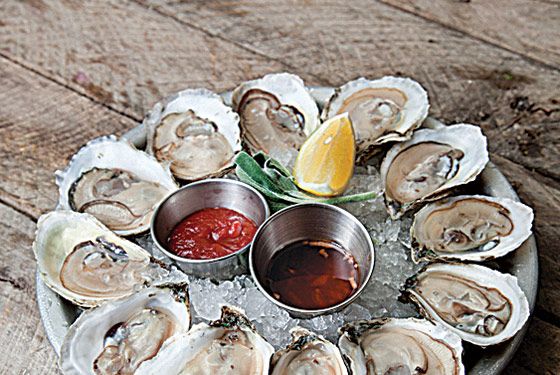 Photo: Courtesy of Leadbelly
8. The Leadbelly
14 Orchard St., nr. Canal St.; 646-596-9142
From the Fat Radish folks across the street, an oyster-cum-cocktail parlor crossed with a highly stylized live-music rec room, and the only place we know where it's possible to tuck into a Scotch egg while being serenaded by a dude on five-string banjo and foot tambourine.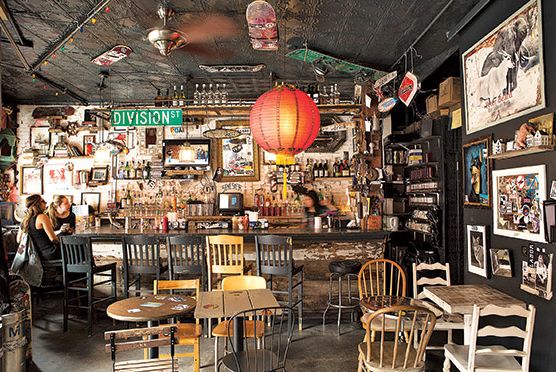 Photo: Jeffery Jones
9. Forgtmenot
138 Division St., nr. Ludlow St.; 646-707-3195
A ramshackle surf shack with the soul of a Greek diner, this tiny joint has become marginally less tiny after a recent expansion. Greek fries are the crowd favorite.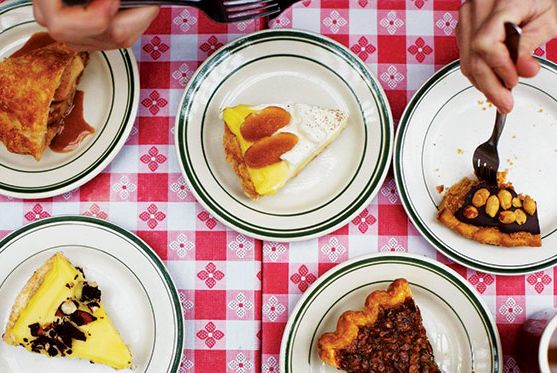 Photo: Winnie Au
10. Pies-N-Thighs
43 Canal St., nr. Ludlow St.; no phone yet; September
The southern-style kitchen has homed in on a block bereft of fried chicken and banana-cream pie. The new space is half the size of the Brooklyn HQ, but anyone who remembers the original P-n-T that operated in the back beer closet of Williamsburg's Rock Star Bar knows this is no cause for alarm.
11. Forthcoming Hotel Project
9 Orchard St., at Canal St.; no phone yet; 2015
Opened in 1912 as the Jarmulowsky Bank, this 12-story landmark is undergoing a renovation by local architect Ron Castellano that will restore its dome spire and preserve as much original detail as possible. No official confirmation, but Ace Hotel and Taavo Somer are rumored to be involved.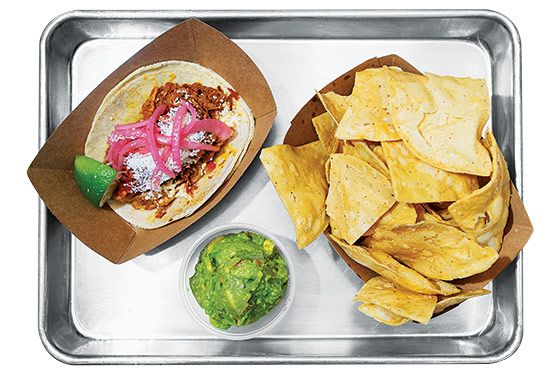 Photo: Gabrielle Plucknette
12. Cochinita Dos
49 Canal St., nr. Orchard St.; 212-226-8226
L.A. expat Adam Frank, a self-described gringo preaching the taco gospel, has brought his Clinton Hill taquería concept across the river in hopes of converting
a few East Chinatownies. As in Brooklyn, the Yucatán specialty cochinita pibil (citrus-marinated, slow-roasted pork) is the thing.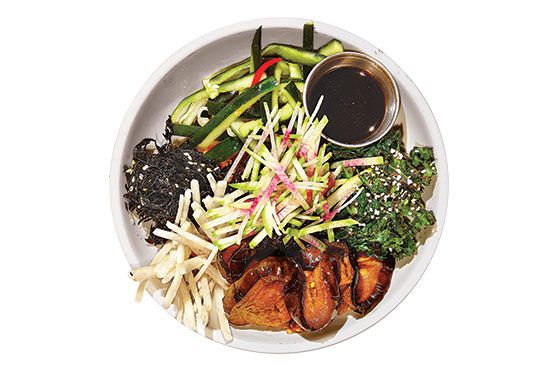 Photo: Bobby Doherty/New York Magazine
13. Dimes
143 Division St., at Canal St.; 212-240-9410
L.A.-vibed, adobe-walled haven for rice-bowl-munching stylists and the skate punks who love them.
This article appears in the June 2, 2014 issue of New York Magazine.
*This post has been updated to reflect the fact that Ben Spiegel's role at Skál has changed.