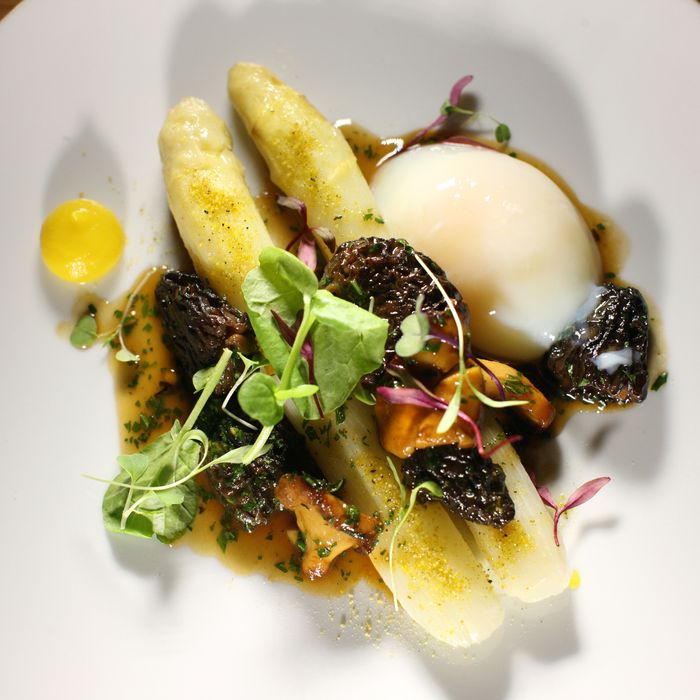 At Aldea, George Mendes pairs morels with white asparagus and a soft-poached hen egg.
Photo: Melissa Hom
Come late spring, everyone gets worked up for things like asparagus, rhubarb, and fava beans. But the most coveted ingredient of the season might just be morels, the rich, rare mushrooms that tend to go for prohibitive prices. (At about $75 per pound — owing to the difficulty of foraging them — you might call them the truffles of the Greenmarket.) Fortunately, the prized 'shrooms are also featured in plenty of restaurant dishes like lobster paella at Toro, rabbit tortellini at Locanda Verde, and roasted chicken at Edi & the Wolf — all of which are not just delicious, but also priced so that high-rolling locavores won't be the only people who can afford to enjoy them.
Ricotta Gnocchi
Where: Baker & Co.
Price: $19
This new Bleecker Street restaurant has quickly become a neighborhood favorite. Try this new pasta, which comes with super-seasonal morels and English peas.
Asparagus & Morels
Where: Maison Premiere
Price: $15
Chef Lisa Giffen sautés morels and then braises them in Vin Jaune wine for one hour to create a morel jus. She finishes it off with freshly shucked oysters — which are poached in the morel juice — and lemon, heavy cream, and asparagus puree.
Lobster Paella
Where: Toro
Price: $45
Ken Oringer and Jamie Bissonnette's paella never disappoints — especially when it comes with lobster, fava beans, and morels.
Rabbit Tortellini en Brodo
Where: Locanda Verde
Price: $23
While the crowds rush to Bar Primi, revisit Andrew Carmellini's original Italian restaurant for the excellent pasta with roasted morels and Piave Vecchio cow's milk cheese.
Fresh Tagliatelle
Where: Charlie Bird
Price: $24
Bonus: Ryan Hardy's new pasta dish comes with both ramps and morel mushrooms.
Spit-Roasted Chicken with Asparagus and Morels
Where: Marco's
Price: $35
At $35, chef Danny Amend's roasted chicken is one of the more affordable luxury birds in town (as with most restaurant chicken dishes, it easily feeds two). It's an even better deal when you realize it arrives at the table gilded with plump hunks of morels and stalks of asparagus on the side. Complete the spread by ordering the a plate of truly excellent fried potatoes with spring onions, too.
Morel and Chanterelle Mushrooms
Where: Aldea
Price: $17
George Mendes serves a mix of mushrooms with white asparagus and a soft-poached hen egg.
Herb Tagliatelle
Where: Corkbuzz Wine Studio
Price: $19
Another winning morel-and-egg combination: This pasta dish comes with morels, ramp pesto, and a duck-egg carbonara sauce.
Smoked Ricotta Agnolotti
Where: Colonie
Price: $14
This Brooklyn Heights restaurant offers a crazy, togarashi-fried soft-shell crab sandwich, as well as a nice, simple pasta dish with morels.
Roasted Chicken
Where: Edi & the Wolf
Price: $22
This airy Alphabet City tavern hits its prime in the warmer months, when it serves dishes like roasted spring chicken with morels, fiddleheads, and fava beans. There's also a special appetizer of white asparagus with braised morels, a poached egg, and pumpernickel breadcrumbs.
Gnocchi & Morels
Where: Beautique
Price: $35
Chef, and Perth native, Craig Hopson has a bunch of Australian black truffles, which he's adding to a housemade potato gnocchi with spring garlic, morels, and peas.
Sunchoke Velouté
Where: Gotham Bar and Grill
Price: $34 (Greenmarket Lunch Prix Fixe)
Use a summer Friday to take advantage of the lunch deal here: The menu includes a sunchoke velouté with morels, spring garlic, English peas, and pickled ramps.