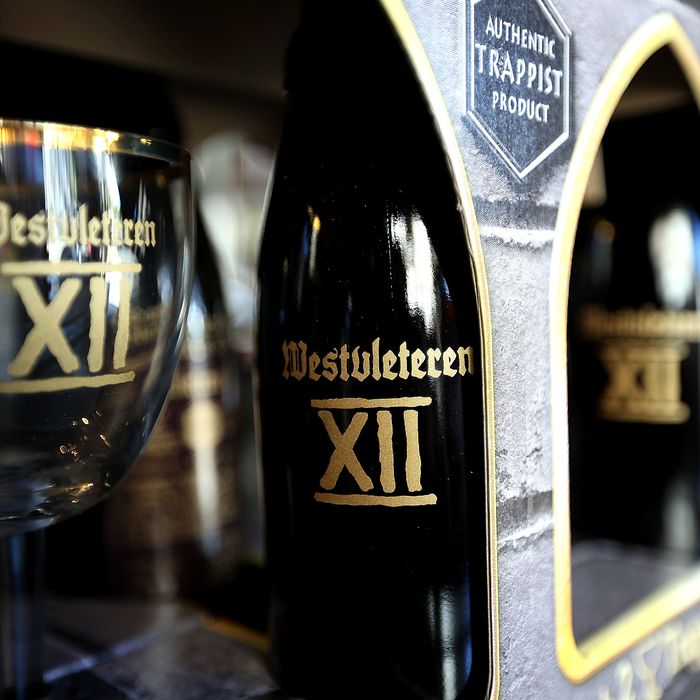 Westvleteren XII, everyone's favorite monk-brewed beer.
Photo: Justin Sullivan/Getty Images
A dwindling interest among Europeans in becoming part of the brotherhood, it seems, is causing collateral damage to some of the world's most sought-after Trappist beers. The religious order has about 2,000 members now, 20 percent fewer than at mid-century; by vow, Trappist production is capped as soon as proceeds reach what the abbey and its charities need to get by. At Achel, the smallest of the 10 recognized breweries, they're apparently running a bare-bones operation with six monks, most of them septuagenarians, a low but not unrepresentative abbey census. Go ahead and steel yourself, then, for more dubbel-lover freak-outs like last year's, when rumors abounded that the monk dearth might cost Orval its "Authentic Trappist Product" status.
So, yeah, Achel does sort of look doomed, but luckily, monks are crafty people, and 2014 actually marks a banner year in Trappist label expansion. Confirming what we already suspected, rules only require monks to supervise brewing, so some abbeys are outsourcing it to laypeople, and a more relaxed International Trappist Association has begun granting the coveted appellation to new breweries outside Belgium. Last year, St. Joseph's, an abbey in Spencer, Massachusetts, of all places, got Trappist status, and the Dutch brewery Zundert recently released its first official Trappist, a beer the monks describe as "a bit unruly and stubborn."
Belgium's Trappist Monks—Too Adept at Brewing Beer for Their Own Good? [Independent]