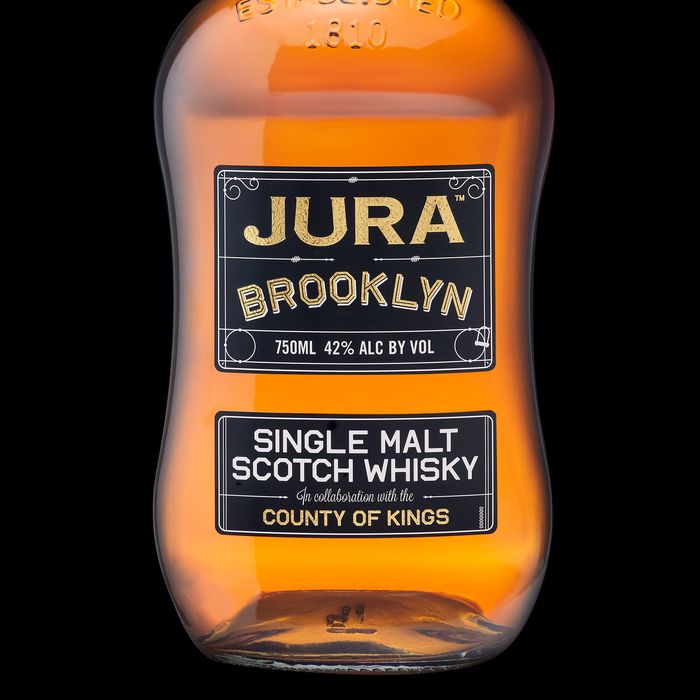 We would have called it Brogue-lyn.
Photo: Courtesy of Jura Brooklyn
Out of all the handcrafted whiskey getting made in Brooklyn, the borough has until now not had a Scotch whisky to call its own. Probably because Scotch has to be made, you know, in Scotland. But now that gap in the market has been filled by Jura Brooklyn, a single-malt Scotch that master distiller Willie Tate says was inspired by the people of Kings County.
The whisky itself is aged in casks that formerly housed American bourbon, Amoroso Sherry, and pinot noir. It's peaty on the nose, and more sophisticated palates may find hints of currants, honey, berries, figs, and roasted coffee. (Less sophisticated palates will discover that it's just a nice, light whisky.)
But the stuff is still made in Scotland, on the tiny Isle of Jura (population: 186). So what's with the Brooklyn name? Despite prodding by Grub Street, Tate denies that this collaboration was a result of a fetishization of the borough, but rather inspired by a similar sensibility that pervades both Brooklyn and Jura. "Some places, some people just give you a feeling that you're thinking the same or you have the same sort of sense of humor," he explains in his warm brogue. "And I find that when I go to Brooklyn."
To that end, he invited representatives of select localized establishments like Brooklyn Brewery, BAM, Buttermilk Channel, and the Bedford Cheese Shop to weigh in on the final flavor profile of his Scotch, after they paired samples with Brooklyn dietary staples like chocolate and fried chicken.
Bottles go for $60 each, and you can track them down at Park Avenue Liquor, Winfield Flynn, Columbus Wine & Spirits, Beekman Liquors, Michael Towne Wine & Spirits, Scotto's Wine Cellar, Greenpoint Wine & Liquor, De Wine Spot, and Brooklyn Wine Exchange. The national rollout should happen this fall.