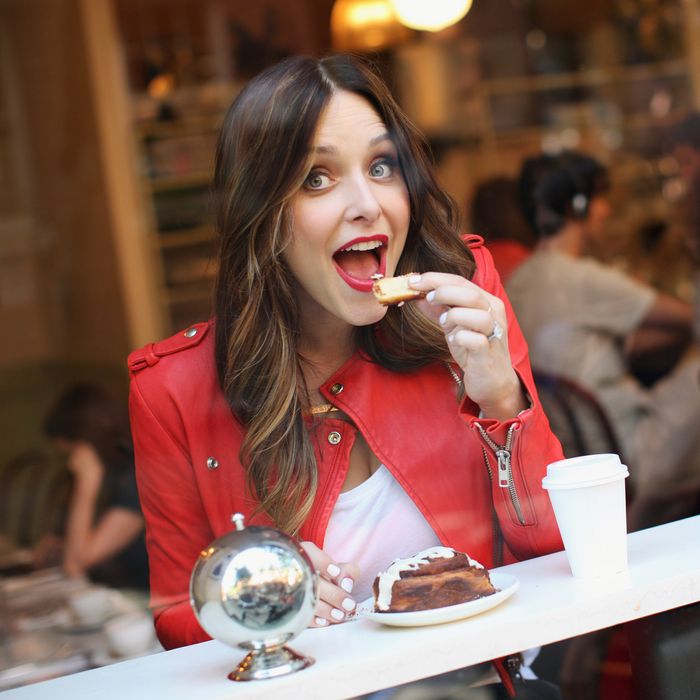 "I decide in that moment that I am now Frank Bruni."
Photo: Melissa Hom
Actress Jenny Mollen found her real calling on Twitter, where she posts hilarious, totally uncensored musings — often about her marriage (to Jason Biggs), his ex-girlfriends, and the horror of The Bachelor. (Example: "There are really only two things that matter in life: treating others with respect, & having a cuter face than whoever your ex is fucking.") This week saw the release of her debut memoir, I Like You Just the Way I Am: Stories About Me and Some Other People, and while in New York doing press, she found time to hit many of the city's best restaurants. See what we mean in this week's Grub Street Diet.
Friday, June 13:
I wake up at 6:30 a.m. to breast-feed my four-month-old, think about coffee, but instead go back to bed. At 8:30 a.m., I try again and succeed. Typically, I start all days with a Nespresso pod — preferably black with usually a splash of frothed almond milk.
I'm currently staying at my place in New York, which never has any food because I never manage to walk past a grocery store, and everything I do in New York is dictated by what I happen to walk past. That being said, I don't go anywhere without almond butter and a bag or two of mixed nuts. So after coffee — like five seconds after — I'm ready for some kind of breakfast. Today, it is a piece of thick rye bread from the Copenhagen in Tribeca smeared with almond butter with a side of three or four raw cashews. I wash everything down with a big bottle of sparkling water.
I again think about a cup of coffee, but abstain because I'm breastfeeding and my son already looks pretty jacked up from the first cup.
At 10:45 a.m., I manage to do a workout class at Barry's Bootcamp and get a smoothie. For lunch, I go to Mary's Fish Camp in the West Village. The other great thing about not having food in your apartment is that it gives you an excuse to accidentally stumble into an amazing restaurant and order lobster for lunch. But instead of the lobster, I opt for a cod sandwich without bread, a salad, and more sparkling water. After, I finally break down and have another shot of espresso.
At 5 p.m., I nibble on several rouge tortilla chips sitting in a cupboard. At 6:30 p.m., we head over to Bâtard, and when we walk in, we are greeted with Champagne and a sign that says "Jenny's Table." I decide in that moment that I am now Frank Bruni.
I order octopus pastrami with braised ham hock for the first course, seared ocean trout for the second, and, for my main, I decide to go off menu and order the chef's signature schnitzel. I'm now at a place where I'm full enough to stop, but not full enough that I don't want to at least see what's for dessert. They present the table with an array of delectable cheeses. We finish off with black-forest cake and marzipan cookies, and before bed, I decide to eat one more tortilla chip just to be weird.
Saturday, June 14
I wake up a little embarrassed about eating one single tortilla chip before bed. I make a Nespresso with almond milk, eat my Copenhagen bread covered in almond butter, and contemplate what kind of lunch would make me seem less like a psycho who eats tortilla chips after a five-course tasting menu.
Around 11:30 a.m., I eat a few raspberries and breastfeed my son. More sparkling water. For lunch, we walk to Tertulia. My husband orders bread rubbed with tomatoes and olive oil and a plate of prosciutto. I don't order because I'm annoyed by the fact that we're sitting on the side of a busy street next to a guy smoking menthols. He drinks a soda while I sip on sparkling water and stew.
At 2 p.m., we walk over to Sant Ambroeus. Trying to be healthy because I know I have to write down everything I'm eating — including, now, those couple slices of prosciutto I snuck into my mouth while my husband was in the bathroom — I order egg whites and sunflower-seed toast.
Dinner is takeout roast chicken with copious amounts of Tabasco sauce, steamed broccoli, Mexican rice, and a spoonful of mac and cheese.
Sunday June 15
Sparkling water, followed by Nespresso, almond milk, almond butter, and a slice of Copenhagen bread. Then Father's Day brunch at El Toro Blanco. I eat chips, guacamole, carrots, celery, a piece of tamale covered in mole, and two chicken tacos.
More raspberries in the afternoon, and then at 7 p.m., I walk to Chelsea Market and pick up some premade brown rice sushi from the Lobster Place.
At 8 p.m., I start to get anxiety about my book coming out in less than two days, and I soothe myself with two small chocolate pretzels.
Monday, June 16
It's the day before my book comes out. I wake up at 4:44 a.m. because a makeup artist is supposed to be over at 4:45 a.m. to prep me for "Howard Stern." I quickly make a Nespresso with almond milk and pretend that I've been awake for hours. At 6 a.m., I'm seconds away from my interview and ravenous. I quickly choke down a piece of stale croissant.
The interview was a success! I decompress by eating the rest of the croissant and a green juice. At 9 a.m., I am offered a hard-boiled egg at a coffee shop and I accept. At 9:01 a.m., I regret not putting pepper and salt on my egg.
I finish my interviews at 4 p.m. and am past the point of being hungry. Now I'm in that other phase where I just want to fall flat on my face. My husband shows up with sandwiches from No. 7 Sub. I eat a broccoli sub. I try to leave half the bread like a true Californian, but I'm tired and my willpower is weak. I don't really recall the rest of the night, but I think I did wake up around 3 a.m. with almonds in my teeth.
Tusday, June 17
The book is officially out! I have my normal Nespresso with almond milk, but instead of toast, I opt for a Van's gluten-free waffle.
At 10 a.m., I'm at The View and rummaging through their dressing rooms for some sort of exciting snack. I'm waylaid by Candice Cameron looking horrified by me in their Hot Topics section and momentarily decide to put off eating. I also want to return the outfit I'm wearing, so I decide it's best not to risk crumb-ing it up.
I grab a salad from 'wichcraft. Hard to tell, but I think it was chicken. Plus sparkling water, coconut water, and a decaf espresso shot.
I'm back home at 4 p.m. for a quick breather, and I grab whatever I can reach in my kitchen and put it in my mouth: apple, almonds, Copenhagen bread, breast pump.
I split three small cookies with my publicist at One Girl Cookie in Dumbo. I don't let her have her own because we've been together for the last 48 hours and are too codependent at this point.
At 10 p.m., I'm back home, and there is takeout from Baohaus waiting. I eat two pork buns and the inside from a third. In the fridge, I find a leftover container filled with steamed kale. It tastes horrible, but it still feels like the right thing to do.
Wednesday, June 18
Nespresso, waffle, almonds, and sparkling water. At 12 p.m., I have my reading in Bryant Park, and I live vicariously through everyone else's lunches.
At 2 p.m., I head to Momofuku Ssäm Bar. I eat two more pork buns and a bite of something that looks like a burrito, but is basically just another giant pork bun. This time I feel no remorse because I'm on my way to Chicago, which instantly makes me feel skinny.
At 6 p.m., I'm still on the tarmac in New York because of the weather in Chicago. I'm dying of thirst. I consider drinking my own breast milk. Two hours later, the cabin is finally offered nuts. I pick out all the almonds, then the cashews, and then eventually get bored enough to eat the peanuts.
For dinner, I eat sodium-ridden chicken with dirty rice and water. I refuse a chocolate chip cookie because my fingers are already so swollen that they look like Joe Pesci's. At midnight: half a Snickers bar and the rest of my pride.