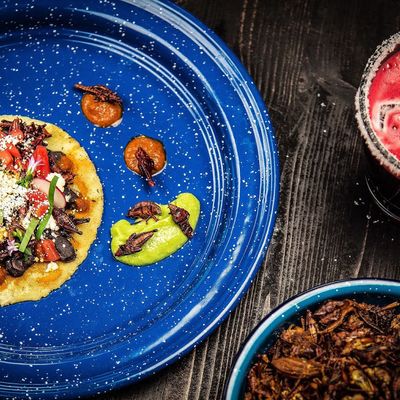 The offerings at Black Ant in the East Village.
Photo: Prince Rumi
Bugs very well could be the future of food: René Redzepi already serves ants at Noma. Beyond fine dining, though, they're seen as an underutilized, yet completely viable food source that could become more vital as our natural resources continue to be stretched. Plus: Nutritionists have long been impressed with the protein-delivery capabilities of insects (a serving of grasshoppers packs about as much as chicken or beef but with less fat and more calcium). But it's not like insect-eating is some new concept. In fact snacks of toasted grasshoppers and toasted-ant moles are deeply proud traditions in the Oaxaca region of Mexico, and plenty of other cultures around the globe eat things like waterbugs and black-clawed scorpions. Now, it seems, more and more New York restaurants are catching on, too. Here are seven spots offering cuisine that's truly worthy of the Grub Street name.
Black Ant
What to get: Tlayuda con Chapulines, $14; Maize y Tierra, $22; Ant- and worm-salt-rimmed cocktails, $12
You might think, based on the name, that this new East Village Mexican spot requires diners to go all-in on insect dinner. Not so. Ease into things with a corn-juice-and-herb cocktail that arrives with an ant-salt-rimmed coupe. Get the Tlayuda con chapulines and crispy grasshoppers come loosely tucked under cheese and fresh salsa in a crispy tortilla. A plate called maiz y tierra brings vegetables, purees, and flower petals (made to resemble a patch of earth), finished with more grasshoppers, ant dust, and gusanos de maguey, a.k.a. the worms that usually wind up in mezcal bottles.
Qi Esarn Thai Kitchen
What to get: Dug-darr Gub Thuggatan Tohd, fried silkworm and grasshopper (seasoned with soy and pepper), $6
Reflecting an appreciation for insect-eating found in Northern Thailand, Qi's 14th Street location serves a side dish of deep-fried insects with sriracha dipping sauce. Out come a handful of inch-long silkworm caterpillars — their exterior leathery, their insides creamy — and a sidecar of pretty much the biggest, longest, grasshoppers you've ever seen. With exoskeletons translucent from their turn around the wok, they're as crispy as fine-sliced potato chips. The actual flavors are quite mild, just nutty, salty, and slightly earthy.
Toloache, Toloache 82
What to get: Chapulines, $15
Perhaps the city's most famous purveyor of grasshopper tacos, Julian Medina's Toloache has been offering chapulina tacos since 2007. The main ingredient is toasted with chile spices and lime in Mexico, then shipped by the liter to the restaurant, where the kitchen sautés them with a little jalapeño. They're then served on soft tortillas slicked with salsa verde and guacamole.
Pocha 32
What to get: Bundaegi, silkworm pupae sauté or soup, $10 each
K-town's Pocha 32 serves silkworm larvae in two traditional preparations: In a hot chile-soy sauté, or in a vegetable-and-anchovy broth served bubbling hot in a crock. Biting through the pupae's tough skin reveals a mealy center and an earthiness that could be confused for a mushroom.
El Rey Del Sabor
What to get: Grasshopper quesadillas and tacos, $10
Depending on availability, this midtown food cart has an off-menu quesadilla that mostly hides its main ingredient inside a tortilla. It's a good place to start if you're tentative, since the bugs are doused with pico de gallo, guacamole, and chipotle mayo. You'll definitely detect some crunch when you bite in, but the actual flavor is nothing more than a little extra salt.
Playground
What to get: Fried grasshoppers, $10; fried silkworm, $10; red ant egg salad, $12
You could easily mistake this Roosevelt Avenue restaurant's red ant egg salad for a heap of rice or grains, but upon closer inspection, you will come to realize it's composed of meaty jungle ants staring blankly at you with their black pin-prick eyes. The blanched buggers and their egg pods are frozen in Thailand before being boiled and steamed in the kitchen. The dish itself is prepared in the style of a papaya salad, so the key flavor is a sweet and tangy lime. Order an appetizer of deep fried caelifera Siamese, and what you get is a jumble of the two- and three-inch-long grasshoppers native to Thailand. The legs can be painful on the way down, so pull them off and crunch through the frizzled exterior dashed with a secret soy-based sauce. Or go with a plate of pan-fried silkworm larvae for an experience not unlike eating fava beans — if fava beans had little faces.
La Slowteria
What to get: Worm-salt-rimmed cocktails, $10 to $12
When he can get them, chef Hugo Orozco Carrillo offers grasshoppers to guests as an amuse bouche, and he's on the hunt for the ant "caviar" he needs to make a most unusual risotto. In the meantime, bug-loving diners will have to settle for mezcal cocktails rimmed with a ground agave worm and guajillo pepper salt. The crushed worms line the mouth of the Oaxaca Old Fashioned, which combines anejo tequila, mezcal, and homemade bitters. (The worm dust also sometimes makes an appearance on an appetizer of Blue Point oysters.)