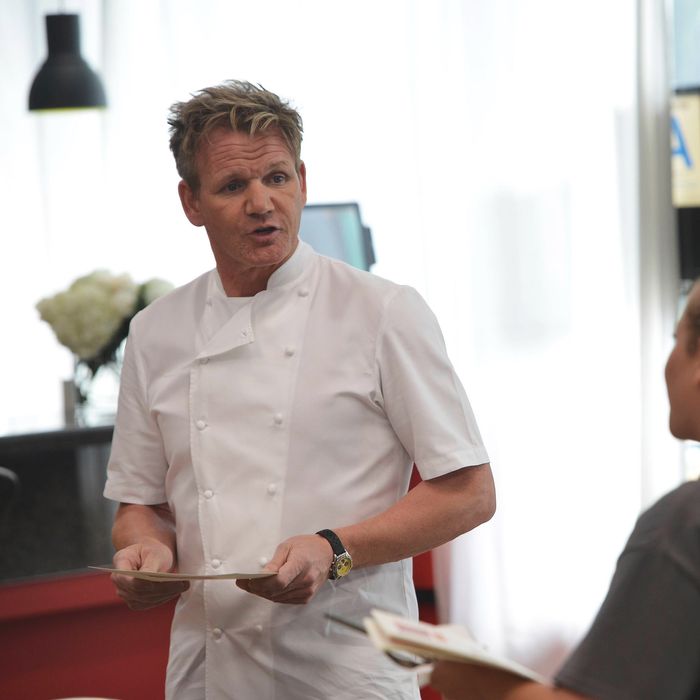 Zayna's Flaming Grill in Redondo Beach: Still open!
Photo: FOX/Getty Images
In the end, Gordon Ramsay's Kitchen Nightmares went out with a humble blog post, not with a bang, and in any case the chef's farewell announcement earlier this week marks the end of an expletive-filled era and slaying comments like, "Chimichangas? Chimi-chuck it in the bin." There were a few lawsuits along the way and various claims from proprietors that the show wrecked their businesses, but in all, while some spots have scintillating Yelp! reviews now, Kitchen Nightmares saved less than half of its featured restaurants, and a few even closed before their episodes aired. Grub didn't delve into the track record of Ramsay's original U.K. show of the same name, but we looked at everywhere Ramsay went in the contiguous United States: Here's a breakdown of all the restaurants that bounced back from the brink of failure, and the others that weren't so lucky.
Grand Totals
Number of participating restaurants in seven seasons: 77
Number still open: 30 (38.86 percent)
Number that have closed: 47 (61.84 percent)
Approximate number of restaurants closed within one year of (or before) the episode air dates: 23 (29.87 percent)
Season One (2007)
Episode 1: Peter's, Babylon, New York. Closed (December, 2008)
Episode 2: Dillon's, New York, New York. (Renamed Purnima during the show.) Closed (2009-2010)
Episode 3: The Mixing Bowl, Bellmore, New York. Closed (2009)
Episode 4: Seascape, Islip, New York. Closed (2007, five months after filming.)
Episode 5: The Olde Stone Mill, Tuckahoe, New York. Open
Episode 6: Sebastian's, Toluca Lake, California. Closed (January, 2008)
Episode 7: Finn McCool's, Westhampton, New York. Closed (March, 2012)
Episode 8: Lela's, Ponoma, California. Closed (By the end of the episode)
Episode 9: Campania, Fair Lawn, New Jersey. Sold (2010) then closed (January, 2011)
Episode 10: The Secret Garden, Moorpark, California. Open
Season Two (2008-2009)
Episode 1: Handlebar, Mount Sinai, New York. Sold (2010) then Closed (2011)
Episode 2: Giuseppe's, Macomb Township, Michigan. Closed (July, 2009)
Episode 3: Trobiano's, Great Neck, New York. Closed (October, 2008)
Episode 4: Black Pearl, New York, New York. Closed (2008, four days after the episode aired.)
Episode 5: J Willy's, South Bend, Indiana. Closed (February, 2009)
Episode 6: Hannah & Mason's, Cranbury, New Jersey. Closed (February, 2010)
Episode 7: Jack's Waterfront, St. Clair Shores, Michigan. Closed (December, 2010)
Episode 8: Sabatiello's, Stamford, Connecticut. Closed (October, 2008)
Episode 9: Fiesta Sunrise, West Nyack, New York. Closed (September, 2008)
Episode 10: Sante La Brea, Los Angeles, California. Closed (June, 2011)
Episode 11: Café 36, La Grange, Illinois. Closed (2009)
Season Three (2010)
Episode 1: Hot Potato Café, Philadelphia, Pennsylvania. Closed (2011)
Episode 2: Flamangos, Whitehouse Station, New Jersey. (Renamed The Junction during the show.) Closed (2011)
Episode 3: Bazzini, Ridgewood, New Jersey. Closed (Between 2010-2011)
Episode 4: Mojito, Brooklyn, New York. Open
Episode 5: Lido di Manhattan, Manhattan Beach, California. Open
Episode 6: Le Bistro, Lighthouse Point, Florida. Open
Episode 7: Casa Roma, Lancaster, California. Open
Episode 8: Mama Rita's, Newbury Park, California. Closed (2011)
Episode 9: Anna Vicenzo's, Boca Raton, Florida. Closed (Between 2010-2011)
Episode 10: Fleming, Miami, Florida. Closed (October, 2010)
Episode 11: Sushi-Ko, Thousand Oaks, California. Closed (August, 2009, before the episode aired.)
Season 4 (2011)
Episode 1: Spanish Pavillion, Harrison, New Jersey. Open
Episode 2: Classic American, West Babylon, New York. Closed (2013)
Episode 3: PJ's Steakhouse, Queens, New York. Closed (May, 2009, a few weeks after filming.)
Episode 4: Grasshopper Also, Carlstadt, New Jersey. Closed (October, 2012)
Episode 5: Davide, Boston, Massachusetts. Closed (January, 2014)
Episode 6: Down City, Providence, Rhode Island. Closed (December, 2011)
Episode 7 Tavolini, Bridgeport, Connecticut. Closed (December, 2011, a few weeks after filming.)
Episode 8: Kingston Café, Pasadena, California. Open
Episode 9: La Frite, Sherman Oaks, California. Open
Episode 10: Capri, Eagle Rock, California. Open
Episode 11: Zeke's, Metairie, Louisiana. Closed (October, 2012)
Episode 12: Ocean, New Orleans, Louisiana. Open
Season Five (2011 to 2012)
Episode 1: Blackberry's, Plainfield, New Jersey. Closed (March, 2013)
Episode 2: Leone's, Montclair, New Jersey. Open
Episode 3: Mike & Nellie's, Oakhurst, New Jersey. Closed (January, 2012)
Episode 4: Luigi's D'Italia, Anaheim, California. Open
Episodes 5 and 6: Burger Kitchen, Los Angeles, California. Closed (February, 2012)
Episode 7: The Greek at the Harbor, Ventura, California. Open
Episode 8: Michon's, College Park, Georgia. Closed (August, 2013)
Episode 9: El Greco, Austin, Texas. Closed (December, 2011)
Episode 10: Park's Edge, Atlanta, Georgia. Closed (July, 2013)
Episode 11: Spin A Yarn Steakhouse, Fremont, California. Open
Episode 12: Charlie's, La Verne, California. Closed (2012)
Episode 13: Café Hon, Baltimore, Maryland. Open
Episode 14: Chiarella's, Philadelphia, Pennsylvania. Open
Episode 15: Zocalo, Philadelphia, Pennsylvania. Closed (December, 2012, before the episode aired.)
Season 6 (2012 to 2013)
Episodes 1 and 2: La Galleria, Boston, Massachusetts. Open
Episode 3: Mama Maria's, Brooklyn, New York. Open
Episode 4: Ms. Jean's Southern Cuisine, Wilkinsburg, Pennsylvania. Open
Episode 5: Barefoot Bob's, Hull, Massachusetts. Open
Episode 6: Olde Hitching Post Restaurant & Tavern, Hanson, Massachusetts. Open
Episode 7: Levanti's Italian Restaurant, Beaver, Pennsylvania. (Renamed Levanti's American Bistro during the show) Closed (November, 2013)
Episode 8: Sam's Mediterranean Kabob Room, Monrovia, California. Closed (January, 2014)
Episode 9: Nino's Italian Restaurant, Long Beach, California. Open
Episodes 10 and 11: Mill Street Bistro, Norwalk, Ohio. (Renamed Maple City Tavern in December 2013) Open
Episode 12: Yanni's, Seattle, Washington. Open
Episode 13: Prohibition Grille, Everett, Washington. Open
Episode 14: Chappy's, Nashville, Tennessee. Closed (June, 2013)
Episode 15 and Season 7, Episode 1: Amy's Baking Company, Scottsdale, Arizona. Open
Season Seven (2014)
Episode 2: Pantaleone's, Denver, Colorado. Open
Episode 3: Old Neighborhood Restaurant, Arvada, Colorado. Open
Episode 4: Kati Allo, Queens, New York. Open
Episodes 5 and 6: Mangia Mangia, Woodland Park, Colorado. Open
Episode 7 and 8: Zayna Flaming Grill, Redondo Beach, California. Open
Episode 9: Bella Luna, Easton, Pennsylvania. Closed (November, 2013. Three-and-a-half months after filming.)
Earlier: Gordon Ramsay Announces End of Kitchen Nightmares
Related: The 20 Most Despicable Things Gordon Ramsay Has Said and Done, Ranked
Meet Amy Bouzaglo, the Woman Who Blew Up on 'Kitchen Nightmares,' Then Erupted on Facebook
Dinner With the Bouzaglos: A Trip to America's Most Controversial Restaurant