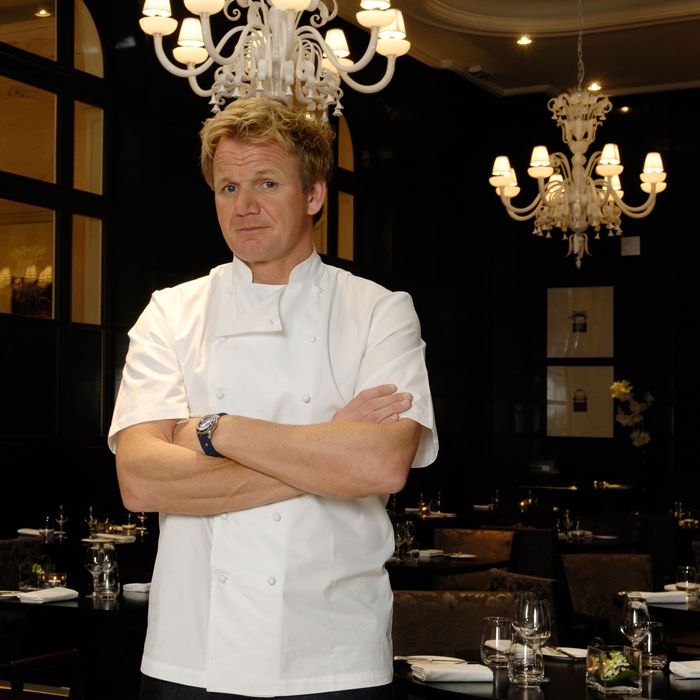 Mission accomplished.
Photo: Dominique Maitre/Corbis
Over on GordonRamsay.com, your source for all kinds of Gordon Ramsay news and updates, the British chef says the time has come for him to put a fork in Kitchen Nightmares, which began ten years ago, we're guessing, with a bunch of yelling and a handful of inept U.K. restaurateurs. The chef discussed his franchise with Deadline recently, and said that he intended to "turn it upside down, reposition it and maybe hand the position over to someone else one day." This doesn't mean the end for Hell's Kitchen, MasterChef, and MasterChef Junior, he notes, while writing, "It's sad to say goodbye to Kitchen Nightmares but I'll be continuing with my other shows." Here's the full statement, including a fun little Kitchen Nightmares by-the-numbers bit.

Monday 23 June 2014

As filming comes to a close on the latest series of Kitchen Nightmares I've decided to stop making the show.

I'm currently filming 4 new episodes, Costa Del Nightmares, for Channel 4 which will be my last. I've had a phenomenal 10 years making 123 episodes, 12 seasons, shot across 2 continents, watched by tens of millions of people and sold to over 150 countries. It's been a blast but it's time to call it a day.

Starting in 2004 this was the show that really propelled my TV career and I'm very grateful for the amazing team behind the series and for the support from the viewers for almost over a decade! From the first episode which aired in April 2004 with over 5 million viewers we're now 12 seasons later and it's been an amazing journey. In 2007 we took the show to America on Fox and they've just finished airing series 7 this summer. During this time I've visited over 100 restaurants, meeting and trying to help or in some cases failing to help, some of the most weird and wonderful people. Of course Amy's Baking Company is a standout along with Bonaparte's but there were good times too; the lovely sisters at La Galleria and Momma Cherri's to name but two.

I'd like to thank you all for being so supportive. I'm glad I've been able to entertain and hopefully help a few people along the way. It's sad to say goodbye to Kitchen Nightmares but I'll be continuing with my other shows. It's been memorable! Thank you for watching.

Gordon Ramsay

Facts from over the years

• Kitchen Nightmares ran for 10 years
• 123 restaurants in 99 cities within 2 countries were visited
• If you watched all episodes back-to-back it would run for 6,868 minutes
• Episodes sold into 150 territories globally
• The Kitchen Nightmares format was produced locally for 30 territories around the world
• Swear count - 10,197
• The show brought in $37.3 million in ad revenue during the 2012-13 season - more than any other Friday FOX original series that season
• The show was the most viewed TV show across networks during the Friday time slot
• Tears - 0.4 gallons
• Meltdowns - 27
• Walkouts - 1
• Mice - 1
• Meows - 6
• First ever episode was watched by 5.7 million people
• 2 ulcers and 2.3 litres of Pepto Bismol
• 234 Zantacs consumed
So, in summary, we'll always have the guano-crazy Amy's Baking Co. episodes to look back and reflect on fondly. And, curiously, the show averaged out a little bit more than half an ounce of Pepto per restaurant — a lot less than we'd expect.

Latest News [Official site]