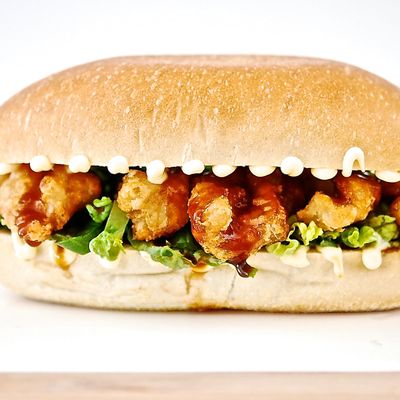 The co-founders modeled their bread on that made by the famous Leidenheimer Baking Company.
Photo: General Tso'Boy
The specialty sandwich space-time continuum that allows for Egg Foo Yung on white bread in St. Louis and General Tso's tofu subs closer to home is no doubt about to unfurl into some kind of extra-dimensional hyperdrive with this General Tso'Boy, the product of Jessica Lin and Gary Wu's start-up of the same name. Lin put in time with Union Square Hospitality Group and graduated from the culinary program at Institute of Culinary Education, while Wu grew up working in his family's Rockland County restaurant; their combined experience has now led them to combine beer-battered fried chicken thighs on super-fluffy New Orleans-style French bread.
The General Tso's chicken po'boy, which launches this Saturday at the LIC Flea & Food, costs $10, $5 for a half. In addition to fried, "responsibly-sourced" chicken thighs, it's garnished with special sauce and Greenmarket romaine. The co-founders went through several dozen recipes during R&D; and even had some bread flown in from the famous, NOLA-based Leidenheimer Baking Company, which Parisi Bakery used to develop the custom-baked loaves that will be used at General Tso'Boy.
If all goes as planned, the sandwich will be available at the market for eight weeks, ending August 2. Lin says the goal is to open a specialty sandwich shop in the near future serving the expanded menu, which includes a honey-walnut shrimp sandwich garnished with condensed milk mayonnaise and a shredded five-spice char siu pork version.
General Tso'Boy [Official site]