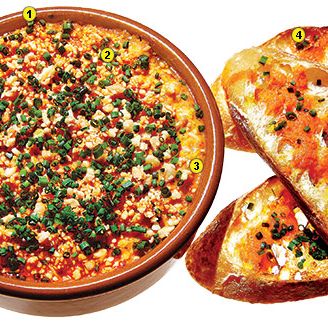 Photo: Bobby Doherty/New York Magazine
Slow-poached eggs have been a fixture on trendy dinner plates for years. But scrambled eggs for supper are far less common, which is one reason Bobby Flay put them on his menu at Gato. What does it say about you if you order what essentially is a coffee-shop breakfast—albeit a highly refined, technically advanced, Spanish-inspired coffee-shop breakfast—for dinner at one of the buzziest new restaurants in town? It says that you are not alone. "I thought it would be like the chef's dish, where we sell two orders a night," says Flay. "Now it's about 30."
1. Inspired by a dish he tried in Barcelona in which a waiter scrambles eggs tableside in a hot cazuela, Flay's version is cooked in the kitchen, plated in a warm cazuela, then hustled out to the dining room in a flash.
2. Three eggs are vigorously scrambled with butter and crème fraîche, just to the point where the mixture morphs into tiny, supersoft curds.
3. A tablespoon of romesco sauce (almonds, garlic, olive oil, red peppers, dried chiles, bread, tomato, raisins) is folded into the eggs along with the cheese and chives just before they're finished; finely chopped marcona almonds and more chives serve as garnish.
4. An off-season version of Spain's famous grilled tomato bread is made with tomato-confit oil instead of the raw fruit, since "there's not a fresh tomato in this country I'd use right now," says Flay.
On the menu at Gato, $14; 324 Lafayette St., nr. Houston St. 212-334-6400.
Related: Platt: A More Restrained Bobby Flay Returns With Gato
*This article appears in the June 2, 2014 issue of New York Magazine.