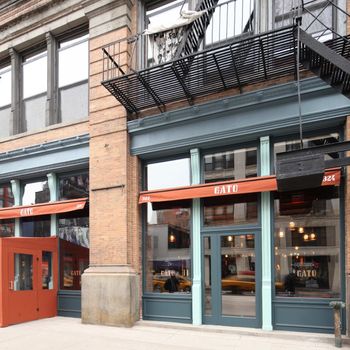 Another two-star review.
Photo: Melissa Hom
This week at Grub HQ, Adam Platt did a Sriracha taste-off, with Huy Fong triumphing over Tabasco. Elsewhere in the city, Pete Wells dined at Gato, Ryan Sutton found Pok Pok Ny to be much improved, and Robert Sietsema enjoyed the cowboy-themed Montana's Trail House. Read it all, and more, straight ahead.
Pete Wells visited Gato, awarding two stars to Bobby Flay's "nominally Mediterranean" Noho restaurant. Wells appreciated Flay's "go-for-broke," bold flavors, singling out the chorizo wrapped in caul fat, burrata with roasted beets, and braised rabbit leg with "carrot hot sauce" that tasted "like sweet fire." While some dishes, like the fettuccine with squid ink and mussel broth, were overwhelming, the kale-and-wild-mushroom paella had a crust "like nobody's business" and was "just fun to eat."
In his two-star review, Ryan Sutton found Pok Pok Ny, Andy Ricker's newly relocated Thai restaurant, finally "hitting its stride" two years after opening. The service was markedly better — thanks in part to its waiting area/sister restaurant, Whiskey Soda Lounge. The laap's deliciousness caused a competitive-eating frenzy, and the whole poussin with lemongrass stuffing had a "tofu-like creaminess." While the khao soi curry soup was a misfire — like "someone dumped a can of wheat noodles in unflavored coconut milk" — desserts were strong.
Robert Sietsema reviewed Montana's Trail House, Bushwick's new "rustic cowboy" bistro. Sietsema was intrigued and enchanted by both the restaurant's oddity and outstanding dishes, like the brisket braised in root beer. Entrées were "nearly upstaged" by the duck-fat-fried potatoes, the best "spuds in ages." The single dessert of butterscotch pudding with shortbread cookies was also "very rich and satisfying."
Steve Cuozzo payed a trip to Alex Guarnaschelli's Butter Midtown and was unimpressed by the "respectable" but not "spectacular enough" transplanted former downtown hotspot. In his one-and-a-half-star review, Cuozzo thanked Guarnaschelli for "mercifully" dropping the Gruyère bomb of a Welsh rarebit from the menu and condemned the "clunky, suburban-saloon-like pasta." The seafood dishes and raspberry beignets were wonderful, but the meat entrées — like an unsalvageable Berkshire pork chop — "perished on the plate."
The New York Observer's Joshua David Stein explored Hudson Eats, Brookfield Place's expansive new food court. In his two-star review (out of five), the best vendors were Mighty Quinn's, Black Seed, and Tartinery, with its lobster tartine. While Stein questioned the value of food courts in general, he also found Skinny Pizza's "bowling alley pizza at usurious prices" to be Hudson Eats's "only truly terrible dining experience."
Zachary Feldman found wood-fired cooking making a "triumphant return" at Colonia Verde. Flames turned "butterflied langoustine into sculpture" and rib-eye steak to "a luscious medium rare." The fennel-pork sausage served with a saucer of spicy crema was "beyond flavorful."
Micheal Kaminer awarded Glady's four out of five stars, praising the "spot-on" Caribbean cuisine. Unfussy yet complex dishes like the jerk half-chicken amped "up the heat without slugging you in the face." Fish options were no less impressive. While the peppered shrimp was a fiery "pure ecstasy," the whole fish fried in coconut oil was milder, yet "humble and haute as the best home cooking can be."