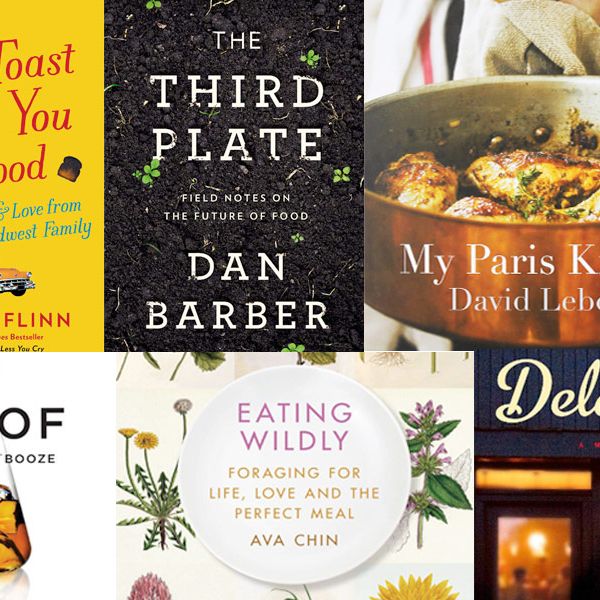 Hopefully, at some point this summer, you'll find yourself on a beach, or a boat, or possibly near a lake somewhere like Vermont, and you'll need something to read. But there's no reason to feel pressured to keep up with The Goldfinch discussions, or pretend like you're interested in Hillary Clinton's new book. There are plenty of stellar new books all about eating — a memoir about foraging, a story of a restaurant's impact on a marriage, two excellent French cookbooks written by Americans, and more. Here are a dozen, which should see you through until at least September.
For people who want to dig even deeper into the farm-to-table ethos:
The Third Plate by Dan Barber
The chef-owner of Blue Hill outlines a new philosophy for sustainable farming and eating, and along the way, investigates agricultural practices around the world.
If you want to find your own dinner out in the woods:
Eating Wildly: Foraging for Life, Love and the Perfect Meal by Ava Chin
The "Urban Forager" columnist for the New York Times recounts how hunting for edible plants helped her come to terms with loss, reunite her with her family, and find love.
Or if you think the foraging trend is kind of bullshit:
It's Only Slow Food Until You Try to Eat It: Misadventures of a Suburban Hunter-Gatherer by Bill Heavey
In his debut novel, Heavey, who starts off knowing absolutely nothing about hunting and gathering, chronicles his attempts to "eat wild." It's a humorous tale about a subject that's often taken too seriously.
For people who still miss Gourmet:
Delicious! A Novel by Ruth Reichl
Her first-ever work of fiction hasn't received the greatest reviews, but it's certainly light, fun, and enjoyable.
If you want a book that's basically the exact opposite of Eat, Pray, Love:
Delancey: A Man, a Woman, a Restaurant, a Marriage by Molly Wizenberg
When this author's composer husband decided to open up a pizza restaurant in Seattle, it drastically changed their marriage. She recounts her new life, all while detailing the many, many obstacles of owning a restaurant.
For people who really wish they were spending their summer vacation in France:
My Paris Kitchen: Recipes and Stories by David Lebovitz
The author of beloved memoir The Sweet Life in Paris is back with a cookbook of sweet and savory modern French recipes (including excellent duck-fat cookies). It's part-memoir, too: Lebovitz weaves in personal stories about his life in France.
The book for those looking to intellectualize their bourbon love:
Proof: The Science of Booze by Adam Rogers
The Wired editor explores the chemistry of fermentation, distillation, and aging — and dives into research about the psychology of drinking and what fuels taste buds.
When you'd rather just look at gorgeous photos:
Restaurant & Bar Design by Julius Wiedemann
Each year, the Restaurant & Bar Design Awards honor 100 establishments around the world, and this book compiles them into one very pretty package.
To spend your summer learning how to engineer the next Cronut:
The Tastemakers: Why We're Crazy for Cupcakes but Fed Up With Fondue by David Sax
This James Beard Award–winning writer takes a deep dive into the world of food trends, like sriracha, chia seeds, and kale. The book features chef interviews, data analysis, and looks at the entrepreneurs who actually create all the hype.
If you want to master (and fetishize) scrambled eggs:
Buvette: The Pleasure of Good Food by Jody Williams
With two wildly successful bistros in the West Village and Paris, Williams has mastered the art of simple, hearty French cooking. (She steams scrambled eggs in an espresso machine!) Recipes include carrot spoon bread, potato chips with rosemary salt, and tarte tatin.
If you really want to understand seasonal eating:
Cold Antler Farm: A Memoir of Growing Food and Celebrating Life on a Scrappy Six-Acre Homestead by Jenna Woginrich
Farmer and author Woginrich lives with animals, and in her fifth book, she explores the power of the ancient agricultural year, and how weather should impact eating habits.
And when you read your way through the rest of the books here:
Burnt Toast Makes You Sing Good: A Memoir of Food and Love from an American Midwest Family by Kathleen Flinn
If it takes you until August 14 to conquer the list above, here's one more book — which comes out that day. The author of The Sharper Your Knife, the Less You Cry has written a memoir about her childhood memories and how they relate to food.