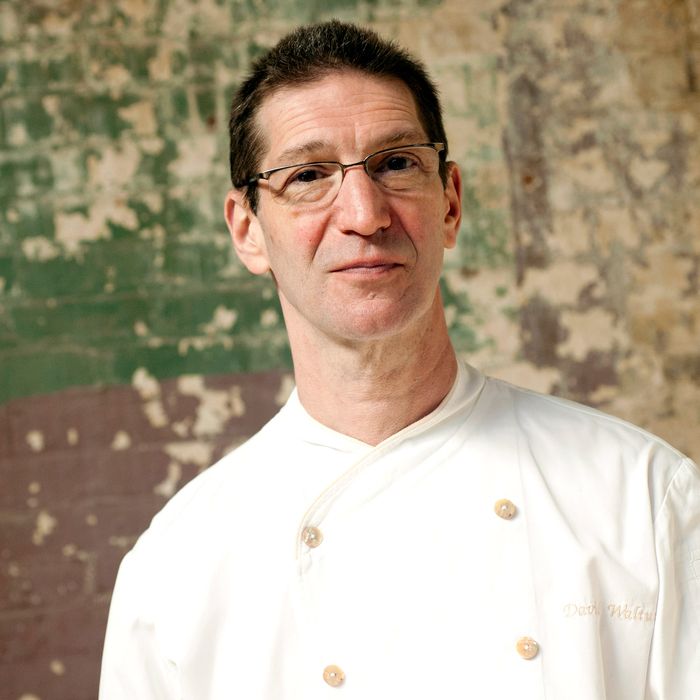 David Waltuck will open élan, 35 years after making his mark with Chanterelle.
Photo: Michael Harlan Turkell
When Chanterelle closed in 2009, three decades after it first blazed a fine-dining trail downtown, chef and co-owner David Waltuck felt lost. He consulted on other restaurants, but Waltuck is the kind of chef who's attached to the act of cooking itself, spending every day in the kitchen, not opening an empire of restaurants or landing a spot on the "World's 50 Best" list. "He was very sad," his wife Karen, who owned Chanterelle with him, says of the time. At night, she'd find him preparing elaborate meals for himself in their home kitchen, with nobody to serve them to.
Eventually, Waltuck grew tired of scouring his own pantry for inspiration, so he looked for another space, approached investors (mostly Chanterelle clients), and started to work on a new restaurant. This summer, the space will finally open, as élan, an upscale restaurant in the Flatiron district that Waltuck sees at the 2014 answer to Chanterelle. "I'm doing it more for me than anyone else," Waltuck says. "I have to do it. I don't think I would be happy if I didn't do this."
When Chanterelle first opened in Soho in 1979 — before eventually moving to Tribeca — the city's upscale restaurants were buttoned-up experiences, places like La Caravelle or La Côte Basque. But Waltuck, who was raised by social workers in the Bronx, didn't see the need for so much fuss. The first thing he and Karen did was drop "La," so common at the time, from the name. As Karen points out, "We're Americans, for Christ's sake!"
Chanterelle had no dress code, no busboys or hierarchy among the waitstaff, no captains wandering the dining room in tuxedos. Women served on the floor, and the menus, handwritten by Karen, were printed in English. The straightforward approach to putting together a French restaurant was revolutionary at the time — and Chanterelle came to be a place that symbolized a changing downtown. "There were artists in dreadlocks at one table," Karen says, "and bankers with suit and ties at another." As The New Yorker's Adam Gopnik, a Chanterelle regular, wrote in Waltuck's cookbook, "This little storefront represented … a new New York style coming into being."
If that description makes Chanterelle sound a bit like the Roberta's of the haute cuisine era, that's because it kind of was. But even as New York's restaurants have changed considerably in the last 30 years, Waltuck sees élan as a throwback, right down to the accent in the name. "We're saying 'American cuisine with a French accent,'" he tells me after a tour of the new space at 43 East 20th Street. Right now, it looks like a demolition site: Sanders, disc saws, dry wall, and workers are everywhere. Waltuck can see it taking shape, though. "That's going to be a banquette over there," he says, pointing to the empty corner. "Here is a kind of stand-up bar," he says, plowing through the sawdust.
The restaurant will eventually have three main spaces: A front area for snacking and drinking ("You can grab a seafood sausage and glass of wine and that's it," Waltuck says), a bar for drinks and maybe dinner ("You're headed home, not too hungry, and want to be in a room with people, no problem"), and a back room for a full dinner ("You want a tasting menu? I'll give you a tasting menu"). The multi-experience approach is Waltuck's answer to the real challenge that faces the restaurant: giving customers the best of what Chanterelle once did in a way that feels contemporary.
The chef is also tweaking some Chanterelle favorites, like that famous seafood sausage, a mix of lobster, shrimp, and scallop unified with trout mousse. He'll swap out the classic beurre blanc he served at the old restaurant with a sauerkraut-based sauce at élan. "It's a little bit of a cute thing," he says of the kraut. "I figured, let's play with it." He just wanted to re-create the way beurre blanc's shallot flavor cut through the rich sausage. "The kraut does the same thing. It's a hot dog — a fish hot dog."
It's a thoughtful, considered move — and one so gentle that young diners who don't remember Chanterelle will likely miss the nod to the original preparation. Waltuck doesn't care. "I'm not trying to prove anything," he says. "The key is to be yummy. If it's not yummy, then what the hell is the point?"