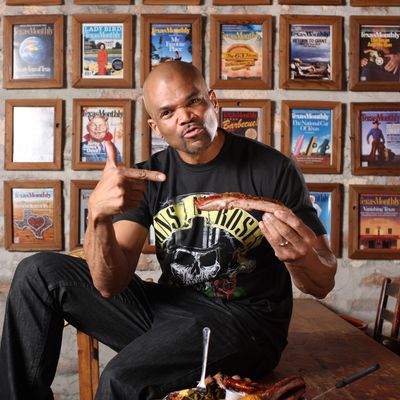 "Sit down and enter barbecue heaven."
Photo: Melissa Hom
It would be easy for a member of legendary rap group Run-D.M.C. to rest on his laurels after helping pioneer a genre. But that's simply not an option for Darryl McDaniels, who, besides working on an album and founding the Felix Organization for foster children (after finding out at the age of 35 that he was adopted), is also the creative director of the free, annual Garden of Dreams talent show happening on June 17 at Radio City Music Hall. It's a life that requires many, many protein shakes. See what flavors he favors, and where to find the best barbecue in New York, in this week's Grub Street Diet.
Friday, June 6
I woke up at 6 a.m. and had two protein shakes from the gym after my workout: Lean Body chocolate flavor with water, a scoop of peanut butter, and a banana. Breakfast is my favorite meal, but I very rarely eat it. I just have one or two shakes and I'm good to go.
A few hours later, I headed into New York (I live in Wayne, New Jersey) for a meeting about a television series that I'm producing with my crew. I just ate a Lenny and Larry's oatmeal raisin protein cookie.
At 2:30 p.m., I finished writing two new verses for a song, and I wanted a sweet snack, so I had another Lenny and Larry's cookie — this time chocolate chip. I kind of live on Lenny and Larry's. I can't eat meals when I'm busy doing interviews, filming, recording, or about to speak or perform, so the cookies are so helpful to keep me from falling out on my face from weakness. I buy them at Whole Foods and the Vitamin Shoppe. All the New York and Jersey Vitamin Shoppes know me. As soon as I walk in they either go, "We got your cookies, D!" or "No, we don't have any this week."
I was still in the city, so for dinner, I had two turkey panini sandwiches from Panera on Fifth Avenue, and Herr's baked-potato chips. Later on, two Sargento mozzarella cheese-sticks at home sealed the deal.

Saturday, June 7
Two Lean Body protein shakes after my workout. This diet may seem overly health-conscious, but that's because in 1991 I was diagnosed with acute pancreatitis and had to change my ways. One day, I woke up with this stomachache that was really bad and went to the emergency room. The doctor asked me, "How many cans of beer do you drink a day?" And I was like, "A day? A case of 40-ounce Old English malt liquor." I was in the hospital for a month and a half. When I got out of the hospital, I went cold turkey and started working out and now it's kind of bad, because I've replaced the alcohol with the working out.
I went home, showered, and headed into New York to work on tracks for the new album, which is gonna be sick. I still wasn't hungry, but since I don't like to eat late in the day, I went to Five Guys in Times Square. They have the best burgers. I even put 'em in a rhyme:

Great things happen every time I speak, I'm a real good man like Raphael Sadiq, I'm relieving some pressure like I'm taking a leak, I be the well-known fella in the shell-toe sneaks, I made it good for the guys who got 4 eyes, I like to dine at 5 Guys Burgers N Fries, I'm in a fight for my life, but I won't die, and if I do, on the third day I will rise!
I ordered three burgers with just ketchup, but no fries. Sometimes their fries are way too much. After that I headed back home to rappin' and rockin' and spent the whole evening doing that. I looked up and it was 10 p.m.! Man, that's my bedtime.

Sunday, June 8
After my workout, I had the usual two Lean Body chocolate shakes. As you can probably tell, I don't cook. Every day as a kid, I had a four-course dinner, and I never had the same thing twice a week. I was never curious to cook for myself because my Mrs. McDaniels put it down. My wife hates that I don't eat at home. My mom passed away and now I won't have homemade food again until I go to heaven and meet up with her again.
That afternoon, my son and I decided to order from Soprano's Pizza Shop here in Wayne. My son ordered a plain pie, and since I didn't want anything too heavy, I ordered two sides of sausage and a side of meatballs. That's a quick and tasty little meaty meal.
After spending some time going over some rhymes, line after line flowing out of my mind,(have to make sure the lyrics to Tim Armstrong's songs are strong), it's late evening and time for some more protein cookies. It's hot, so that's it for today.

Monday, June 9
I woke up early and went to the gym at 5 a.m. I had to be in New York early to do a Sirius radio tour for the Garden of Dreams talent show coming up. I ordered my usual — two protein shakes — but I was so tired that I could only drink one.
I made it to city and knocked out the interviews, and after that, I headed over to Hill Country BBQ, which for my money is some of the best barbecue, if not the best food in general. I got turned onto them by Man vs. Food. Well, not really. On the show, he went to a barbecue place, and that made me crave barbecue in New York City. When I started my foundation, some people I knew hooked me up with Hill Country.
I ordered the lean brisket, the ribs, some corn muffins, and some collard greens. I ordered to-go so that I could go home, turn the AC on, fluff up the pillows, grab a roll of paper towels, and sit down and enter barbecue heaven.
I didn't offer any to my family. If they want some, they've got to ask.
Tuesday, June 10
I made it to the gym at 9 a.m. today, and that's kind of late for me. I had my usual double protein shakes and had to go reup on my protein cookies.
Feeling like a hungry ant myself, I decided to take the family to the Hard Rock Café in Times Square. My son loves the food there more than I do. But where else but the Hard Rock can you enjoy a great meal surrounded by music and memorabilia of the iconic gods of rock and roll? I always order the wings, grilled with sauce on the side, a burger well done (no bread), a piece of grilled salmon, and a grilled chicken breast. Instead of fries, I order one or two grilled shrimp skewers. I don't get bread or fries, because there, you have to have the apple cobbler with ice cream for dessert.
I walked out to the beautiful lights of Times Square. It doesn't get much better than that.

Wednesday, June 11
I had a flight to Chicago at noon, so I woke up and went to the gym. Around 9:30, I stopped off at the Brooklyn Diner, which is is real, real cool. Tyra Banks always goes there, too. It's always crowded, but listen, I've got a problem with the Brooklyn Diner. They have this red-velvet cake. And usually when I go there, I don't eat real food. I just go there for a big, huge slice of the red-velvet cake. But I knew I needed some protein, so I got an egg-white omelette and some turkey sausage.
Sylvester Stallone said, "You can have all the dessert you want, as long as you eat it early in the day." So I took Sylvester's advice and had red-velvet cake for dessert, and that's how I have my cake and eat it too.