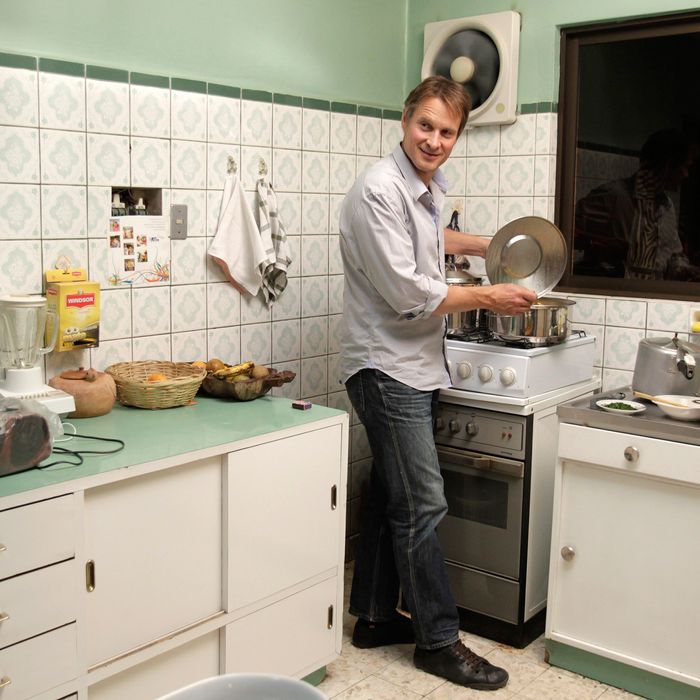 Someone's in the kitchen with Klaus.
Photo: David Mercado/Reuters/Corbis
Over at the Times, Florence Fabricant resolves a long-standing food-world mystery, that of the location of Noma co-founder Claus Meyer's Nordic Food Hall. René Redzepi's old kitchen buddy has a complex of retail establishments and restaurants, including a fine-dining option, planned for several thousand square feet of space in Grand Central Terminal. Questions loom: Is this the "master-leased artisanal food market" planned for the area that we've been hearing about? Will the MTA and Metro-North Railroad green-light the project at the full board meeting next Wednesday? While we wait on answers, let's take a look at it.

The more casual food hall would occupy 16,000 square feet in the 48-foot-high, Beaux Arts–style Vanderbilt Hall, include the balcony space, and cover "all price points from a cup of coffee to fine dining," the paper says. The 100-seat brasserie would be adjacent to the hall, and plans all depict a grab-and-go area that's currently home to Hot & Crusty. Because of Grand Central's landmark status, all food-hall fixtures would be free-standing. Meyer tells the Times the project is a "Nordic concept," but teases that the cuisine "is very much about capturing the local flavor" and he will not rely too heavily on imported ingredients. Meyer and his partners will pay a reported $1.8 million a year; the amount will increase annually for the ten-year term.
So even if all goes well, it's going to take some time to get all this new Nordicness off the ground. Assuming officials give the ambitious project the green light next week, the Times reports the entirety of Meyer's project is "expected to be in operation in two years."
Grand Central Food Hall Proposal Nears Approval [NYT]
Related: Noma Co-founder Claus Meyer Planning 'Nordic Food Emporium' for NYC