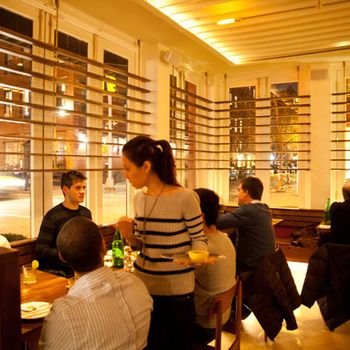 Good-bye, miso-maple salmon head.
Photo: Marvin Orellana/New York
Grub hears that Gabriel Stulman is totally revamping Chez Sardine, home to quirky, vaguely Asian dishes like miso-maple salmon head and breakfast pancakes with salmon roe. On July 7, he'll close the restaurant for two weeks, and then reopen it as Bar Sardine: Chef Mehdi Brunet-Benkritly will stay onboard for the snack menu but ditch the Asian-ish theme, and Brian Bartels will oversee the beverage program. Bar Sardine will launch the week of July 21, complete with a bigger bar.