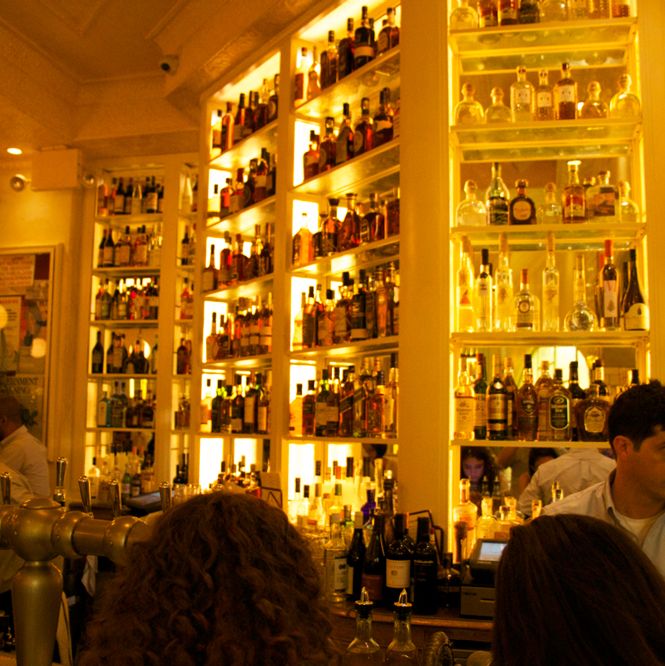 Looks like the Pulino's shelving has been put to good use.
Photo: Daniel Maurer
Restaurateur Keith McNally's Cherche Midi is his French-leaning replacement of the pizzeria Pulino's, which closed at the corner of Bowery and Houston Street last year. The new place opens Friday, but Bedford + Bowery managed to "weasel" into the restaurant's friends and family last night and has an initial report on the interior: The old fluorescents have been swapped out with globe lamps, the checkered floor now has been re-tiled with hexagons, and the tables have tablecloths.
Of course, among the top reasons to start getting excited about McNally's newest place aren't so much the subtle design cue shifts but instead that Daniel Parilla and Shane McBride, two of the city's most versatile and workmanlike chefs, are in the kitchen. It skews French. Frogs legs, sardines, and foie gras appear as appetizers, and entrées include what seem to be earnest renditions of skate wing meunière and steak-frites. The latter category ranges in price from $23 (for the skate) to $48 (for a hunk of dry-aged prime rib), and at the bottom of the menu, there's even a bacon-marmalade-topped prime rib burger in the 20-something dollar range, which is getting very, very close to Black Label burger levels.
Your First Look Inside Keith McNally's Cherche Midi, Opening Friday [Bedford + Bowery]
Related: Pulino's Is Closed