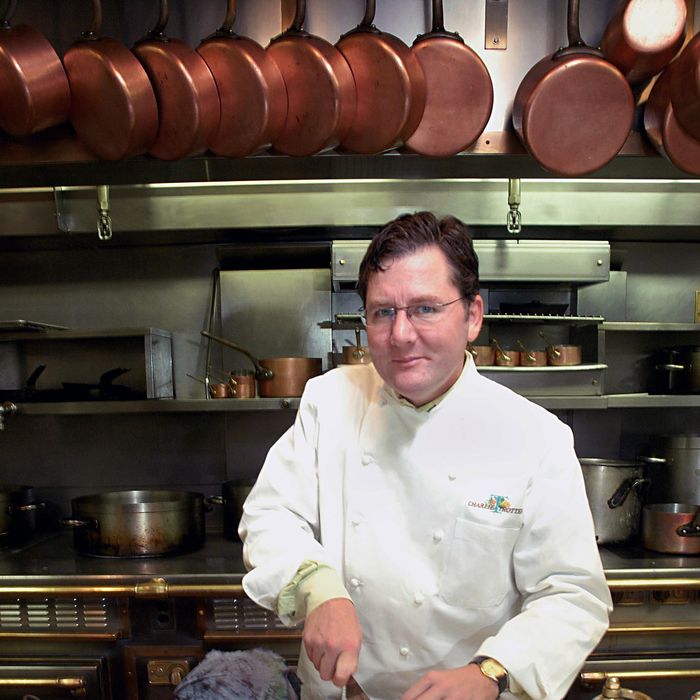 Trotter mentored scores of young chefs.
Photo: Getty Images
The chef Charlie Trotter closed his namesake restaurant in 2012 and had put the property up for sale before his sudden death in November 2013, but today at a press conference, family members announced that the space, on Chicago's Armitage Avenue, will soon return as the home of the Trotter Project. The nonprofit organization was created by Trotter's kitchen alumni and family members, and will provide culinary and nutritional education, host culinary events, and fund-raising dinners. In an interesting twist, it will also create a detailed "new restaurant online ratings system," the Chicago Tribune reports.
The chef's mother, Dona-Lee Trotter, and his son Dylan held the press conference outside the space. "I wanted to have the announcement around Father's Day as a special way to pay tribute to my dad and grandfather (Bob Trotter) who started the restaurant together," Dylan Trotter said in a press release. The Tribune reports that Rochelle Smith Trotter, Charlie Trotter's widow who is spearheading a separate organization called the Charlie Trotter Culinary Education Foundation, "did not attend and could not be reached for comment."
Homaro Cantu, a chef who was mentored by Trotter, is also involved. Cantu said the nonprofit would work to "find solutions for food deserts," and current plans include building an indoor farm and a platform for the ratings system, which will be text-message-based and rely on instant feedback from customers. "It's time Chicago did something huge," he said.
Charlie Trotter's restaurant space returns [Chicago Tribune]
Related: A Timeline of Charlie Trotter's Influence and Achievements