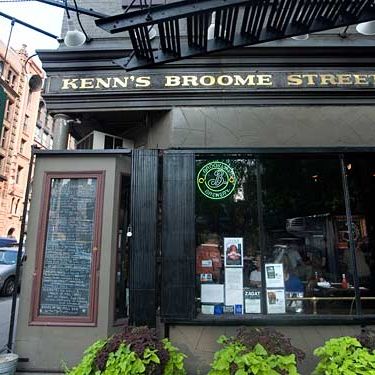 The bar was once popular with Soho's pioneering artists, including Robert Mapplethorpe.
Photo: Konstantin Sergeyev
The 42-year-old Broome Street Bar in Soho has sold to a new owner for a reported $12 million and will soon close in preparation for its next incarnation. Along with Fanelli's nearby, the Broome Street Bar (otherwise known as Bob & Kenn's, and early on, Kenn & John's) has been serving drinks in one form or another since the nineteenth century. Jon Krasner, who the Post says "has an interest" in Richie Notar's Harlow and Harlow East, will "create a fabulous new Soho restaurant and bar in the spirit of the Soho institution," according to a real-estate source.
Longtime owner Kenn Reisdorff died while on vacation in Florida in February at the age of 92, bringing an end to a family project that was supported by neighborhood artists like Robert Mapplethorpe in its earliest days. Reisdorff, who was a furniture-maker and woodworker by trade, did the interiors of the bar when it opened in 1972, and his brother Robert was a partner; the bar's menu, including its famous hamburger served in a pita, was the work of his wife Berry Reisdorff, who died in 2010. "The drinks are big, the food hearty and well prepared, the tone genuine and interesting, and the prices well within reason," the Underground Gourmet wrote in New York, in 1974, back when cups of coffee were bottomless and went for a quarter.