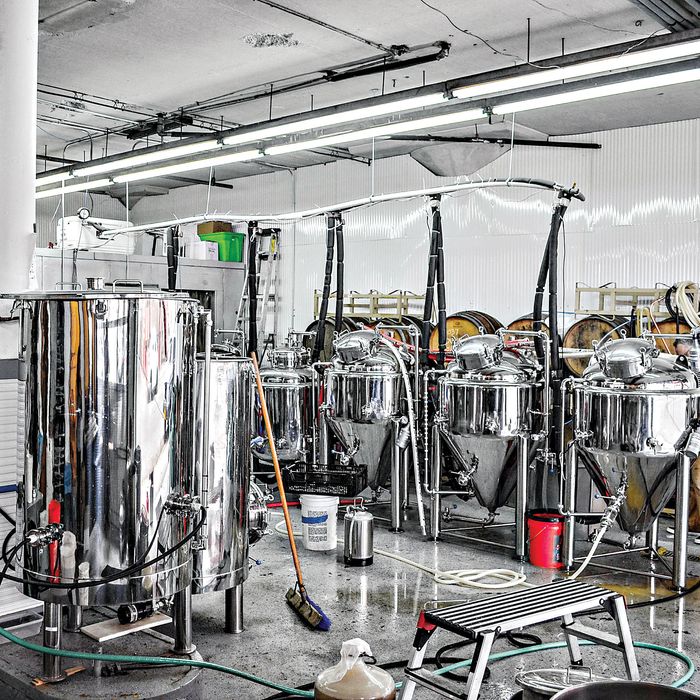 Transmitter Brewing
Photo: Miguel Rivas
Brooklyn Brewery was just the beginning. Thanks to the rise of local microbreweries with on-site taprooms, it's possible to embark on the hops-and-malt-driven equivalent of a wine-tasting weekend in Napa without ever leaving town.
Transmitter Brewing
53-02 11th St., Long Island City; 646-378-8529. Open Fri. 5-7:30 p.m., Sat. and Sun. noon-4 p.m.
Transmitter is the full-time side project of Rob Kolb (by day an art director) and Anthony Accardi (a printmaker). In their brewery, housed in a former car garage, they create and bottle beers like the dry S4 Saison Ale. Drop by the weeks-old, ten-by-ten-foot tasting space to try the fruity G3 Golden Ale or sign up for the CSB—that's Community Supported Brewery; for half a year it supplies you with two large-format bottles a month, plus beer discounts ($175).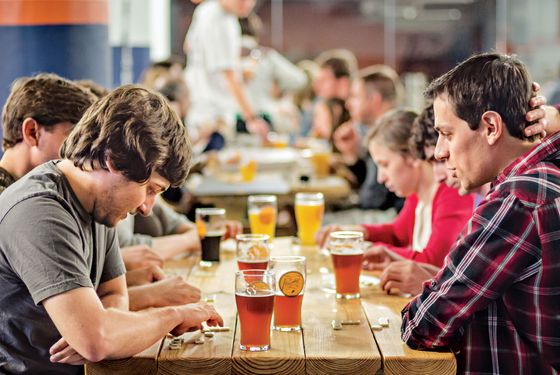 Flagship Brewing Company
Photo: Mike Shane
Flagship Brewing Company
40 Minthorne St., nr. Victory Blvd., Staten Island; 718-448-5284. Open Thurs. and Fri. 5-11 p.m., Sat. 2-11 p.m., Sun. 1-8 p.m.
"Staten Island Born and Raised" read the backs of staffers' shirts at Flagship, one of only two breweries to have opened in the self-described "forgotten borough" in the past 50 years. The brand-new taproom—just a short walk from the ferry—is already so populated by everyone-knows-everyone neighbors that you might be tricked into feeling like you're at a (albeit brightly lit, spacious) locals' watering hole. But unlike at a dive, the beers on offer ($5 for a pint), made in the adjacent, glassed-off warehouse, are top-notch, like the Flagship APA, hoppy with a clean finish.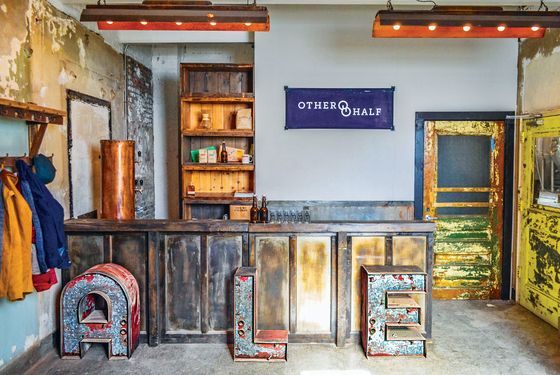 Other Half Brewing Company
Photo: Miguel Rivas
Other Half Brewing Company
195 Centre St., nr. Smith St., Carroll Gardens; 347-987-3527. Open Fri. 5-9 p.m., Sat. and Sun. noon-8 p.m.
The city's newest taproom—a 400-square-foot, rustically decorated space—opened the last weekend of May. Don't expect wacky, out-there beers: Other Half's owners (who met working at Greenpoint Beer Works) say they're focusing on Belgian farmhouse beers and West Coast-style IPAs like the super-hoppy All Green Everything, a triple IPA that clocks in at 10.5 percent ABV (alcohol by volume), and the Other Half IPA (pints $6; 64-ounce growler fills from $14; tasting flight $5).
Gun Hill Brewing Company
3227 Laconia Ave., nr. Boston Rd., the Bronx; 718-881-0010. Open Mon.-Thurs. 1-9 p.m., Fri. 1-10 p.m., Sat. noon-10 p.m., Sun. noon-7 p.m.
In the early 1900s, the Bronx was home to an enclave of breweries, with some seven beer-makers in a 20-block radius: Zeltner's, Eichler's. Today, only Gun Hill, whose taproom opened in March, brews there (though the Bronx Brewery will move to Port Morris soon). Stop by for an informal brewery tour; order a flight ($8) or a pint ($5) in the wooden-walled tasting area to try beers like the seasonal Schuyler's American Wheat. Also available: snacks like popcorn and, on weekends, substantial food offerings—Bill's Balls serves meatball sliders on Fridays.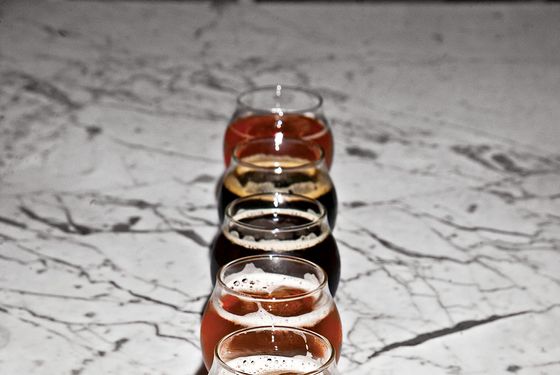 Finback Brewery
Photo: Marvin Orellana/New York Magazine
Finback Brewery
78-01 77th Ave., Glendale; 718-628-8600. Open Fri. 4-8 p.m., Sat. noon-6 p.m., Sun. 1-5 p.m.
In a warehouselike space in the part of Queens where Madonna-and-Child figurines abound, co-owners Kevin Stafford and Basil Lee offer up Belgian beer-style glasses filled with their culty brews, like the sour ale Starchild. Tour the immaculate brewing space or just hang out with fellow local-beer fanatics in the white-walled, soon-to-be-art-bedecked taproom, which opened in May. Try the Coasted Toconut milk stout, which is heavy on the chocolate, with a light note of coconut at the finish ($2 for a taste; $5 for a pint; $16 for a growler fill; $115 CSB, a growler a month for six months). Note the BYO food policy.
SingleCut Beersmiths
19-33 37th St., Astoria; 718-606-0788. Open Thurs. 4-11 p.m., Fri. 4 p.m.-1 a.m., Sat. 1 p.m.-1 a.m., Sun. 1-8 p.m.
"Astoria's very proud of us," says taproom manager Amanda Mayer. It shows: On weekends, crowds pack the room, where it's possible to order food like pretzels, cheese plates, and a BLT alongside a beer. Bartenders serve pints (from $4; 32-ounce growler fill from $8) of beers like the "Kim" Hibiscus Sour Lagrrr!, a refreshing, crisp, mouth-puckering number, with an IBU (international bitterness unit) of 5, lower than, say, PBR's or Budweiser's.
Rockaway Brewing Company
46-01 5th St., Long Island City; 718-482-6528. Open Thurs. and Fri. 3-8 p.m., Sat. and Sun. noon-8 p.m.
This brewery's aesthetic matches its namesake neighborhood's laid-back, DIY surfer vibe—in fact, it started as a beachside-bungalow brewing venture before moving to LIC. In the standing-room-only tasting room (which will soon be renovated and expanded), you can buy a $6 "Magical Mystery Tour," which permits you to wander the backroom brewery and survey equipment labeled with cardboard-and-Sharpie signs. The tour comes with four samples of beers like the Rockaway ESB (English-style extra-special bitter) and free bags of Cape Cod potato chips.
Big Alice Brewing
8-08 43rd Rd., Long Island City; 347-688-2337. Fri. 5-8 p.m.
In their first year, Big Alice's founders have released more than 100 ten-gallon batches of their nanobrews, each time using a different recipe—these beers are known for eccentricity and adventurousness. There was the Chocolate Morel Stout (No. 14), the Dandelion and Fennel Bulb IPA (No. 60), the Jalapeño Rye (No. 93). Most of these experiments can't be found outside the tasting room, where you can stop by for a small pour of the weekly rotating options, buy a 750-ml. bottle ($18), or sign up for the CSB plan ($200 for 12 bottles).
*This article appeared in the June 16, 2014 issue of New York Magazine.