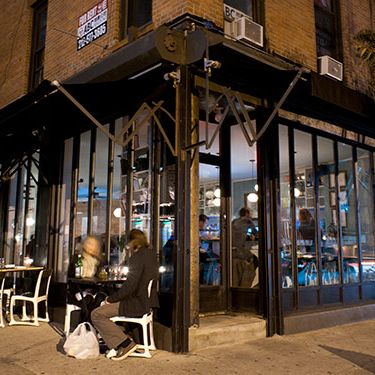 The restaurant opened last August.
Photo: Liz Clayman
Olibjorn Stephensen's Skál is losing chef Ben Spiegel, who is leaving on the day-to-day operations level but will maintain a "developmental and consulting capacity" at the "Icelandic-inspired" restaurant. Spiegel tells Grub he is going fishing — literally, with a ReefNet-based outfit called Lummi Island Wild — as well as staging in kitchens outside of New York. In his place, Spiegel leaves newly appointed executive chef James Kim, who started with the restaurant last month.
Skál, which opened last August, appeared in Adam Platt's "Where to Eat 2014" and is at the center of the bustling food and drink corridor at the easternmost edge of Canal Street. Stephensen says that the approach to food largely remains the same. Kim cooked at Roberta's and Acme, and is expected to add his own perspective to the restaurant's New Nordic motif and use of foraged ingredients. There's a good chance that Skál's popular charred broccoli dish with duck eggs and beef tartare with littlenecks will stay on the menu.
The restaurant will also start serving lunch, beginning June 12.
Related: Chinatown's New Immigrants: Why Easternmost Canal Street Is Feeling More and More Like Brooklyn