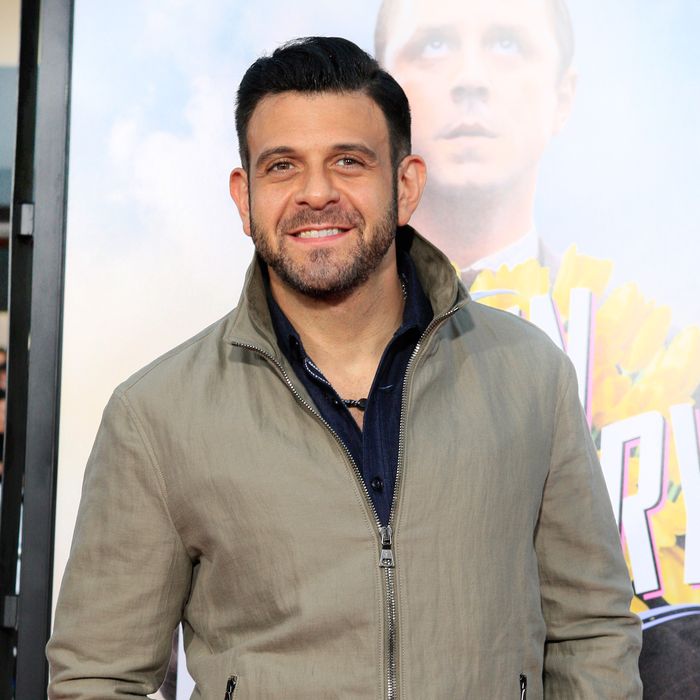 He's done some insulting, some apologizing, and some serious deleting in the past 48 hours.
Photo: Nina Prommer/PatrickMcMullan.com
The post–Man v. Food, 60-pounds-lighter Adam Richman is, if you haven't heard, really proud of that new figure. His schtick's now all about healthy eating and chilling with pro athletes — things like that. Oh, and apparently telling people who interact with him on social media to go kill themselves.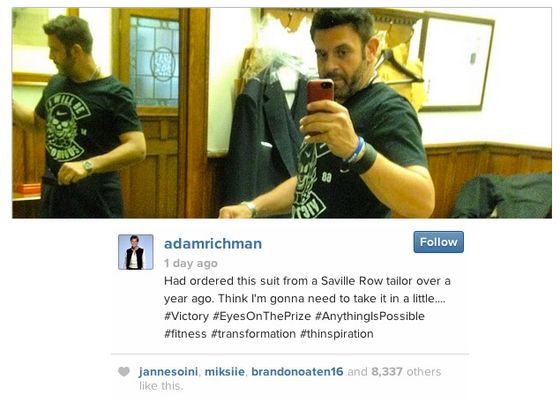 Richman's trouble apparently started with this Instagram selfie, posted Wednesday, in which he models an old pair of pants. "Had ordered this suit from a Saville Row tailor over a year ago. Think I'm gonna need to take it in a little … #Victory #EyesOnThePrize #AnythingIsPossible #fitness #transformation #thinspiration," the caption reads.
Courtesy of the internet, Richman swiftly learned his caption had issues beyond innocuous back-patting, specifically the hashtag #thinspiration is something to avoid because of a pro-anorexic connotation.
Mistake made, Richman didn't handle the subsequent "trolling" very well at all, eventually going berserk and calling blogger Adipose Activist (in a since-deleted comment) a "cunt" and suggesting another user should commit suicide. All of the offensive material has since been scrubbed from social media, but here's a screen grab: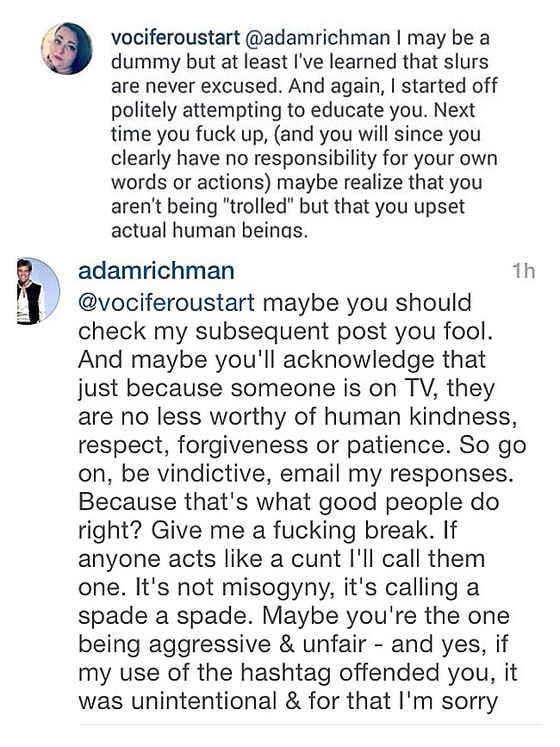 Photo: Adipose Activist

So, after being criticized for using the hashtag, yes, that's Richman reportedly writing:
"Go on, be vindictive, email my responses. Because that's what good people do right? Give me a fucking break. If anyone acts like a cunt I'll call them one. It's not misogyny, it's calling a spade a spade."
Then continuing, going the go-kill-yourself, also maybe-it's-better-if-you'd-never-been-born route with another critic: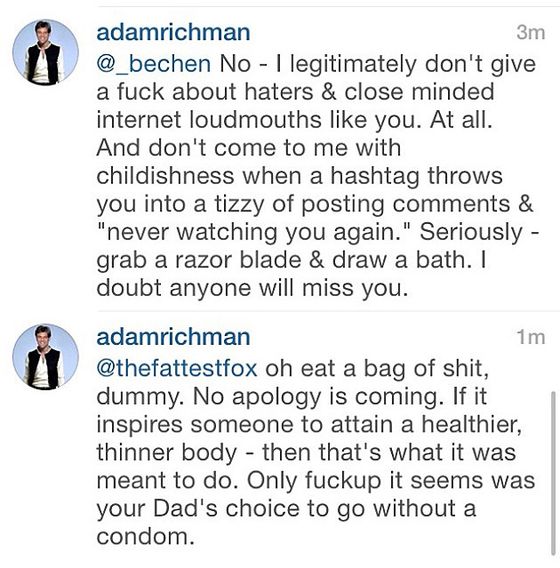 Richman intimated he was okay with losing a viewer, permanently.
"No - I legitimately don't give a fuck about haters & close minded internet loudmouths like you. At all. And don't come to me with childishness when a hashtag throws you into a tizzy of posting comments & 'never watching you again.' Seriously - grab a razor blade & draw a bath. I doubt anyone will miss you."
Then there was this deplorable, preachy comment.
"oh eat a bag of shit dummy. No apology is coming. If it inspires someone to attain a healthier, thinner body - then that's what it was meant to do. Only fuckup it seems was your Dad's choice to go without a condom."
It's disturbing language, television host or otherwise. Richman's since apologized on Twitter, enough times that he's gotten passive-aggressive about it, and even posted a short message to Instagram, in which he explained:
"Only after posting, and after - sadly only a few people - chose to educate me rather than insult me out right without explaining what I had done to upset them so much - did I realize the impact that this term had," he wrote, regarding the dustup. "I honestly only advocate people living a healthy, enjoyable life regardless of their size & I want for others all the best that they want for themselves."
That post has since been deleted, though, as have the tweets. The blogger who was insulted by the television personality and author is urging readers to contact the Travel Channel "to report Richman's behavior."
Man Vs. Food Vs. Social Media [Adipose Activist]