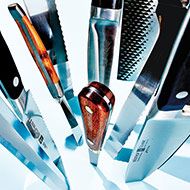 Photo: Bobby Doherty/New York Magazine
In these times of open-kitchen tasting-menu restaurants and nose-to-tail butchery classes, the knife has become a fetishized object—not just among culinary-school grads but on the countertops of everyday New Yorkers. Amassing the ideal cutlery collection is a high-stakes prospect, fraught with questions about single versus double bevels and whether to use a cleaver or a meat saw to carve a whole hog. And in New York, in addition to the classic knife temples like Korin—where a single hand-cut, hand-polished piece can take two weeks to produce—there's now a whole new crop of highly skilled Brooklyn knife-forgers to consider. To help you make the right investments, we created a compendium of expert knife picks, from April Bloomfield's go-to oyster shucker to Noah Bernamoff's bread knife turned smoked-meat slicer.
Where to Find Them
Broadway Panhandler
65 E. 8th St., nr. Mercer St.; 212-966-3434
The Village favorite offers a good range of inexpensive to high-end knives.
The Brooklyn Kitchen
100 Frost St., nr. Leonard St., Williamsburg; 718-389-2982
Kings County's best stop for an initial knife-outfitting, plus knife-skills classes.
Crate & Barrel
650 Madison Ave., at 59th St.; 212-308-0011
Decorative, everyday cutlery.
Ikea
1 Beard St., nr. Columbia St., Red Hook; 888-888-4532
Not a bad low-budget option—especially the Slitbar chef's knife.
JB Prince
36 E. 31st St., nr. Park Ave. S., 11th fl.; 212-683-3553
A warehouse for cooks and hangers-on.
Korin
57 Warren St., nr. W. Broadway; 212-587-7021
Wonderland for Japanese-knife fetishists.
MTC Kitchen
711 Third Ave., at 45th St. (enter on 45th); 212-661-3333
A calmer alternative to Korin, selling Japanese knives and other kitchenwares.
Sur La Table
75 Spring St., at Crosby St.; 212-966-3375
The shop's knife area is comprehensive, with friendly, hands-on service.
Victorinox Swiss Army
99 Wooster St., nr. Spring St.; 212-431-4950
A showroom for fans of the Swiss maker.
Williams-Sonoma
110 Seventh Ave., nr. 17th St.; 212-633-2203
Higher-end German and Japanese knives and flatware.
Knife Care Two Ways
Sabitoru or soap? Experts weigh in on different approaches to blade maintenance.
Cleaning
Specialty cleaners:
Knife people can be paranoid about using any sort of product on their precious collection. But some blades, like stain-prone high-carbon ones, demand special care, says Jonathan Benno of Lincoln Ristorante. You can remove rust and other spots with a sabitoru (or "eraser") from Korin ($8); Benno also recommends periodically treating high-carbon knives with tsubaki oil ($11 for 3.8 ounces; korin.com) to prevent corrosion.
Soap and water:
Harry Rosenblum of the Brooklyn Kitchen is in the purist camp when it comes to washing all his knives for fear of damaging the blades—just soap and water, and with his high-carbon knives, just water. As long as you're sure to dry them completely (water will help breed bacteria), "you can safely wash them without soap," Rosenblum insists. "Mankind would have become extinct a long time ago if that weren't true."
Storing
A magnetic strip:
Easy access to your knives is key, especially for someone like Tom Mylan, co-owner of the Meat Hook. But even if you're not butchering three pigs a day, Mylan recommends an out-in-the-open magnetic knife strip. An added bonus is the space you'll save: "Most people don't have enough countertop to take it up with a block." A basic strip like Ikea's Grundtal ($15), installed with a power drill, has all the magnetic strength you need.
A block:
If you've got the counter space, knife blocks are safer than magnetic strips around pets, children, and clumsy adults, and, of course, they can be beautiful design objects. Food52's Christina DiLaura says that OnOurTable's walnut block ($180 at food52.com/provisions) "is the most beautiful wood I've ever felt. When you touch it, it's like butter."
Sharpening
At home:
A high-quality sharpening stone from a shop like Korin will cost about $50 to $80, and doing it yourself involves running the blade across the surface, top to bottom, in several segments. The process, which is a bit of an art form, requires caution: "Every stroke I'm concentrating; I'm aware I can be cut," says chef John Daley of New York Sushi Ko. But it's this meditative quality of the ritual, he notes, that makes you "truly connected" with your knife.
With a pro:
That said, taking your knife to a professional doesn't make you a deadbeat knife-owner. "If you're sawing instead of slicing" through an onion, and honing it on a steel won't help, says cutler Christopher Harth, that's the time to bring it in. Harth, who's based in both the Gowanus Whole Foods and his Clinton Hill studio, will inspect your blades with a magnifier, then work with you to custom-sharpen to an angle suited to your purposes.
Related: How to Quarter, Slice, Fillet, and Shuck Like a Pro
Part Two: How to Dice, Cut, and De-Heart
*This article appears in the June 2, 2014 issue of New York Magazine.