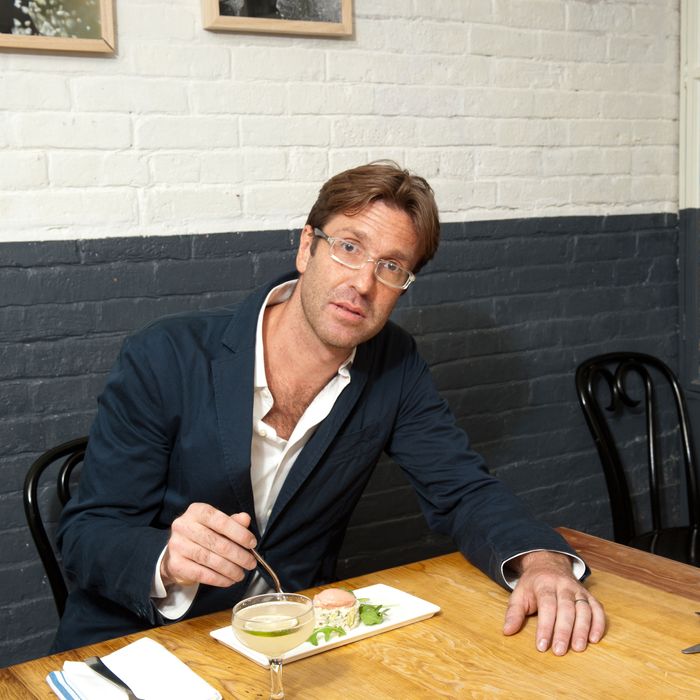 Goldfarb at Louro, which he considers "a proper neighborhood restaurant."
Photo: Liz Clayman
Will Goldfarb's story almost sounds made up: After making a splash in 2005 with the critically acclaimed pastry bar Room 4 Dessert, he eventually closed it, worked on a few smaller projects, then decamped to Bali, where he now directs a tasting kitchen, lab, and pastry program at Mejekawi by KU DE TA — a progressive place that enables him to make use of high-tech toys and local produce. But this week he was back in New York to spend time with family, friends, and former colleagues, as well as eat plenty of dessert. Read all about it in this week's Grub Street Diet.
Friday, April 25
Yesterday, I had to fly 30 hours to get to New York. But I got upgraded to business class on Qatar Airways, so I drank vintage 1999 Lanson Champagne and NV Bollinger Rose, and ate cold-smoked tuna. Then I came home to Garrison, New York, ate my mom's roast chicken and baked pumpkin in mustard sauce, and crashed.
I couldn't have breakfast on Friday because I had to get CT and MRI scans to make sure my cancer hadn't come back. I ate nothing by mouth, but there is a bar around the corner from Mount Sinai, and I have a tradition where I go and have a drink before my scans. So, technically, I had a Guinness for breakfast at a bar that used to be called Hanratty's.
Right after, I had lunch at my favorite bodega that's next to Mt. Sinai: sushi from Qmart. It was a spicy tuna roll. Not great, but I went there every day for five months. I then went and had an espresso and a mini lemon tart at Le Pain Quotidien. It was delicious.
For dinner, I went to the Garrison Golf Club with my parents — just down the street from their house. I had a dozen sparkling, fresh raw oysters, a lobster roll, and F.X. Pichler Gruner Veltliner.
Saturday, April 26
I did not eat anything during the day, other than black coffee, because I was preparing for an evening at Fish & Game in Hudson. I had the whole tasting menu there, as well as oysters and sausage bites at the bar, and a Sidecar to drink.
Among other dishes, my parents and I had: carrots with maple and pickled onions, lamb-cetta, monkfish with bouchot mussels, and pasta with rabbit and tumeric. A delicious bread course that included a memorable brioche with rye flour, cultured butter, and fresh homemade ricotta. Everything was excellent. For dessert, Concord grape gel.
Zak [Zakary Pelaccio] is curating the wine list, and it's the best wine list that I've seen in recent years. It's a total geek wine list of unexpected producers and grapes. We had Aubunite La Sorga 2011 Antony Tortul and Jean Yves Peron Cotillon Des Dames Jacqueresse.
Sunday, April 27
Black coffee for breakfast, and Cheerios with raisins. I'm a Cheerios guy.
I went to Woodbury Commons Shopping Mall to buy a gift for my daughter, and I stopped for miso udon noodle soup and iced green tea.
For dinner, my mother prepared a cold squid salad. It was delicious.
Monday, April 28
I raced to catch a train into the city, and I don't think I ate anything other than water until I met Bob Truitt, his wife, and baby at Balthazar for a late lunch of steak tartare, chicken-liver terrine, and fries.
On Monday night, I had dinner at Louro in the West Village. It's one of my favorite places in all of New York. It's a proper neighborhood restaurant. I was with a few friends, including Erin Kanagy-Loux, who's the pastry chef at the Wythe. We ate a ton of stuff: crab salad with rhubarb sorbet, snails and bone marrow, and agnolotti. Three very memorable dishes. And we drank a light red Burgundy.
After that, we went to an after-hours bar, Wogie's. I never drink like this when I'm in Bali! Jameson and Guinness.
Tuesday, April 29
I met my friend at the Stumptown at the Ace Hotel for a macchiato. And then we walked down to to Juice Press, where I had a green juice. And then I walked back to John Dory and had a fish soup at the bar.
Next, I stopped by the bar at the NoMad and had green tea, which segued into a Martinez, which segued into the Last Word cocktail. I made my way over to Toro, where I met friends and shared excellent paella, La Quercia ham, and grilled octopus. Everything Jamie [Bissonnette] cooks is delicious, frankly. We had some light reds and some cocktails.
Pam Young, Bob Truitt, and I had a Room 4 Dessert reunion at Empellón Cocina. I've been a big fan of Ken Oringer since Clio, which is where I met Alex Stupak 15 years ago. We had the dessert tasting — trying to derail the story that there are no desserts in New York. Alex has always been one of the best pastry chefs around. I loved one killer flavor combination: pineapple, chartreuse, and pistachio. And the passion-fruit tart was excellent, too. We had five desserts.
After, we went to Bar Veloce and drank Veloce Bianco wine.
Wednesday, April 30
I had a coffee for breakfast. And then, green tea for lunch. My meal was the dessert tasting at Juni. Mina [Pizarro]'s desserts are extraordinary — especially the one with roasted pineapple.
For dinner, I headed back to Hudson to meet Zak. I had the pork shank at Jackson's Old Chatham House, and several wines from Fish & Game, even though they were closed.
We just had wine that night, but I always save room for desserts. The alternative to saying there are no pastry chefs might be to go to look for them.