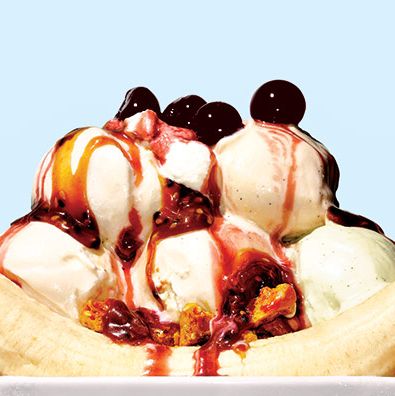 Look forward to an entire summer of this.
Photo: Bobby Doherty/New York Magazine
There's more to summer than outdoor dining and waterfront views. There's ice cream, for one, and rosé, and fish tacos and mercifully cold drinks, plus food that puts you in a summery state of mind, from Jamaican jerk to pasta with pesto. Here, our picks of some of the best new tastes of the season — eaten indoors with an outdoor mentality.
1. Go on a banana-split bender at Morgenstern's Finest Ice Cream, the new Lower East Side parlor where Nick Morgenstern gives the iconic soda-fountain treat a high-concept redo: a five-scoop ode to excess with as many variations on the theme of vanilla. Why vanilla? Because despite its reputation as the least exciting flavor, in fact it's remarkably rich and complex, not to mention the most popular ice-cream choice in America. The classically trained pastry chef goes equally deep and wide on chocolate, coffee, and caramel. (2 Rivington St., nr. Bowery; no phone yet)
2. Sip French rosé at Claudette, Carlos Suarez's new Provençal restaurant, where the pink drink comes by the glass and carafe, showcasing regional viticultural variation from not only Provence but also the Loire, the Rhône, and Corsica. (24 Fifth Ave., at 9th St.; 212-868-2424)
3. … or buy local: Charles Fournier Gold Seal Rosé 2013 is a new release with an old backstory: Charles Bieler and Bruce Schneider, the duo behind Gotham Project's trendsetting tap wines, launched this label in homage to the Frenchman who, along with Finger Lakes legend Konstantin Frank, planted some of the state's first vinifera grapes in the 1950s. Made from stainless-steel-aged Cabernet Franc, it's fruity, savory, and altogether refreshing. ($16 at Dry Dock Wine & Spirits)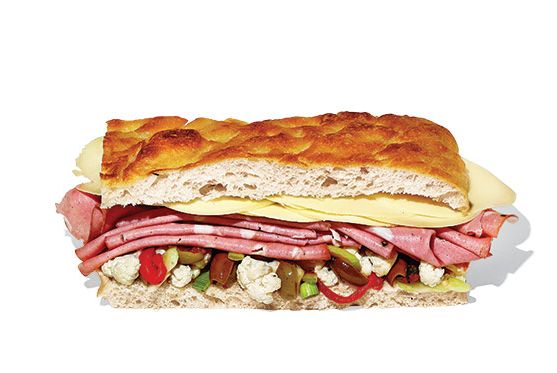 New York's newst muffuletta, from R&D; Foods.Photo: Bobby Doherty/New York Magazine
4. Taste-test deep-fried versus griddled fish tacos at Cafe El Presidente, the new Mexican food court of sorts near Madison Square Park, and wash them down with a Spiked Sandia—fresh watermelon juice and tequila on the rocks. (30 W. 24th St., nr. Sixth Ave.; 212-242-3491)
5. Pack the perfect picnic sand­wich. The muffuletta (Fra' Mani mortadella, provolone, and a killer olive salad dressing on Orwasher's focaccia) at Ilene Rosen's brand-new R&D; Foods only gets better as the flavors meld on the way to the park. (602 Vanderbilt Ave., nr. St. Marks Ave., Prospect Heights; 347-915-1196)
6. Sample some I.P.I. (that's "India Pale Ice Cream"), made with hops, malt, and dry-hopped cream, at Hay Rosie, a Brooklyn factory that owner Stef Ferrari, a veteran of the craft-beer industry, will open as a tasting room on weekends. Ferrari pasteurizes New York State dairy on-site, makes mix-ins from scratch, and offers one seasonal sundae a week, plus tasting flights in mini egg cartons. (204 Sackett St., nr. Henry St., Carroll Gardens; 347-987-4983; June)
7. Dive into a zesty zuppa di pesce, spaghetti clams casino, or tagliolini al pesto at Bar Primi, where longtime Andrew Carmellini protégé (and now chef-partner) Sal Lamboglia plumbs his Bensonhurst Italian upbringing. (325 Bowery, at 2nd St.; 212-220-9100)
8. Cool off with sweet tea or watermelon-cucumber lemonade at BeeHive Oven, the brick-and-mortar actualization of a Smorgasburg stand. Biscuits are the house specialty, and appear everywhere from the signature fried chicken sandwich to the Picnic Platter, a southern sampler of pimento-cheese spread, deviled eggs, sliced ham, and pickles. (182 S. 2nd St., at Driggs Ave., Williamsburg; 347-987-4960; May 21)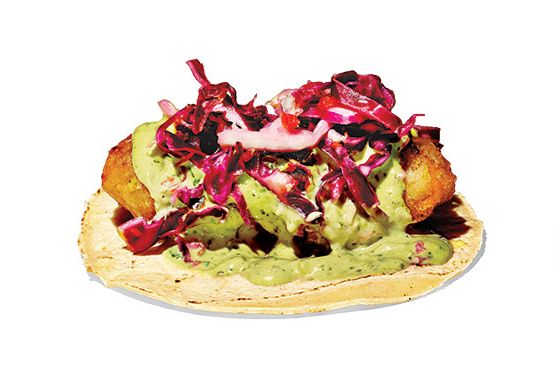 The fish taco from Cafe El Presidente.Photo: Bobby Doherty/New York Magazine
9. Tuck into a jerk lobster at Glady's, which has recently metamorphosed from an upscale sandwich shop into a first-rate source of Caribbean comfort food (and boozy rum drinks). (788 Franklin Ave., at Lincoln Pl., Crown Heights; 718-622-0249)
10. Catch up on your summer reading while waiting 26 minutes and 33 seconds (a personal record) in a line composed almost entirely of teenage girls for a scoop of ice cream wedged between a cupcake top and bottom at the new Sprinkles ice-cream shop. (782 Lexington Ave., nr. 60th St.; 212-933-1740)
11. Find out what pairs best with a smoked-fish platter at Russ & Daughters Cafe: cream soda, cherry shrub, chocolate egg cream, shot of vodka, bottle of Champagne, or a Schmoozer (a rye, aquavit, bitters, and absinthe-rinse cocktail). (127 Orchard St., nr. Delancey St.; 212-475-4881)
12. Visit Manhattan's first Dairy Queen and do what the chain's biggest fan, Milk Bar's Christina Tosi, does: Order a Blizzard and fries. Dunk French fry in Blizzard. Repeat. (54 W. 14th St., nr. Sixth Ave.; no phone yet; late May)
13. Perk up with Stumptown's new, not-too-sweet Thai-style cold-brew coffee. (30 W. 8th St., at Macdougal St.; 347-414-7802)
14. For a light warmup, enter the Nathan's Fourth of July hot dog eating contest, then visit the new Bubby's High Line and see if you can polish off a Kitchen Sink — a $175 26-scoop sundae served in a porcelain basin and smothered with as many syrups and toppings as you like. The shop suggests you bring at least 14 friends to help you eat it, and also requires 24-hours advance notice. (71 Gansevoort St., nr. Washington St.; 212-206-6200)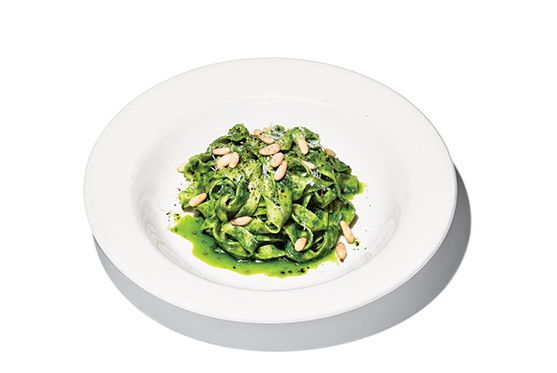 Pasta with pesto from Andrew Carmellini's Bar Primi.Photo: Bobby Doherty/New York Magazine
15. Give yourself a case of brain freeze by ordering the halo-halo (think snow cone crossed with a miniaturized Filipino version of a Bubby's Kitchen Sink sundae) at the new Lumpia Shack and Snackbar. (50 Greenwich Ave., nr. Perry St.; 347-985-0623)
16. Pretend you're in Menemsha instead of Greenpoint and order a roll (lobster, clam, or shrimp), or maybe a grilled bluefish sandwich at Littleneck Outpost, the new, more casual, counter-service spinoff from the folks at Littleneck proper. (128 Franklin St., at Milton St., Greenpoint; no phone yet; June)
17. Support your neighborhood mom-and-pop scoop shop by visiting The Local, the new retail spinoff of wholesale ice-cream and granola-bar maker Brooklyn Bell Foods, run by software designer Ron Cunningham and his lawyer wife, Kati. (843 Classon Ave., nr. Lincoln Place, Crown Heights; no phone yet)
This is an extended version of an article that appears in the May 19, 2014 issue of New York Magazine.