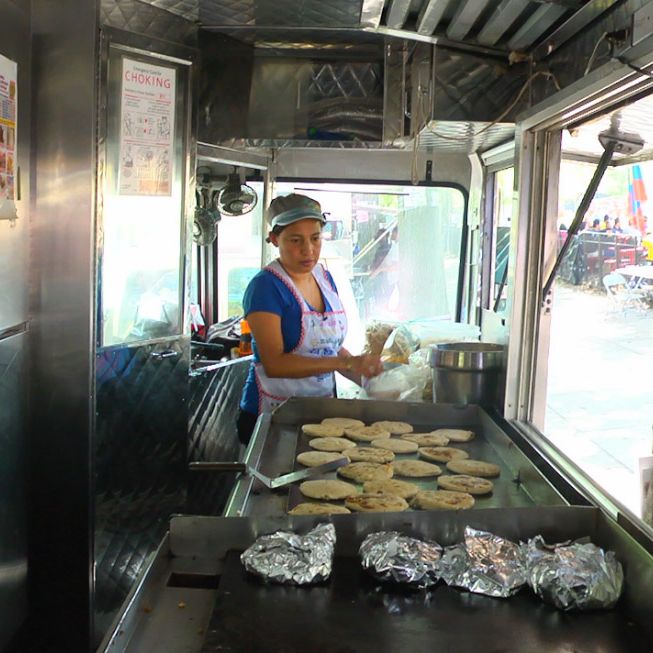 Red Hook–based Salvadoran pupusa vendor, El Olomega, last year's Vendy Cup winner.
Photo: Liza de Guia
It's hard to believe it's been a decade since there were enough roving food trucks to warrant a great big public contest, complete with sold-out crowds, food-world luminary judges, and trophies, but here we go: Today marks the opening of the annual Vendy Awards season, its tenth, and in addition to the release of a number of early-bird tickets, New Yorkers can right now nominate their favorite mobile vendors in five categories.
Ballots will only be accepted through June 19, so best get to clicking now. As in previous years, top nominees funnel into five categories: Rookie of the Year, Best Dessert, Best of New Jersey, and Best Market Vendor, which goes to the truck that turns up at street fairs and food festivals and keeps a focus on locally sourced ingredients. The big game of the evening, as ever, is the Vendy Cup, which goes to the best vendor overall.
Finalists will cook and serve hundreds at the ceremony, Saturday, September 13, in advance of the winner's announcement. On awards night, the crowd gets to participate in a flash vote for a People's Choice Award. (Luke's Lobster currently holds the title.)
The festive event was held in Brooklyn's warehouse-y Industry City last year, but this year the awards head back to Governors Island. The deciding factors, organizers say, were more space for the actual trucks, and feedback from street-food fans.
Last year's Vendy Cup went to El Olomega, a Salvadoran truck at the Red Hook ball fields, which is known for its beloved pupusas. "For an actor, winning an Oscar is everything. For us, winning the Vendy Cup here in New York City is almost the same thing," said owner Marcos Lainez after winning. Whether El Olomega will get a chance to defend its title or be bumped out of the competition now depends on the nomination process.
A limited number of early-bird tickets for the September showdown go on sale today, and cost $135 for VIPs and $85 for general entry. As ever, the price of admission doesn't just buy you the best street food — funds raised help Street Vendor Project advocacy work.
2014 Vendy Awards [Official Site]
10th Annual NYC Vendy Awards [EventBrite]