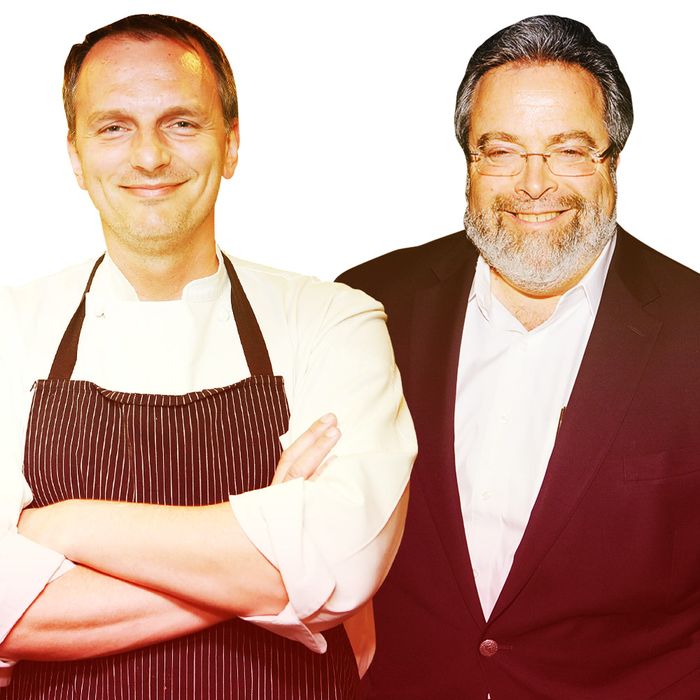 Have you heard both these guys opened restaurants this week?
Photo: Robin Marchant/Getty Images; Jamie McCarthy/Getty Images
The prevailing wisdom in food circles is that 2014, so far, is a real dud for new restaurants. Adam Platt recently called it "fallow." In his review of Gato, Ryan Sutton called it an "exceedingly boring year for New York City restaurants." And, when compared to this time last year — when Lafayette, Carbone, and Alder all opened within like an hour of each other — this spring's openings do feel more muted. But it's not because 2014's new restaurants are inherently less exciting: It's because some owners seem much more determined to play down preopening hype than they have been in the past.
Just look at what happened this week: Andrew Carmellini and his partners opened the new Italian restaurant Bar Primi. Given the never-ending hype surrounding Carmellini's other Italian restaurant, Locanda Verde, this is the kind of follow-up that would normally have people clamoring to get in months before the place was even finished. But the owners surprised pretty much everyone when they announced on Monday that they'd be opening that very night. Compare that to the months of run-up that accompanied the group's last major opening, Lafayette.
The same is true of Drew Nieporent's latest restaurant, Bâtard, which opens to the public tonight in the former Corton space. He's done more press than Carmellini did in advance of the opening (in that he's done any at all), but it still feels like the actual opening has been downplayed, especially since people have been speculating about the fate of the restaurant since the minute Nieporent announced Corton would be closing for good.
So, here are two very big openings from prominent players in the span of three days, without the kind of intense hype that typically accompanies these sorts of things. And there are benefits to this approach. Unlike books and movies, restaurants don't often emerge to the world as fully realized entities: They grow and develop, especially in the first few months of business when owners and chefs work out all the kinks and hiccups that appear when they start cooking for actual paying customers. Just look at all the changes that take place at a restaurant like Mission Cantina, which has overhauled the menu and even introduced its killer burrito program since opening six months ago.
The downside to the low-buzz approach to opening is that nobody actually shows up at your new restaurant. But here (like Beyoncé and Radiohead, who can drop surprise albums), Carmellini and Nieporent have advantages that less established owners don't: They're huge names in the industry and diners will find them eventually, to say nothing of the critics who are practically mandated by the dining public, and their own editors, to review these spots. If those reviews are glowing, coming after the restaurants have had a little time to grow, we might very well look back at 2014, which has also already seen strong openings like Ivan Ramen and Russ & Daughters Cafe, as a great year for New York restaurants, too.