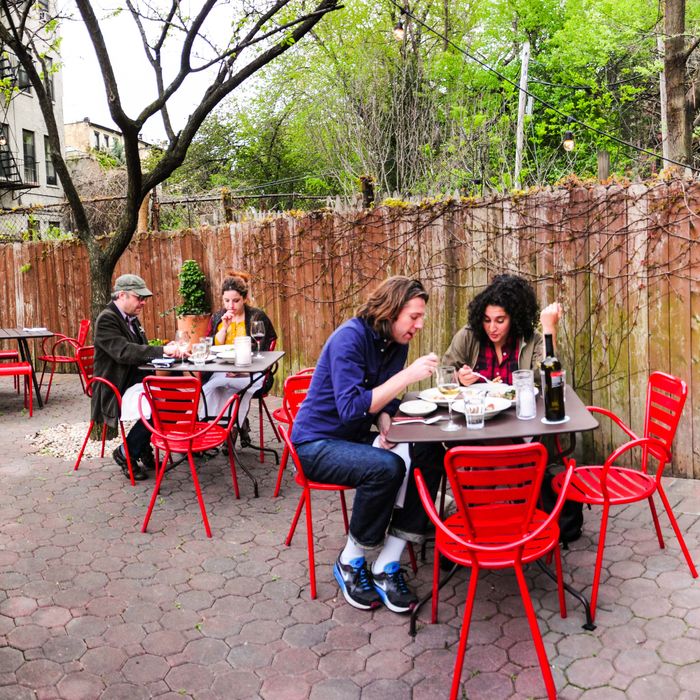 The garden behind Marco's.
Photo: Sarah Silberg/New York Magazine
If anything defines a New Yorker's fortitude in the face of adversity, it's the persistence in finding a good place to chow down in the open air, such as it is. And such persistence is rewarded by this season's new crop of outdoor dining destinations, from a sidewalk patio at one of Manhattan's hottest restaurants to a raw bar located on a boat. Here, what to eat and drink at 21 fresh spots that you'll definitely want to check out this summer.
1. Slurp Long Island oysters at Grand Banks, a raw bar (plus) on a wooden fishing schooner, the Sherman Zwicker, which will be docked all summer in the Hudson. (Pier 25, West Side Highway at N. Moore St.; 212-960-3390; June)
2. Pork out at Arrogant Swine, an industrial-Williamsburg beer hall and garden dedicated to authentic Carolina-style whole-hog barbecue. Queens-raised owner Tyson Ho, a former financial analyst, studied under Ed Mitchell, the most masterful Carolina pitmaster of them all. (173 Morgan Ave., at Scholes St., East Williamsburg; no phone; June)
3. Get your Salted-Crack-Caramel-ice-cream fix under the stars and by the light of the moon reflecting off the Gowanus Canal (if such a thing is possible) on the outdoor deck at the humongous new Ample Hills manufacturing plant and retail shop. (305 Nevins St., at Union St., Gowanus; no phone yet; June)
4. At the height of summer, reserve a table for five to eight in the newly renovated Franny's turned Marco's garden, and order this: housemade farmer's cheese with Sun Gold tomatoes and charred bread, wood-grilled bluefish with roasted corn and hot peppers, and sweet-cream gelato with raspberries and lavender for dessert. (295 Flatbush Ave., nr. Prospect Pl., Prospect Heights; 718-230-0427)
5. … or try your luck snagging a no-reserva­tions table in the secluded quirky-sculpture garden at Narcissa, where chef John Fraser has owner André Balazs's upstate-farm harvest at his disposal, and pastry chef Deborah Racicot is replacing her winter sundae with a rhubarb rendition. (21 Cooper Sq., nr. E. 5th St.; 212-228-3344)
6. Drink craft beer on a promenade deck, dine at a chef's table, visit an aperitif bar, and, while you're at it, why not plan your wedding? There really isn't much you can't do at Pier A Harbor House, the three-story wining-and-dining megacomplex and event space in the landmarked Battery Park structure that will open to the public for the first time in 127 years. (22 Battery Pl., nr. Little West St.; 212-344-0500; July)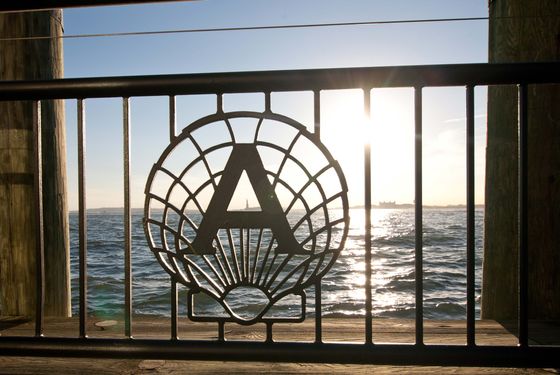 The view from the Pier A Harbor House.Photo: Courtesy of Pier A Harbor House
7. Start the weekend early with a surreptitious Friday lunch of grilled ramp toasts and rosé from a magnum at Charlie Bird, whose new 40-seat sidewalk patio is the latest alfresco addition to a swath of lower Sixth Avenue long colonized by Da Silvano and Bar Pitti. (Dinner nightly; lunch weekends only.) (5 King St., nr. Sixth Ave.; 212-235-7133)
8. Savor a Connect­icut-style lobster roll on the outdoor patio of the new East Village branch of the Red Hook Lobster Pound, which is as hushed and tranquil as a Trappist monastery. (16 Extra Pl., nr. 1st St.; 212-777-7225)
9. Nibble sustainable ceviches on the newly relandscaped terrace at Tavern on the Green, home to 40 new trees, 400 new shrubs, and the locavore cooking of chef Katy Sparks. (Central Park W. at 67th St.; 212-877-8684; Late May)
10. Swig a Negroni or a shakerato (iced espresso and sugar) and munch on a panino at one of the remarkably cozy street-side tables at this new coffee-bar outpost of Sant Ambroeus, and be prepared to admit that the phrase "peaceful New York City sidewalk café" is not an oxymoron. (540 Park Ave., entrance on E. 61st St.; 212-339-4051)
11. From the close-up perspective of an outdoor table, admire the gleaming chrome handiwork of the Empire Diner, built in 1946 by New Jersey's Fodera Dining Car Company. More to admire: Buffalo skate wings, a first-rate patty melt, a caramelized-banana split, and pretty much everything else on Amanda Freitag's menu. (210 Tenth Ave., at 22nd St.; 212-596-7523)
12. Go for a ride along the Hudson River bike path, then valet park your bicycle at NYC Velo (the bike shop located within Gotham West Market) before stuffing yourself silly with Ivan Ramen Slurp Shop noodles, Cannibal charcuterie, and Court Street Grocers heros at an outdoor communal table. (600 Eleventh Ave., nr. 45th St.; 212-582-7940)
13. Perch on a concrete Chesterfield sofa in the bluestone-paved, trellised courtyard of the Ludlow Hotel, future home to Dirty French, a Gallic departure for the Torrisi and Carbone team. Dishes like roasted clams amandine and duck l'orange preservé will debut later this summer; bar service begins next month, though, with cocktails like the Muddy Water, a wallop of Irish whiskey, cumin-infused Sazerac rye, Amaro Nonino, bitters, and an absinthe rinse. (180 Ludlow St., nr. E. Houston St.; 212-432-1818; June)
14. Feast on upstate produce at Blenheim, the West Village Smorgas Chef branch's more upscale, less Scandinavian successor. Chef Justin Hilbert, late of Gwynnett Street, employs the owners' Catskills-grown-and-foraged foods on a hyperseasonal menu — act fast, and you'll catch fiddlehead ferns with goat butter and roasted lemon — and the sidewalk café occupies an especially charming corner. (283 W. 12th St., at W. 4th St.; 212-243-7073; Late May)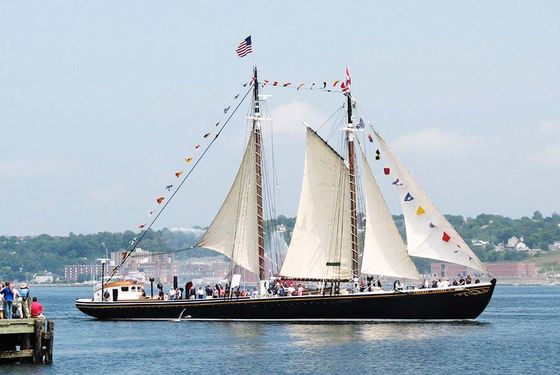 The Sherman Zwicker, which houses its own raw bar.Photo: Courtesy of Grand Banks
15. Carbo-load for a jaunt on the High Line with housemade tagliolini with local zucchini, lamb sausage, and mussels at the yet-to-be-named restaurant from Major Food Group, the team behind Parm and Carbone. The location can't be beat: a Renzo Piano-designed structure with alfresco seating at the park's southern terminus. (820 Washington St., at Gansevoort St.; no phone yet; August)
16. Have a leisurely brunch (or dinner) among the olive trees in the nicely appointed backyard garden at Bustan, a new "pan-Mediterranean" restaurant on the Upper West Side, and decide whether the culinary world is ready for Momofuku-style lamb-shawarma buns, beef-cheek hummus bowls, and pastrami-carbonara flatbread cooked in a taboon oven. (487 Amsterdam Ave., nr. 84th St.; 212-595-5050)
17. Soak up the sun in the 40-seat backyard at French Louie, where the menu is full of light French-inspired bites to snack on, from radishes and pickles to anchovy frites and smoked sardines. (320 Atlantic Ave., nr. Smith St., Boerum Hill; 718-935-1200)
18. Work your way through the elaborately seasoned and unstintingly spicy Thai salads at Pok Pok Ny, whose recent move to a larger space up the block also entails more outdoor seating. Another welcome addition: weekend lunch reservations accepted for parties of eight and up. (117 Columbia St., at Kane St., Columbia Street Waterfront District; 718-923-9322)
19. Start your day with Parlor coffee and Dough doughnuts in the 74-seat outdoor courtyard at Berg'n, the massive food and beer hall run by the Brooklyn Flea guys. Then abandon all plans to be seen in public while wearing a swimsuit this summer, and come back later for ramen burgers, Asia Dog corn dogs, Pizza Moto grandma slices, Mighty Quinn's brisket, and Blue Marble ice cream. (899 Bergen St., nr. Franklin Ave.; 718-857-2337; June)
20. Try the spicy red-chile ramen on the backyard terrace at Ivan Ramen, and test the "gustatory facial sweating" theory that postulates hot and spicy foods actually cool you down. (25 Clinton St., nr. Stanton St.; 646-678-3859)
21. Swig a chicory-stout ice cream float in the backyard garden at Pickle Shack, preceded by a smoked-tofu bánh mì and some fried Hop-Pickles. (256 Fourth Ave., nr. Carroll St., Gowanus; 347-763-2127)
This is an extended version of an article that appears in the May 19, 2014 issue of New York Magazine.