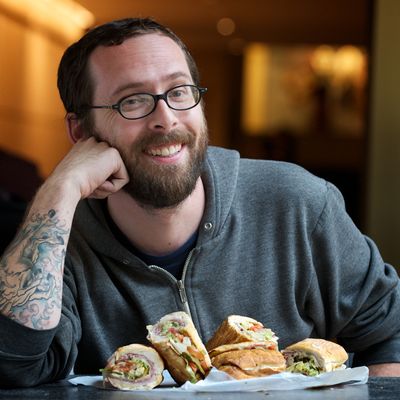 Broccoli connoisseur turned wedding planner.
Photo: Luke Townsend
In the wake of ReBar's sudden closing — and subsequent investigation by the Brooklyn District Attorney — plenty of people stepped up to help couples who no longer have a wedding venue. One is restaurateur Tyler Kord, who closed down No. 7 on Saturday to host an impromptu 120-person wedding for total strangers.
"On Friday morning, I was reading an article about the ReBar closing, and in the comments, a couple wrote that their wedding was supposed to be the next day, and left an email address," Kord tells Grub. "I told our manager to email and see if we could help, but I didn't think we could because ReBar is so big. They came by the restaurant at 5 p.m. on Friday, and we immediately tried to get food ordered for the next day."
How did things work out? "Originally, they were going to have a sit-down dinner, but we can't seat 120 people, so it was passed hors d'oeuvres. They did the ceremony in the restaurant and everything, and brought in a DJ with a microphone. I was super nervous about it because I didn't know if we were totally going to pull it off, but they seemed really happy! One of the wedding coordinators at ReBar must have told everyone else, because we've received about 50 emails about weddings. We're trying to help, but it's tough because it's a lot of people, and we can't shut down all the time. We're trying to do what we can!"
The bride and groom told Kord that because they put their ReBar deposit on a credit card, they think they'll be able to get reimbursed. And hey, if they had a good DJ and double-decker broccoli tacos, their wedding was definitely better than most.
Related: Brooklyn DA's Office Investigating ReBar in Dumbo
Earlier: ReBar Closes in Dumbo