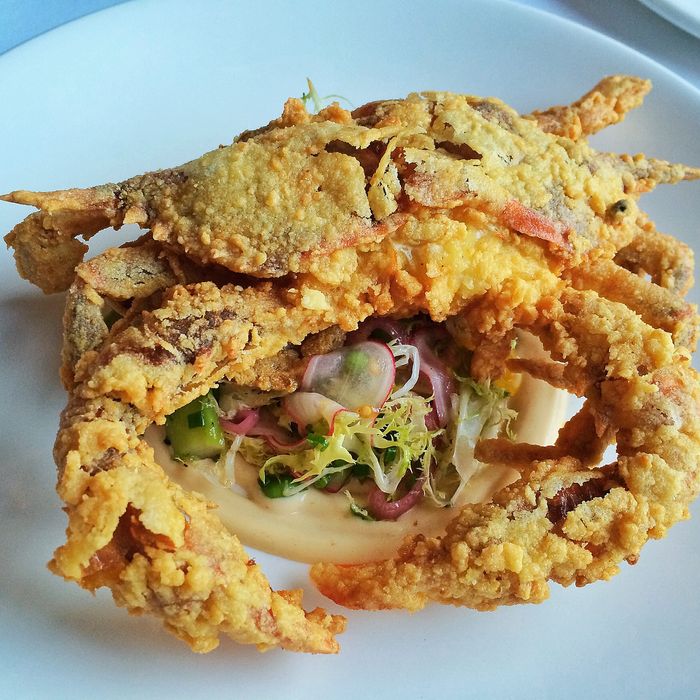 Mike Price fries soft-shell crab at the Clam.
Photo: Courtesy of the Clam
Memorial Day is the beginning of season for sweet, briny soft-shell crabs and, as always, plenty of New York restaurants already have them on their menus. This year, chefs are mixing things up: There's a ramen-flavored soft-shell crab sandwich at Toro, tempura soft-shell crab with pimento cheese at Momofuku Ssäm Bar, and a curry dish at Uncle Boons. We've rounded up some great seasonal specials that you will certainly want to try before they disappear.
Uncle Boons
Price: $14
The Thai Puu Pad Pong Karee dish combines soft-shell crab with yellow curry, garlic, and Chinese celery. The perfect accompaniment to a beer slushie.
Toro
Price: $18
A ramen-flavored soft-shell crab sandwich actually exists: The fish is dusted in cornmeal, fried, and then glazed in a sweet and spicy chili-and-black-pepper sauce. The sandwich is then topped off with mayo, crumbled crunchy ramen noodles, and gem lettuce — all on a Martin's potato roll.
Piora
Price: $32
Chef Chris Cipollone fries soft-shell crabs and serves them with fiddlehead ferns, frisée, treviso, cherry-pepper relish, and aïoli.
The Clam
Price: $19
You can count on this seafood restaurant to nail soft-shell crab: Mike Price serves it with Dijon mustard vinaigrette and a seasonal salad of radishes, asparagus, frisée, pickled onions, and chives.
The Dutch
Price: $23
The soft-shell "crabwich," with tomato, okra remoulade, and fries, is only available at lunchtime, but it is perfect for Summer Fridays.
General Assembly
Price: $19
This new restaurant in the former Hurricane Club space serves a play on a classic Louie salad with flash-fried crab, spring asparagus, and a green goddess dressing.
Colonie
Price: $15
In Brooklyn Heights, you'll find a togarashi-fried soft-shell crab sandwich with tomato-jam chimichurri and a healthy heaping of grilled broccoli rabe.
Momofuku Ssäm Bar
Price: $16
At dinnertime only, there's a tempura soft-shell crab with pimento cheese, green tomato, and sesame seeds on the menu — a Southern riff full of ingredients that basically everyone loves.
Beautique
Price: $23
This classy new uptown restaurant offers a super-seasonal salad with soft-shell crab and spring peas.
Cull & Pistol
Price: $17
The Chelsea Market seafood restaurant offers a BLT-style soft-shell crab sandwich with bacon, lettuce, tomato, pickled ramps, and smoked aïoli. Even if you're the kind of person who has ramp ennui, you need to get this.