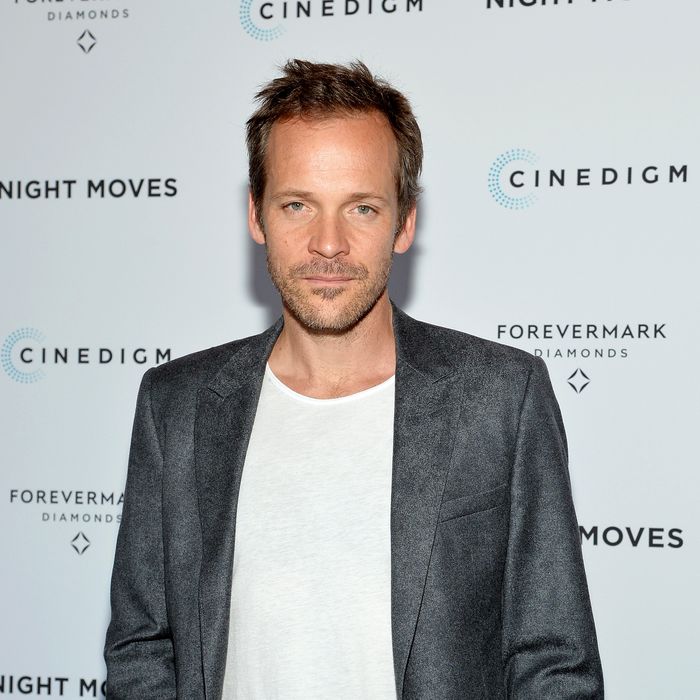 Sarsgaard likes the chance to handle the produce.
Photo: Patrick McMullan
Between the whole sustainability factor and bonus street cred, it's not exactly a secret that actors seem to enjoy stocking and restocking at the Park Slope Food Coop — Adrian Grenier was a proponent, right up until his ejection. In any event, it's definitely the place to be in between shooting films, in Brooklyn, anyhow. But do celebrities gravitate toward any in-store tasks and duties in particular? At Tuesday night's premiere of filmmaker Kelly Reichardt's Night Moves sponsored by Forevermark, Peter Sarsgaard told us that he favors working the loading docks. "I'm pulling stuff off the truck and putting it on the belt to go down," he said, adding, "it's a bit of a workout, but you can hold the produce and smell it."
Sarsgaard was also quick to mention that his wife Maggie Gyllenhaal much prefers bagging to receiving, while filmmaker-actor Alex Karpovsky, who was also in attendance, says he usually chooses the front-of-house side of the Coop. "My job is checking people in, scanning them in at the front door,"he said. "The lines are bad, but if you go at the right time, it's wonderful." (Karpovsky's Girls co-star Ebon Moss-Bachrach, in the meantime, told us he prefers to avoid the Coop altogether.) The one-shift-every-four-weeks schedule is an easy sell, apparently, but that's missing the point. "It's a sense of community with people you wouldn't normally hang out with," Sarsgaard said.