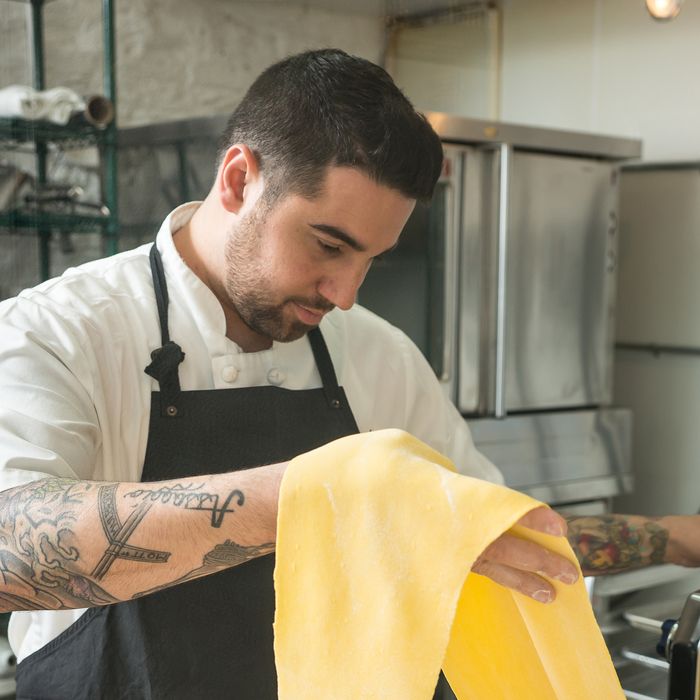 Lamboglia, making pasta.
Photo: Noah Fecks
This evening, Andrew Carmellini, Luke Ostrom, and Josh Pickard open their newest restaurant, a casual pasta shop in the old Noho spot recently vacated by Peels. There is a fourth partner here, though, 29-year-old chef Sal Lamboglia, a Bensonhurst native who has been working for Carmellini since his culinary school externship at A Voce. In the years since, Lamboglia has helped open every restaurant in the Noho Hospitality Group portfolio, from the Dutch Miami to the Sausage Boss concession at Madison Square Garden. But all along, Lamboglia has not-so-secretly pined for a little Italian restaurant of his own — one that would reflect his passion for the first-generation Italian-American food he grew up with. Tonight, he unveils it to the public — stuffed meatballs, his dad's tomato sauce, and all.
How did you get your start in cooking?
My dad was a chef on Mulberry Street for about 35 years. He owned a restaurant for about seven or eight years on Hester Street called Assaggio. He worked around, at Angelo's and Caffe Napoli. So I kind of had no choice. My dad would finish working and he'd bring home lobster fra diavolo and fried clams. My mom worked at a pastry shop right in our neighborhood, Alba, for years. And that's where my uncle started working, and then my other aunts, so it's kind of like a family affair back in Bensonhurst.
Did you work at your father's restaurant?
No, I was about 5. When I was 20, before culinary school, we actually opened a pizzeria in Park Slope — Bene Pizza.
What's your favorite pizza in New York?
My friend Frank owns Best Pizza out in Williamsburg. I like Frank's pizza. And as far as pies go, I like Don Antonio, the guys from Kesté. I think that's a pretty good margherita.
How did you come to work for Carmellini?
I actually met him at the James Beard Awards. I was a student and I really wanted to go to the awards and I went. I got all dressed up. I borrowed my cousin Sal's really expensive pinstriped suit. It was probably just a bit too shiny for that night. And I ate probably, like, 15 duck meatballs just so I could hang out by the booth. We chatted for a few minutes, and he told me to come over and trail and I did.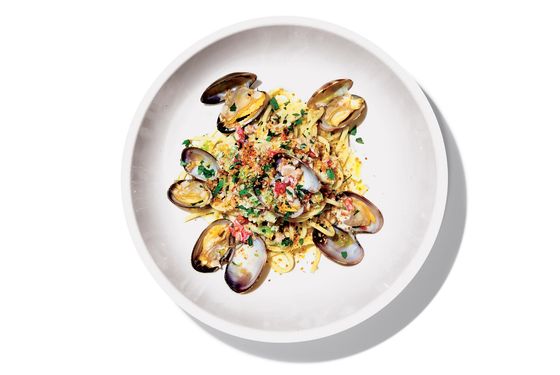 Spaghetti clams casino.Photo: Bobby Doherty/New York Magazine
What did you say to him? How did you guys hit it off?
I told him I was a big fan of his. I had seen him make a plate of pasta on TV, and believe it or not, I said to him, "You know, chef, I saw you making that ravioli, and I can make it pretty good. I can make it just as good." He's like, "Really." I was like, "Yeah." He's like, "Well, why don't you come over and show me?"
So how did you get from there to Bar Primi?
They knew from day one that all I wanted to do was have a pasta shop or make pizza. If I made family meal it was, like, baked ziti, or it was something Italian. So throughout all these openings, I would always kinda, like, sit and talk, and chat with him about the future, and about hopefully one day having this pasta restaurant. And he mentioned, actually, Bar Primi — he mentioned the name to me, probably at Locanda Verde. But he knew if he told me too much, I would get way too excited and that's all that I would focus on, which was right. And so every so often I would always be, like,
"Hey, that Bar Primi … " He's like, "Patience," you know, "let's just focus on Lafayette, or Joe's Pub, or Dutch Miami, and then we'll talk."
Is there anything on Bar Primi's menu you learned from your father?
There are a few things I'll always take with me that I've adapted over the years. There's this tomato sauce that's in one of the dishes, and it's very, very simple. My dad's been making it for years.
What's the secret?
There's no real secret. It's just really good toasted garlic, really good chile flake, really good quality San Marzano tomatoes that I'll crush with my hand, and a lot, a lot of basil, and just good salt and pepper.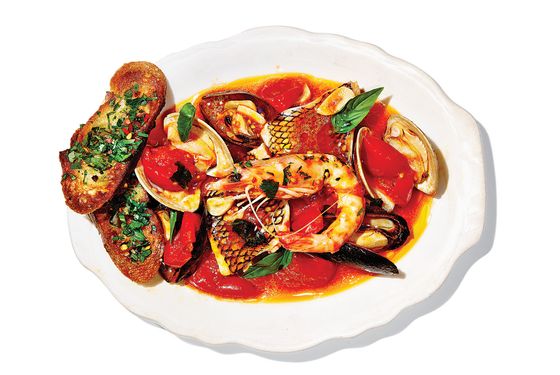 Zuppa di pesce.Photo: Bobby Doherty/New York Magazine
You have meatballs stuffed with Fontina on the menu. Is that your invention?
No, that was a collaboration. But I would take meatball heros to school and people wanted to buy them off me. I'd actually bring in some for the teachers — my gym teacher, my math teacher — whoever I think I wanted to treat me a little extra special.
Is your Wednesday special the same Sausage Boss sausage that Carmellini sells at Madison Square Garden?
Yes. Funny story about that: My dad actually works at the Garden. He's now semi-retired, so, like, three years ago he wanted a part-time thing to keep busy. So I brought him over to the Garden after I was done training the staff how to make the sausages, and then I got my dad the gig over there to help oversee and supervise. So if you go over to the Garden, ask for Tony. He won't say much unless you speak to him in Italian.
Here's a first look at Lamboglia's menu, the all-Italian wine list, and one more dish: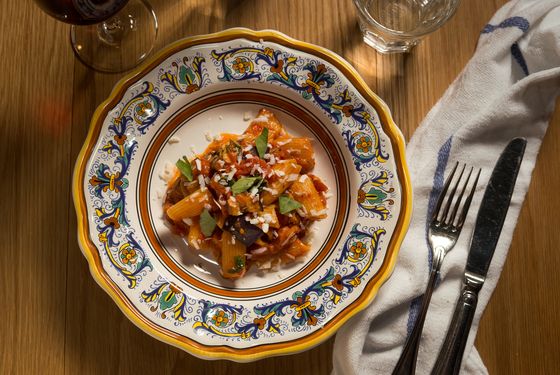 Rigatoni with eggplant.Photo: Noah Fecks
Dinner Menu [PDF]
Beverage Menu [PDF]
325 Bowery, at 2nd St.; 212-220-9100