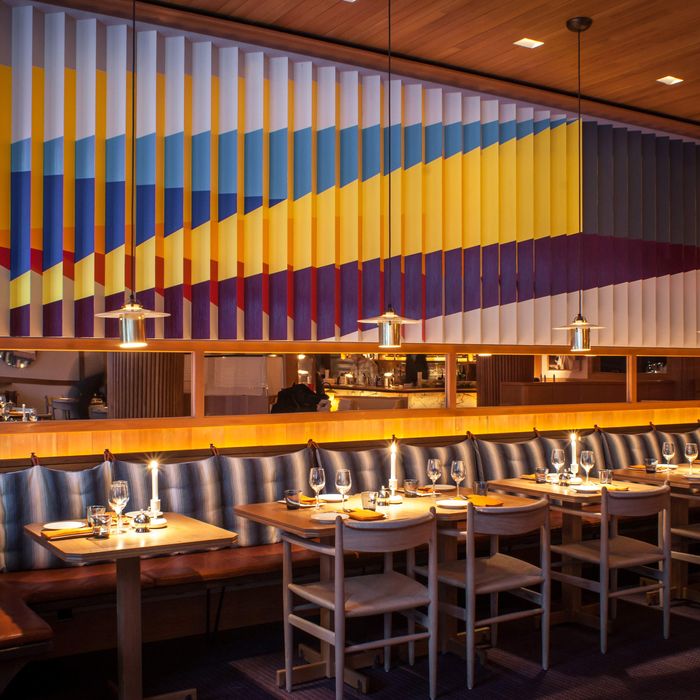 Two stars for John Fraser.
Photo: Paul Wagtouicz
This week, Adam Platt awarded one star to the Gander for its gimmicky, clunky cuisine; and one star to Bar Bolonat, for its Mediterranean-inspired "exotic" small plates. Elsewhere in the city, Pete Wells dined at Narcissa, Ryan Sutton loved the Italian-Japanese fusion at All'onda, and Robert Sietsema enjoyed Ecuatoriana. Read it all, and more, straight ahead.

Pete Wells visited John Fraser's Narcissa and hailed the restaurant's vegetable plates as complex, startling successes. In his two-star review, Wells praised Narcissa's carrots Wellington, rotisserie beets, salads with "sophisticated-hippie handfuls of sunflower seeds," and "supergreen spinach" laced with béchamel-based puree. But Wells could've gone without the carrot fries, overdone and with a "greasy battered shell," and the roasted, "not-quite-juicy" branzino with so-so-tasting salsa verde. Desserts are good and "just clever enough," like the chocolate tart with curried bananas.
Robert Sietsema ate at Ecuatoriana, an authentic Ecuadoran diner in Harlem. The plentifully portioned ceviches are the best "summer dish in town," especially the ceviche mixto con concha negra (mixed ceviche with black clam) that includes "octopus tenderized to within an inch of its young life." While the caldo de bola (a "weird" vegetable soup with a brown globe-shaped dumpling of ground meat and boiled egg) was a misfire, Sietsema loved the "glove-like" honeycomb tripe stew, guatita. Two stars.
Ryan Sutton enjoyed the mishmash, modern, Italian-Japanese experience at All'onda. The Parmesan dashi with tomato oil and ricotta dumplings was "obscenely delicious," as was the polenta transformed into vegetarian "pork rinds," and veal-glazed sweetbreads were sprinkled with "bonito flakes as if they were truffles." The pastas were flawless and perfectly portioned — like lobster risotto and smoked uni bucatini. And he called the sous-vide short rib coated with tomato jam "drool-inducing meat candy." Two stars.
The New Yorker's Amelia Lester dined at the Marlton Hotel's Margaux and found the food, service, and atmosphere disappointing. The Farmer's Board's avocado hummus's chunkiness made it "inferior to guacamole," a cauliflower custard looked like scrambled eggs, and a salad comprised of "spiky, fibrous slivers" of artichoke was hard to eat. While the rotisserie chicken with green harissa was "just the right grade of spicy," dessert proved less than pleasant. Overly salty, unevenly textured feta ice cream accompanied a "neon-colored, cold" rhubarb crostata that looked "like a leftover Danish from a breakfast service."
Zachary Feldman paid a trip to Sushi Dojo, calling it the East Village's "raw-fish temple." While Dojo's prices are relatively modest compared to its quality, the sushi was nonetheless astounding. Sashimi, on a bamboo leaf, included kampachi next to "jolting nubs of orange clam" and Spanish bluefin tuna. The sushi was also masterful, like the golden-eye snapper kissed with "rock salt and lemon," seasoned by the "Oz-like group of sushi unicorns."
Steve Cuozzo also went to Harlem this week, counting down the eight restaurants worth visiting on Lenox Avenue, the up-and-coming food scene with "20-odd friendly bistros and bars." Barawine, a modern French bistro, served classics like branzino Provençal with black olives, asparagus, and tomatoes. La Bodega 47 was a "speakeasy-style social club" with "killer cocktails" and a small American menu with the likes of hummus bowls. While BLVD served "crafted American soul" comfort food, like shrimp and grits and housemade bread "served with cane-sugar-blended butter."
Michael Kaminer reviewed the new Russ & Daughters Café and awarded it three stars, even though he found it rather expensive. "This is the nova of dreams — silky, pillowy, barely saline," he writes. "Too bad $16 buys just three slices." Expect long waits at brunch.
Joshua David Stein found two restaurants, Tavern on the Green and the Pavilion, which take occupancy in the city's parks, to be bland. The unapproachable, expensive Tavern on The Green's food is neither local, organic, nor sustainable, as the restaurant claims. The Pavilion in Union Square supposedly highlights the Greenmarket's bountiful produce, but that doesn't seem to be true. The most market-esque dish was the Tuscan fries, which came in a ceramic box resembling "a strawberry carton."