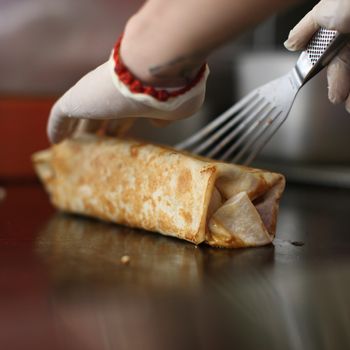 "The burritos are not one of those misses."
Photo: Melissa Hom
This week, Pete Wells traveled to Paris to try some vegetables, while two more critics filed glowing reviews of Gato — the restaurant everyone wants to pan, but can't! All that, and more, straight ahead.

Pete Wells took a trip to Paris, where he was quite impressed by L'Arpege. While the meal was pricey, Wells admits he'd cut extraneous expenses from his budget to go back again. Dishes on the menu's vegetarian tasting menu, like a bowl of quartered baby turnips doused in butter served alongside fresh rhubarb, shocked Wells with their simplicity and immense flavor: "They tasted happy." He noted how the restaurant's chef, Alain Passard, has influenced U.S. chefs like Dan Barber.
Hannah Goldfield (The New Yorker) filed a review of Queens' Bunker. Many dishes utilize vermicelli rice noodles as a base, like the lemongrass short ribs with peanuts and shiso, or the charred eggplant and zucchini tossed with dill and fried shallots. Shell-on shrimp (tom thit ram) "almost melt in your mouth," thanks to their caramelized exteriors. Goldfield thought the chicken was stringy, but it was the only disappointment in a field full of excitements.
Joshua David Stein found a good amount to like about Gato, giving it two stars. He praised the charred beef ("never have I ever seen a steak move so quickly from crust to silk-like interior") and the charred octopus, with a tangerine sauce that works surprisingly well. The tuna tartare is as basic as it sounds, as is the squid and bacon salad.
Alan Richman also paid Gato a visit, and as much as he wanted to pan Bobby Flay's newest venture, he couldn't help falling in love with the quasi-Mediterranean cuisine. Though he told Flay to retool the pizza dough recipe, the chopped beef crudo and crab risotto stopped Richman in his tracks. He didn't buy into the scrambled eggs hype (the romesco sauce "obliterated any taste of egg"). The octopus is worth an order, as is the steamed halibut ("who orders that?"), which comes with a starring side of couscous. Order any of the desserts and you won't go wrong, especially the bread pudding.
Although some of the dishes at Mission Cantina kept Ryan Sutton's interest, the Eater critic found the meal lacking any of the excitement that Danny Bowien had created at his Mission Chinese Food. Tacos grow soggy quickly — their fillings often dull (catfish) and stringy. Turn instead to the whole fried rabbit ("salty, crispy, chewy, and paired with a house-made hot sauce"), or the fatty Peking-style pork belly. One star out of four.
At Rosette, Zachary Feldman (The Village Voice) often found himself confused by the restaurant's dishes and mission. Here, the tartare trend of late continues with chopped steak, frozen, and then seared with a kitchen torch alongside potato-garlic granola. Nordic touches pop up in the form of pork belly wrapped in seaweed with nutty oats, and ember-roasted leeks with huckleberries. But things go south with the black cod, which sits in a flavorless sauce. When even the servers are steering diners away from certain dishes, perhaps it's time for a menu re-haul.
Michael Kaminer found the Grand Central Oyster Bar resting on its laurels in the wake of its makeover. Although the service is still among the best in the city, navigating the menu and avoiding duds is a tricky task. Standouts include the fried clams and the New England clam chowder. But stone crab claw meat arrives overcooked and rough; and the lobster roll is loaded with stringy and tasteless meat, and an un-toasted bun. Two out of five stars.