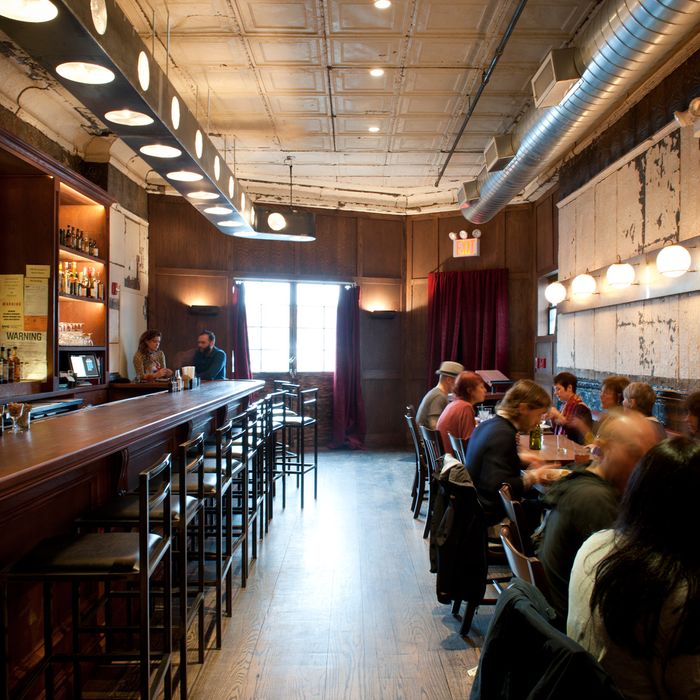 This could be the place.
Photo: Liz Clayman
The awe-inspiring outpouring of goodwill from Brooklyn's community of restaurateurs in the aftermath of the reBar implosion continues: Jesse Levitt of 1 Knickerbocker writes to say that his newish Bushwick restaurant has set aside one day in the near future for a couple forced to change their plans after the Dumbo establishment's owner suddenly closed the place and allegedly absconded with hundreds of thousands of dollars of party-deposit cash. Any couple affected directly by reBar's demise is encouraged to drop a line to info@1knickerbocker.net by Saturday, May 31, including contact information, planned wedding date, and of course, "the story that makes your wedding situation unique." At stake is a pretty wonderful-sounding package.
Levitt, who is also offering discounts to other parties that had booked with reBar in addition to the free wedding offer, says 1 Knickerbocker will throw in the following: exclusive use of the space for up to 100 people, for the ceremony and reception; limited open bar with beer, wine, and a signature cocktail; buffet dinner; tableware and furniture; PA system, stage, and dance floor; four bathrooms, including one with handicapped access; and more.
The lucky couple will be selected and notified Monday, June 2. It's a pretty great opportunity to come out of a crummy situation, obviously, and has the added bonus of being at a place in Bushwick that serves Burgundian snails and fried pig's ears, which will no doubt be a fun bit of news for your granny who remembers just what the "old" Bushwick was like.
Earlier: ReBar Owner Found and Charged With Grand Larceny, Tax Fraud
Related: How Tyler Kord Salvaged a ReBar Wedding at No.7