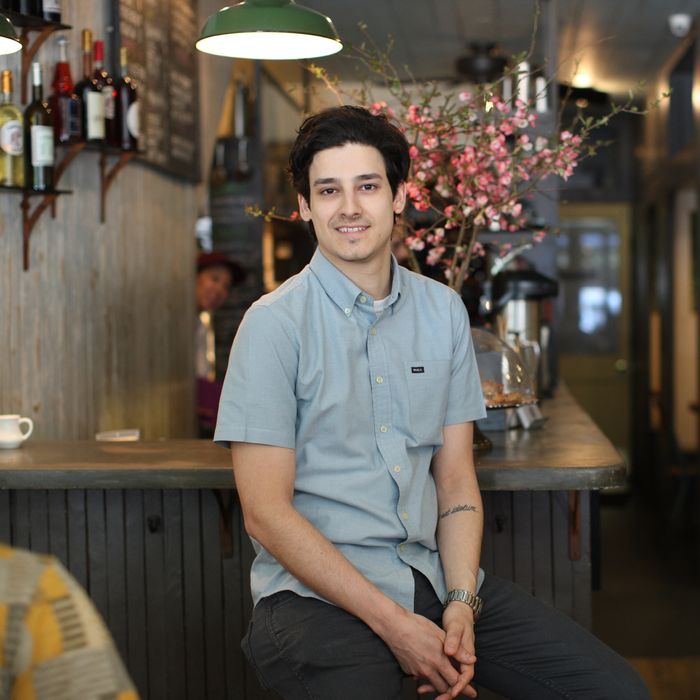 "I hit the ground running, and I came up with a new dish every day for nine days."
Photo: Melissa Hom
In April, Northern Spy Food Co. — a sleeper hit of the food world that's beloved in the East Village — lost both its executive chef, Hadley Schmitt, and its pastry chef, Amy Poweski. Now 27-year-old chef Pete Lipson has taken the reins: "I pretty much started right out of high school," he says. "This will be my tenth year cooking." Most recently, Lipson trained under Alex Stupak, and he's applying his knowledge of kooky flavor combinations and cutting-edge techniques to local, seasonal ingredients. (Northern Spy is one of the few New York restaurants that truly cares about each and every purveyor.) We sat down with Lipson to discuss the restaurant's new dishes and direction.
You came to New York to work with Alex Stupak. What did you learn from him?
I helped him open Empellón Taqueria, and got promoted to sous-chef. And then I went over and did Cocina with him, and was the chef de cuisine there. I worked with Alex for two and a half years. He's definitely super focused, intense, and talented, and I learned a lot from him.
Why did you decide to leave?
It was just time. It definitely pushed me to develop my own style as a chef. I was ready to make the transition to the head-chef role, and the second I met Christopher [Hille, director of operations] and Chris [Ronis, managing partner], it felt right.
How much flexibility did they give you in making changes?
A lot. There are three things on the menu that I couldn't touch, and for good reason: the duck-fat fries, the kale salad, and the pork sticky rolls. Those are three things I wouldn't even want to change. I'm not that good at making salads! I hit the ground running, and I came up with a new dish every day for nine days. I special them out, and then most of them hit the menu the next day.
How does your style differ from Hadley Schmitt's?
I'm a very visual person, so our presentation styles are different. I'd like to do a bit more global-style cooking: I like using Japanese, Southeast Asian, and Mexican ingredients. Not the things you'd normally think about at a normal, farm-to-table restaurant in the East Village.
How do you walk that line between true neighborhood spot and more ambitious restaurant?
I understand the realms of the restaurant. Any ambitious cook like myself wants to keep pushing that envelope. What humbles myself down is using the Greenmarket extensively. I'd love to fly in ingredients from Japan and get Pacific Northwest fish, but that's not the restaurant. The restaurant is as local as we can get.
Day to day, how involved are you in sourcing ingredients?
We have our own forager: a guy named David Sherman. He's a former manager at the Union Square Greenmarket. He makes all the trips for us, and he knows everyone there. We work closely together. And we use Fleisher's beef almost exclusively. I'm not scouring the earth; it just shows up at my doorstep. Pretty cool!
Of your new dishes, what's your favorite so far?
The warm artichoke salad. I've been thinking about that dish for about a year, but I haven't had the place to do that. It's fennel, roasted artichokes, Mandarin, and black garlic. It's elegant and pretty, and it's been really popular … And I did a great weekend special of uni carbonara with fresh English peas, caviar, and housemade pasta. And there's an asparagus dish with whelks, horseradish, and black truffle. I've never worked with whelks before.
How does your experience focusing on Mexican food inform your cooking?
The technique, definitely. What I learned at Empellón is using chilies and spices as flavors and ingredients, not just as fire detectors. Certain chilies have floral essences, and sweetness.
What are you working on right now?
There's dish I want to do that's a chicharrón salad with buttermilk ranch, tarragon, and pickled red onion. It seems like it works out in my head. We'll see.