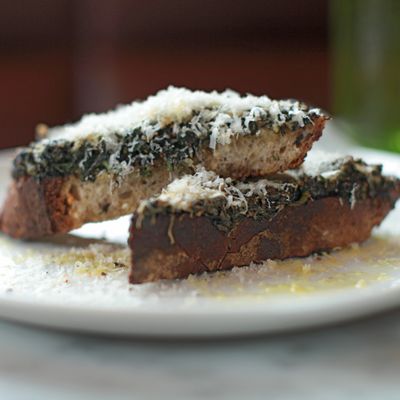 The nettle toast at Reynard.
Photo: Melissa Hom
After the longest, coldest winter ever, it's starting to finally feel like spring — at least inside New York restaurants. Fava beans, morels, asparagus, spring onions, and fiddlehead ferns are all coming into season right now, and restaurants like Narcissa, Marco's, and Barchetta are making good use of the new produce. We've rounded up where you should dine — and what exactly you should order — if you want to taste the freshest vegetables available.

Gato
The Dish: Asparagus and Fava Beans
Cost: $10
With several positive reviews under his belt, Bobby Flay's beginning to change up his menu — and he wisely pairs these vegetables with yellow romesco, pecorino, and pistachios.
Narcissa
The Dish: Potato Gnocchi With Fava Beans, Ramps, and Parmesan
Cost: $15/$25
This restaurant is only getting better: As it warms up, John Fraser can further utilize a farm upstate that supplies much of his produce.
Barchetta
The Dish: Fettuccine With Lobster, English Peas, Spring Onions, and Sorrel
Cost: $28
At this brand-new, seafood-focused Chelsea restaurant, you'll also find fire-roasted seasonal greens on the menu. Nice.
Estela
The Dish: Beef With Favas, Leeks, and Taleggio
Cost: $29
Ignacio Mattos has updated his beloved steak dish for spring — and also added new dishes like cod with tabouleh, peas, mint, and pine nuts.
The Dutch
The Dish: Farro Tagliatelle With Fava Beans, Ham, and Meyer Lemon
Cost: $21
The Dutch is ahead of the game on spring dishes: There's also an excellent white-asparagus carbonara with morels and smoked egg yolk available (and rhubarb pie on the dessert menu!).
Roberta's
The Dish: The Tonya Charding Pizza
Cost: $17
This perfectly named pie is comprised of Robiola Bosina cheese, speck, rainbow chard, and green garlic. (And don't miss the spaghetti alla chitarra, which comes with nettles, asparagus, and grilled and raw oysters.)
The Cleveland
The Dish: Grilled Dandelion Greens
Cost: $12
Max Sussman's menu changes daily, so if you catch this dish — with spring garlic, hazelnuts, blue cheese, and grapefruit — jump on it.
ABC Kitchen
The Dish: Roasted Halibut in Spring-Onion Vinaigrette
Cost: $34
Bonus: Dan Kluger's entree also includes asparagus, morels, and pistachios.
Marco's
The Dish: Wood-Grilled Fiddlehead Ferns
Cost: $15
Come here for the simply prepared fiddleheads (served with spring herbs and Scorza Nera), and stay for the spring-greens tortelloni with green garlic.
Betony
The Dish: Glazed-Nettle Ravioli With Morels
Cost: $28
Props to Bryce Shuman for coming up with seasonal dishes that are different from the norm (and even though it's not spring-specific, don't leave without trying his poached monkfish).
Rosette
The Dish: Kale-Sprout Salad
Cost: $12
Lollipop kale! The new-age vegetable comes simply dressed in a pistachio pesto, lemon, and Parmesan.
The Clam
The Dish: Scallop Crudo With Rhubarb
Cost: $15
Another reason to try this new neighborhood favorite: Mike Price is also serving one of the first soft-shell crab dishes in the city.
Dover
The Dish: Chicken for Two With Asparagus and Morels
Cost: $65
You're well aware that Walker Stern and Joseph Ogrodnek's large-format chicken dish is outstanding, but instead of rich black truffles, it now comes with lighter accompaniments.
The Fat Radish
The Dish: The Fat Radish Plate
Cost: $20
Considering you can sample the freshest veggies available on any given day in one dish, this is a steal at $20.
Reynard
The Dish: Nettle Toast
Cost: $12
Not that people need more reasons to collectively freak out about haute toast, but this one — with whole-grain mustard, horseradish, and pecorino — is super appealing.