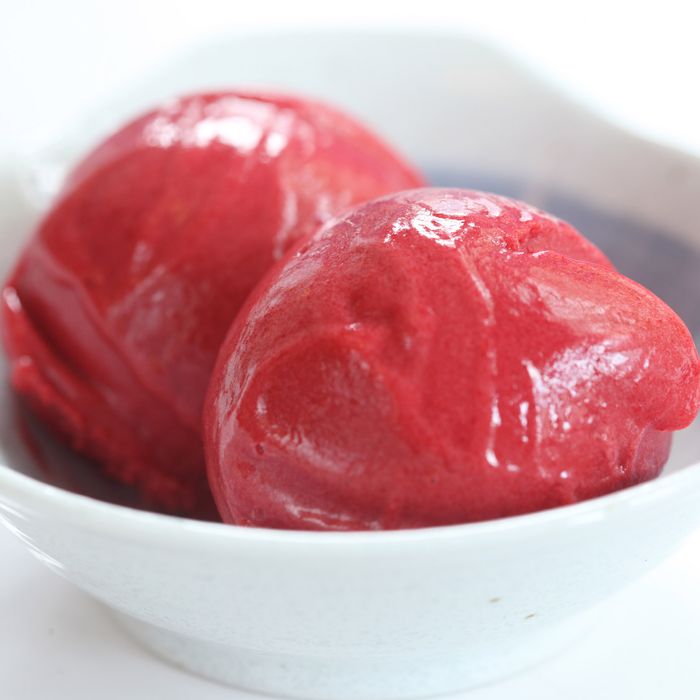 Black raspberry sorbet: don't mind if we do.
Photo: Melissa Hom
Despite running well-received restaurants (formerly the General Greene, currently Goat Town and El Rey) and also having worked in some of the best kitchens in the country (Daniel and Gramercy Tavern among them), what the erudite, classically trained pastry chef Nick Morgenstern has really wanted to do all along was own an ice cream parlor. He gets his chance on Friday when he unveils Morgenstern's Finest Ice Cream on the Lower East Side, a major expansion of the work he began at the General Greene and its affiliated carts. It's also the realization of an idea he's been fine-tuning in notebooks, Excel files, and his head since he graduated from culinary school fifteen years ago. Why ice cream, you ask? "Because I've always gravitated toward things that are emulsified, and ice cream is the ultimate emulsification: It's sugar molecules and fat molecules suspended in frozen water, surrounded by air," he explains, speaking like a young Harold McGee. Here, a preview of some of the chef's flavors and philosophies, followed by the menu.
1. Actually, don't call it a shop; it's a parlor. The difference between the two, according to Morgenstern, is that at a parlor you can get service at a counter. This parlor has six counter seats, plus three more along the window ledge.
2. The whipped cream on top of your sundae is not made in a machine, but a la minute, in a quart-size plastic Chinese-restaurant takeout container. Take 300 milliliters of cream, add one tablespoon of powdered sugar, seal the container and shake it like a can of Sherwin-Williams paint. "When you put it in a machine," says Morgenstern, "there's more opportunity for the water to separate from the fat, and so the tendency is that you're going to end up with something that's a little bit more broken." The takeout container produces the smoothest result, he says.
3. In addition to outre flavors like green tea pistachio and durian banana, there are five types of chocolate, three caramels, three coffees, and five vanillas on the menu.
4. Among the sorbet flavors: Champagne mango, chocolate Aperol grapefruit, labne, and Jungle Bird.
5. The ice cream is eggless, relatively low sugar, and also relatively low butterfat, but strictly for gustatory reasons as opposed to dietary concerns. No one will ever confuse Morgenstern's Finest for a Tasti D-Lite. "I've tried to back off the butterfat content, because if you've ever tried to eat a frozen piece of butter" — and who hasn't? — "it completely coats your palate and blocks the tongue's ability to detect flavor," says Morgenstern. "So the lower we can get the butterfat in the ice cream, while still keeping that voluptuous texture, the better." The same principle, he says, applies to the amount of sugar.
6. The sodas are made in house and carbonated in kegs.
7. This has got to be the first ice cream parlor to deploy papalo leaves, sweet potatoes, and Fernet biscuits as sundae toppings.
8. Morgenstern's take on an ice-cream sandwich called the New God Flow is a slice of that fantastic, milky, Wonder-like bread you find at Japanese bakeries drizzled with honey and blow-torched like a creme brulee, then folded around two scoops of raw milk ice cream like a taco.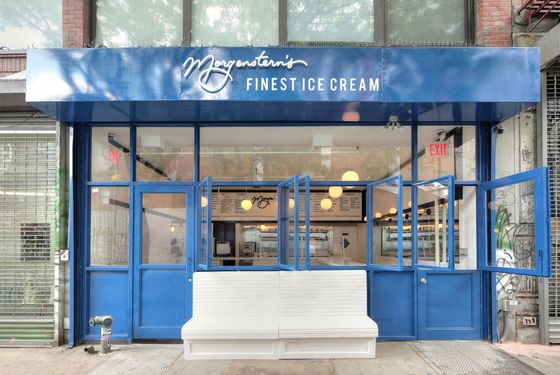 The Rivington St. exterior.Photo: Melissa Hom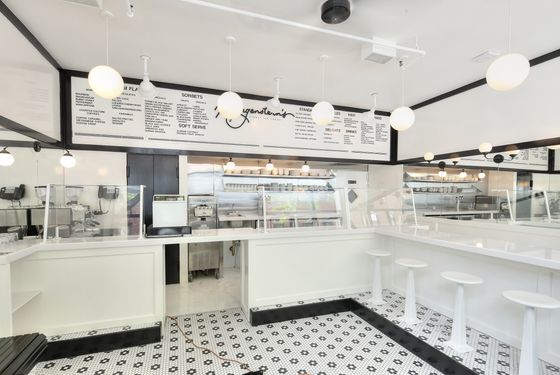 Note the counter seating.Photo: Melissa Hom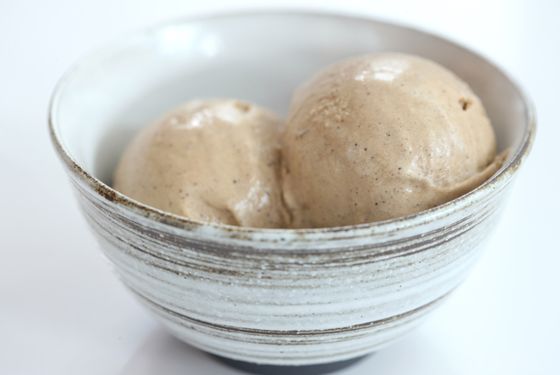 Two scoops of Counter Culture coffee ice cream.Photo: Melissa Hom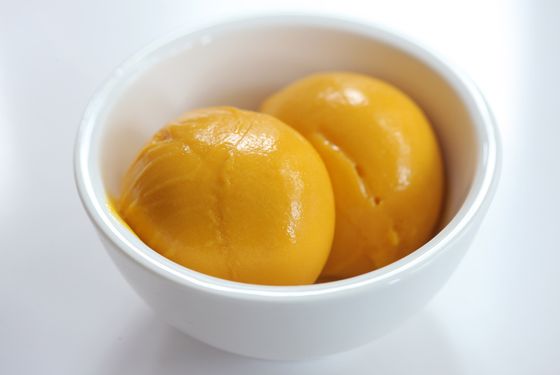 Champagne mango sorbet.Photo: Melissa Hom
Menu [PDF]
2 Rivington St., nr. Bowery; 212-209-7684