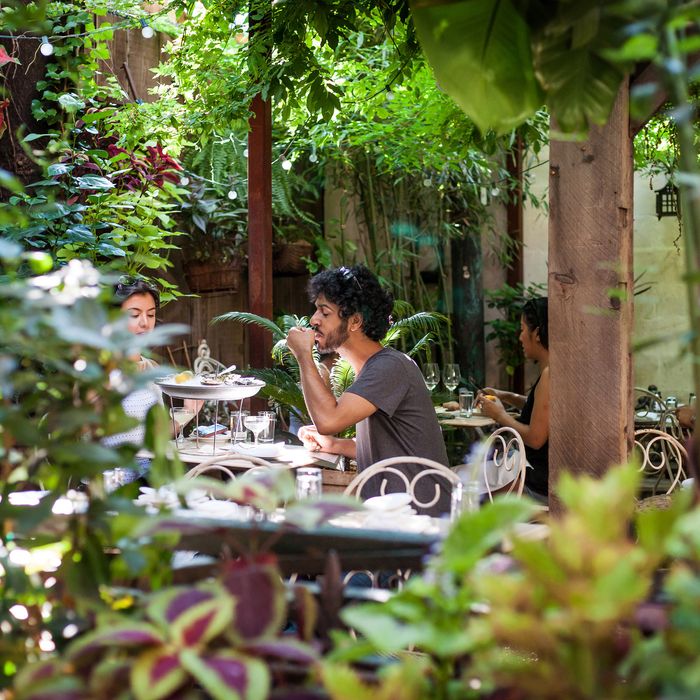 Maison Premiere opens at noon on Monday.
Photo: Noah Fecks
On the off chance that your upcoming long weekend doesn't include opening up the beach house for the season, don't worry. Plenty of restaurants in the city have excellent Memorial Day parties and specials planned for Sunday and Monday. The Dutch hosts its annual luau, Extra Fancy launches a summer fish fry, and Maison Premiere opens at noon on Monday with live music (and plenty of oysters, of course). We're closing up a little early to start our own Memorial Day as quickly as we can, but in the meantime, here are ten options worth checking out over the long weekend.
The Dutch
On Monday from 11:30 a.m. to 11 p.m., the restaurant will host its annual Memorial Day Luau, with a special menu that includes Mai Tai cocktails, coconut-shrimp sliders, and teriyaki-fried chicken wings. Lunch is served à la carte until 3 p.m.; fixed dinner starts at 5:30 p.m. Walk-ins are welcome, too.
Extra Fancy
Beginning on Sunday, the Williamsburg restaurant is launching a weekly Summer Sunday Fish Fry. The menu, available from 2 to 6 p.m., includes beer-batter pollock, cornmeal-crusted catfish, and seasonal sides.
Buttermilk Channel
Weekend brunch hours are extended to Monday. That means pecan-pie French toast, scrambled eggs with sausage, and short-rib hash.
Ward III
The cocktail bar will introduce early summer hours (3 p.m. to 2 a.m.) on Sunday, as well as a special menu of drinks all priced at $12.
Maison Premiere
The restaurant will host its annual Memorial Day party on Monday, with doors opening at noon. Expect live music, barbecue specials, and plenty of oysters. Even better: It's first come, first served.
Shake Shack
Look out for two specials Friday through Monday: the Shack corn dog and the "Pecan Pie Oh My" concrete.
Boqueria Soho
On Monday, the Spanish restaurant will offer an all-day tapas brunch, with patatas bravas, bacon-wrapped dates, and plenty of sangria.
Ditch Plains
Both locations of Ditch Plains will host a lobster bake on Sunday and Monday.
Ample Hills Creamery
The Vanderbilt Avenue store has extended its summer hours: It'll stay open until 11 p.m. Sunday through Thursday, and until midnight Friday through Saturday. And soon, there will be carts near Brooklyn Bridge Park's Jane's Carousel and Pier 1, too.
Back Forty and Back Forty West
Both these restaurants will open for brunch on Monday and offer Memorial Day menu specials. Your move: Visit the East Village outpost and enjoy the outdoor space, too.