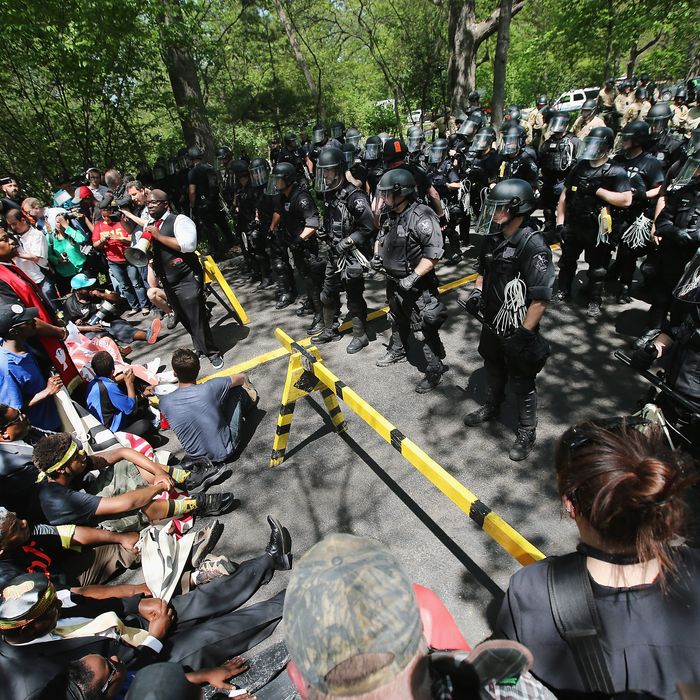 A scene from yesterday's protests. Workers seek base pay of $15 per hour.
Photo: Scott Olson/Getty Images
Approximately 100 fast-food workers and advocates were arrested yesterday in Oak Brook, Illinois, in advance of today's McDonald's annual shareholders meeting. The AP reports that "dozens of police officers in riot gear" initially confronted workers who were protesting, as they have been for a year and a half now, the hamburger chain's low wages.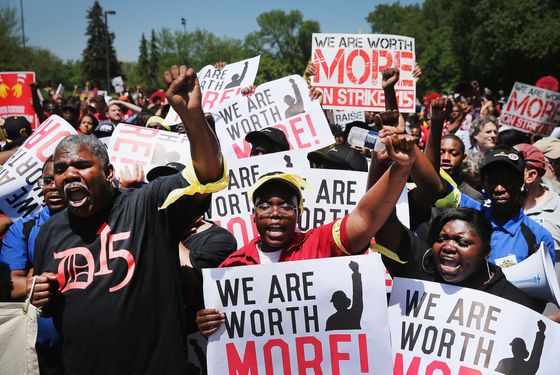 Protests like this one resume today.Photo: Scott Olson/Getty Images

The 100 or so protesters who did not disperse after they were ordered to do so included SEIU President Mary Kay Henry, and the actual arrests occurred after protesters "peacefully" crossed the barricade onto the the fast-food corporation's private property. Demonstrators have since been released and will be assigned court dates in the weeks ahead; meanwhile, protests continue today.
Earlier this week, it was reported that McDonald's had effectively barred reporters from attending its Shareholders' Meeting, which was broadly interpreted as a form of deliberate exclusion when restaurant chains are facing increased scrutiny. McDonald's explained it had reached the decision after considering what it called "steadily declining media attendance" in recent years.
This morning, Reuters reports, almost 94 percent of shares were voted in approval of CEO Don Thompson's pay package. Thompson's total compensation for 2013 was $9.5 million.

Protesters arrested in pay fight at McDonald's HQ [AP]
Related: McDonald's Doesn't Want Any Reporters at Its Shareholders Meeting