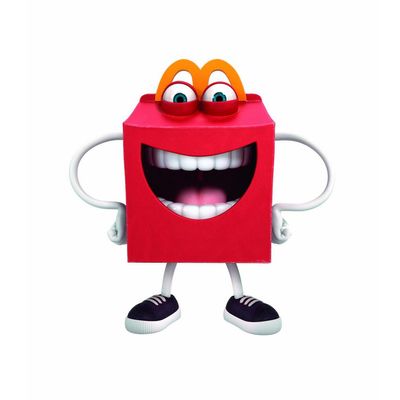 Kind of exudes an undercurrent of tragedy. Also, he's from France.
Photo: Courtesy of McDonald's
This is Happy, who's ostensibly here to serve as "ambassador for balanced and wholesome eating." Though he seems to speak only in a series of bleeps, bloops, and kissy noises, he does so in a French accent, Happy is actually from France, where he's been known to get into all kinds of trouble, especially at le discotheque, and where he's also been successful in his bid to convince small children to eat fruit. Now Stateside, Happy is here to "encourage kids to enjoy fruits, vegetables, low-fat dairy and wholesome beverages such as water or juice." By any means necessary, apparently, including Go-Gurt.
Here's a bit of the mascot's sizzle reel.
So yeah, Happy is a clear-cut cross between McDonald's consumer packaging, the least productive Minions from Despicable Me, and the scariest parts of the fever dream you had when you were 7, had an ear infection, and were high on amoxicillin. Starting July 4, of all days, McDonald's will roll out an "exclusive" flavor of low-fat strawberry Go-Gurt with its Happy Meals, which can can be swapped out (with apple slices) in place of French fries.
The chain introduced the character today in advance of Thursday's shareholder meeting, which made headlines earlier today when Business Insider reported it had moved to bar reporters from attending. Though the chain explained the decision was made after years of "declining media attendance," industry experts posited McDonald's is in fact trying to avoid additional scrutiny in the midst of planned minimum-wage-related protests and also increased criticism from franchise owners.
McDonald's USA Introduces New Low-Fat Yogurt Side and Happy Meal Ambassador [Official site]
Related: McDonald's Doesn't Want Any Reporters at Its Shareholders Meeting