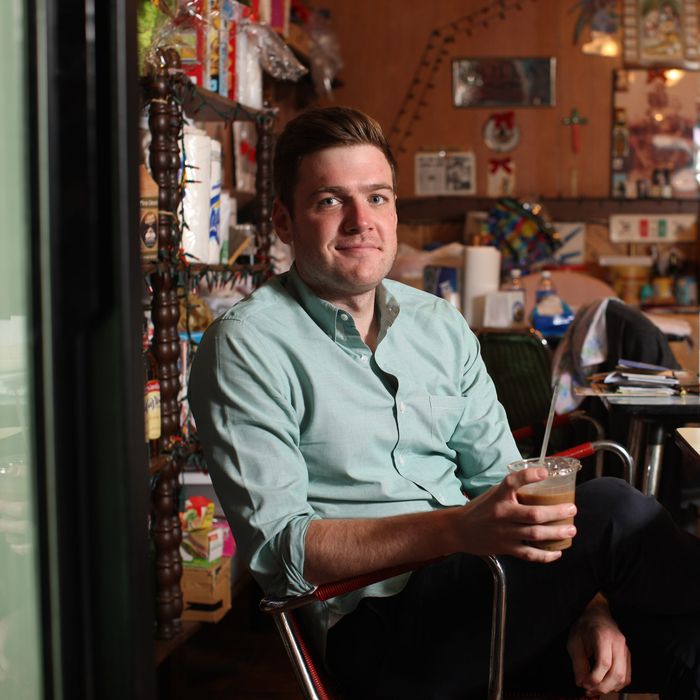 "I started eating and drinking around 7 p.m. and didn't really stop."
Photo: Melissa Hom
It was a love of food that birthed the name of comedian and Big Terrific host Max Silvestri's debut album King Piglet. "I was talking about my life and job and how I kind of want to just sit on a throne and have people bring me trays of food and wake me up by hitting me in the mouth with the food," he explains. "Like some kind of King Piglet." The phrase stuck and, as you'll see from the incredible holiday weekend, Silvestri — who will, in July, also star alongside Gail Simmons and Marcus Samuelsson on the FYI Network show The Feed — appreciates great food, and lots of it. Read all about it in this week's Grub Street Diet.
Friday, May 23
Are gummy vitamins food? They are one of my favorite foods. I had two of those at 9 a.m., and then I ground and brewed strong coffee, and had three cups of that with light cream. I also fried two eggs in butter, cooked a piece of sopressata, toasted some nut-and-seed-filled "health bread," and made a sandwich with grated Cheddar and ketchup and habanero sauce and some very stinky French cheese that was in the fridge.
I met a producer for coffee at Caffe Capri in my neighborhood, which he suggested. The iced coffee was served out of a plastic jug with lots of crushed ice, and it lived up to the hype. I almost got a cannoli, but I didn't want cannoli burps at the gym.
On my way back from the gym, I bought a tomato and an avocado from C-Town. This C-Town's slowly been adapting to the changing vibe of the neighborhood, and now they sell gluten-free crackers and have a Tumblr, which I actually follow. The weird thing is that C-Towns are all over, but ctown.tumblr.com is specifically the one on Graham Avenue, a particularly hipster C-Town.
At home, I made myself an "I'm going away for the weekend and I need to clear out my fridge" salad: tomato, avocado, grated Cheddar, baby lettuce, carrots, cilantro, a jerk chicken breast I'd baked a few days before, with Annie's Buttermilk dressing. And Vintage Seltzer with lots of lemon.
After writing for a few hours, I had a banana covered in almond butter. Then I had to leave for Grand Central to catch a train, so I toasted a slice of bread and put avocado, cilantro, and a few slices of that cold jerk chicken breast on it. I also shook up a big Boulevardier (a Negroni, but with rye instead of gin) and put that in a Thermos coffee mug for the road. I realize a cocktail alone on a train makes me seem like a lush, but anytime I leave for somewhere from Grand Central, I feel like an old-fashioned fancy New Yorker, and I like to play that up.
My best friend from college picked me up from Poughkeepsie, and we stopped at a Mexican grocery called El Azteca. It was incredible. We split some insanely good shrimp tacos and chicken mole enchiladas, both with rice and beans. We debated getting more, then didn't. Halfway back to his place, we regretted it.
We stopped at a gas station and got a six-pack of Peroni. I also got a bag of one of those Doritos JACKED test flavors, because I was still hungry. They sort of tasted like a spice rub you might put on ribs? I also drank four Peronis over the course of an evening.
Saturday, May 24
I woke up at 10:30 a.m. and ate string cheese, and then attempted to make coffee. They have a Technivorm coffeemaker, and even though I've been visiting my friend's house for over a decade, I still can't figure out how to use it. It overflowed and I made it too strong. But I still drank two cups, then went for a run.
Lunch was at Fireside BBQ & Grill in Salt Point. I had a giant Goose Island IPA in a frosted mug. I didn't want that much beer but I did want a frosted glass, so the compromise was that I drank 40 ounces of beer. We split a barbecue platter and we also had onion rings and baked beans, as, you know, our "vegetable" sides.
For dinner, we went to a friend's house about 45 minutes away, where I started eating and drinking around 7 p.m. and didn't really stop: pistachios, green olives, cheese, and breadsticks to start; a main course of marinated skirt and hanger steak cooked on the grill with avocado and cucumber salad; orzo salad with asparagus; a quiche; and bread and butter. Then there was lemon cake and chocolate ice cream. I had second helpings of everything, and fifth helpings of white wine.
They also keep a glass-covered cheese tray going in their fridge at all times, which is so smart. I always want cheese, and I definitely ate a bit from that. We slept over at their house.
Sunday, May 25
I had a tiny sliver of lemon cake and two cups of coffee with milk, and then I went for a long run. Before we headed back to the house, I made lunch of country ham with mustard along with some leftover steak and orzo salad. I washed it down with a Pompelmo San Pellegrino.
We cooked dinner at around 6 p.m. and I had a Knob Creek with ginger beer, Cape Cod waffle-cut chips, and some pickles. Every time I went into the pantry, I'd have a piece of candied ginger, too.
This family butchers a few cows from their farm each year, so we grilled burgers from their own supply of beef. We had those with Cabot Cheddar on brioche buns with all the fixings. I made a Shake Sauce ripoff for it, and grilled zucchini basted with a curry and lemon butter. I also made the David Chang asparagus recipe in last month's Food & Wine, which is basically asparagus simmered in asparagus. My friend's mom made teriyaki salmon. I had a lot of Budweisers.
Monday, May 26
For breakfast, I had two pieces of olive-rosemary sourdough, topped with avocado, tomato, and Cheddar, and two farm eggs fried in butter. I put jalapeño relish on the eggs. I had three cups of coffee. Then, I headed back to Poughkeepsie to catch the train to New York.
I'd heard that the new Meat Hook Sandwich Shop was open, so I went and tried their Italian sandwich. I love Italian sandwiches. It has housemade pepperoni, olive loaf, sopressata, peppers, onions, shredded lettuce, and Italian dressing. I asked them if they put mayo on it, and they said they have a house-whipped lardo that they grill onto the bread. That is a very good answer. I brought that home and had it with a Brooklyn Summer Ale. I ate the whole thing, and then had to sleep for two hours.
My girlfriend and I met our friends for dinner at Extra Fancy, where I had a Sidecar and a trout dish with lots of seasonal spring pea things in it. Then I had some sort of gin fizz. On the way home, I stopped at Milk Bar and got some huckleberry-cheesecake soft-serve. A weird order for me, but it was delicious.
Tuesday May 27
For breakfast, I had a cup of coffee with milk, and then a fried egg over a slice of that same health bread with avocado and sriracha.
Lunch was another sandwich like the one from last week: toast, mustard, sopressata, turkey, and some kind of stinky cheese. The turkey was getting a little old, and smelled a little off. I worried it was going to make me sick, but that has never happened.
That night, my girlfriend and I cooked dinner for my friends Ben and Katja, a very lovely couple that makes the web series High Maintenance, about a pot delivery person, but also about a lot more. Do you think we smoked any pot at dinner? Who can know. I tasted lots of stuff while I was cooking: chocolate chips, radishes, salad dressing, potatoes.
To start, we had crackers and smoked whitefish salad, and crudité with a creamy watercress dressing, which I made with my Vitamix. Then, for dinner we had seared flatiron steak from Meat Hook with a cilantro-and-radish salsa, a warm potato salad, and some bitter greens with that same dressing. I brewed this lemon and ginger concoction and added a bunch of honey I brought back from the farm, and we had that with rum. And then red wine. I also made chocolate pudding for dessert, which didn't fully set. It was more like a chocolate sauce, which stopped no one from eating a lot of it.
Wednesday May 28
I had two cups of coffee with milk. I always buy Larry's Beans from C-Town. I think I just like them because the brand is called Larry's Beans. "Hi I'm Larry, and these are my beans." It makes me laugh.
After my run, I had a piece of cold steak dipped in that watercress dressing.
For lunch, I met another college friend at Momofuku Ssäm Bar. That place gets a little hectic for me at night, but lunch is always quiet and I really like that they brought back their ssäms, the Korean burritos they served when they first opened. I had a lamb ssäm and a Rodenbach, a sour beer. The table next to us was filled with well-dressed coworkers on a lunch break and they all split the giant bo ssäm, which is such an intense thing to eat when you then have to go back to an office to talk about documents or whatever. I wish we had gotten that.