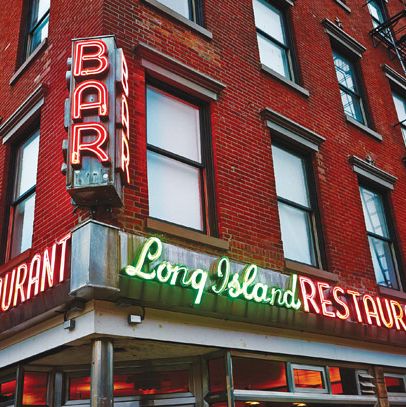 Now serving food.
Photo: Bobby Doherty/New York Magazine
Part of Toby Cecchini and Joel Tompkins's detailed restoration of the old longshoreman's bar at 110 Atlantic Avenue involved installing a new kitchen. Former Fatty Crew executive chef Corwin Kave helped the bar's partners overhaul everything from the ovens to the grease traps, and Kave's recently also assisted in recruiting a chef, Gabriel Martinez, who is now serving an abbreviated menu. Martinez is a Texas native who cooked at Uchi before spending the last two years at Grant Achatz's Alinea.

His menu at the warmly lit Long Island Bar is not at all avant-garde, but vaguely retro, and in any case goes well with Cecchini's drinks: Fleisher's lamb is used in the classic merguez frites, and the $18 burger is decked out with two patties of Fleisher's beef, a bacon wheel, pickles, cheese, and "Fancy Sauce." There's sliced Virginia ham, trout roe and mixed crackers with smoked fish spread, and even a couple of salads.
Dinner is served 5:30 p.m. to 11 p.m. Wednesday, Thursday, and Sunday; 5:30 p.m. to 1 a.m. on Fridays and Saturdays.
Menu [PDF]
Related: How New Owners Revamped Brooklyn's Historic Long Island Bar