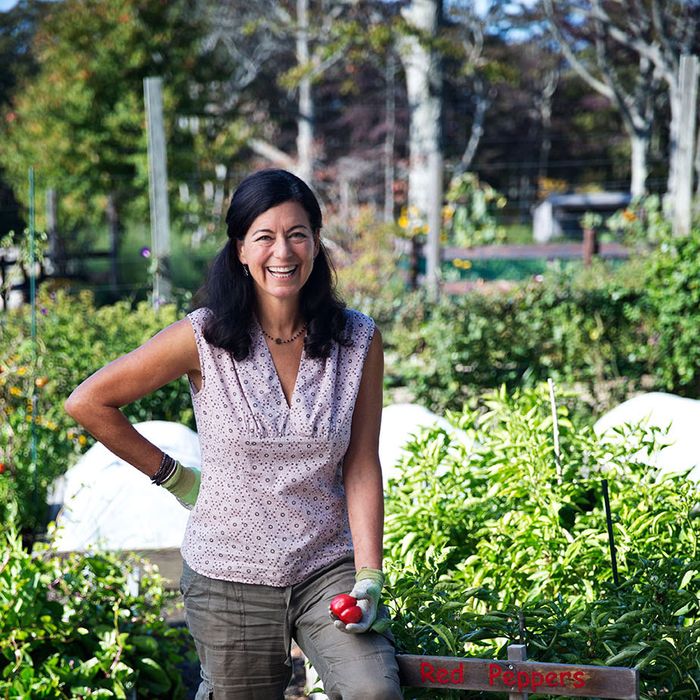 "I'm obsessed with avocados now."
Photo: Quentin Bacon
As the executive producer of the new film Fed Up — which focuses on the role of processed food in America's obesity epidemic — and author of a cookbook called The Family Cooks, it makes sense that Laurie David deeply considers the food that she eats. After several weeks in New York to promote the film, David this week was back in Southern California, where she is able to grow much of what she eats — including artichokes to pair with quinoa cakes and, when it's in season, passion fruit that forms the basis of her favorite cocktail. Read it all in this week's Grub Street Diet.
Saturday, May 10
I was on the East Coast for two weeks before, using New York City as my base. But this week I was back in California, at home. For breakfast I had plain Greek yogurt with fresh chopped fruit, hemp seeds, and chia.
Lunch was out at True Food in Santa Monica. It was a kale salad with tofu. Usually on Saturdays I go to the farmers' market, too.
That night I had quinoa cakes, salad, and artichokes. I grew the artichokes in my backyard. I grow kale, kohlrabi, onions, garlic, lettuce, arugula, turnips, parsnips, radishes, hot peppers, and herbs. I even grow herbs for tea. But California is in the most horrific drought right now. Most of my veggie-growing I do on the East Coast, at a farm on Martha's Vineyard. The soil is incredible, and the rain comes, so nature really does participate beautifully there. We grew thousands of pounds of sweet potatoes last summer, and we gave almost all of them away to the local schools and the food pantry.
Sunday, May 11
A cup of coffee, and a glass of water with lemon in it. I rotate between kale and eggs and kale on avocado toast. I'm obsessed with avocados now, so I have them on this bread that I love called Fitness Bread. It's very dense, and then I smush the avocado, squeeze lemon, and add salt and pepper, and honestly, I can't get enough of that.
This is a regular lunch I have: I take Ezekiel, they're sort of like tortillas, but they're called Ezekiel, so they're a little bit healthier. They're a grain instead of white flour. So I take Ezekiel and whatever leftovers I have, veggie leftovers in my fridge, I put them in there, and I make a quesadilla with hot sauce. That's what I had for lunch.
I do refrigerated lentils at the beginning of the week, so I have this jar of lentils that are cooked and ready to go, and I toss that on salads. And I always have quinoa in my refrigerator, and I eat quinoa salads with chopped veggies and a little balsamic.
Monday, May 12
I make my own granola. I know that sounds crazy, but it's in the new cookbook, and if you make your own granola it will be 100 times healthier than anything you can buy. Less sugar, better ingredients, and you can add seeds or chia. So I do that, and I often have it with a little bit of yogurt or almond milk. It's my cereal replacement, since starting your day with a high-sugar breakfast is basically setting you up for failure for the rest of the day.
I roast a lot of vegetables. I do roasted cauliflower and I call it roasted-cauliflower popcorn. It's so sweet and delicious, and everyone eats it like it's popcorn.
For dinner, I had salmon curry. It's like a salmon with coconut curry and veggies. It was really delicious. I am taste-testing organic wines now, and I've been finding some really good ones. But let me give you some information: I empty passion fruit into a Ball jar, and I pour some organic vodka in there and let it soak for a few days. It is the best cocktail you will ever have. I don't even bother straining it. The floating seeds make it pretty. I put it in the fridge, chill it over ice. Fantastic.
Tuesday, May 13
For lunch, I made fish tacos from the leftovers. I'm very big on repurposing, and whatever I have for dinner I have for lunch or dinner the next day, repurposed a little bit.
I snack, too. I'm obsessed with roasted chickpeas. You take the chickpeas and you put them on a tin, and you season them and you roast them. Oh my God, they're so good.
Dinner was chicken with green molé sauce, roasted cabbage — fantastic, oh my gosh was that good — brown rice, and escarole salad, which I love.
Wednesday, May 14
Breakfast was kale on avocado toast. I actually tweeted a picture of it today. Someone responded, "It's pictures like that that get people running to Dunkin' Donuts." It's hard to make kale look pretty in a photo.
Obviously it's a privilege, and I'm incredibly lucky to have this space and a farm to do all of this. I was a girl from Long Island, so I definitely did not grow up with it in my blood. I think I must have been a pioneer woman in another lifetime. But I also married a farmer, and that helps a lot, too, to be partnered with somebody who knows how to do it.