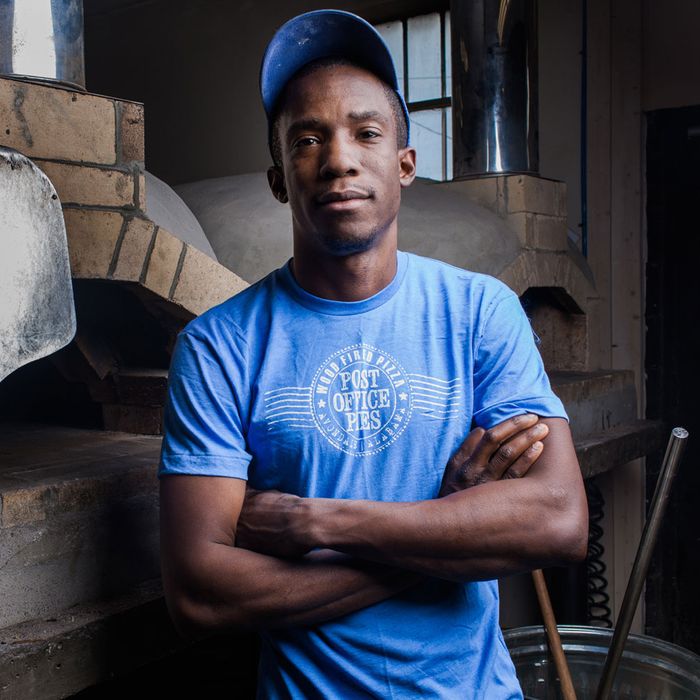 John Hall moved back to Alabama after great gigs in New York City.
Photo: Caleb Chancey
Ask anyone about the best restaurant in Birmingham, Alabama, and the answer will almost inevitably be Highlands Bar and Grill. (As Sam Sifton wrote last fall, "If you are from Birmingham and under 50, the Highlands has been the city's best restaurant for your entire adult life.") Frank Stitt opened the lively restaurant in 1982, and he's opened two more restaurant since then, but his influence goes deeper than three restaurants: "There are a dozen good restaurants that owe their inspiration, and their fidelity to great ingredients, to the Highlands Bar and Grill," says John T. Edge, the writer and director of the Southern Foodways Alliance. Now a new roster of chefs is invigorating the city with progressive cooking and a casual approach that has come to define other southern food destinations like Charleston and Nashville. And the latest addition to the city's dining scene is perhaps the most unexpected: a chef who worked at Gramercy Tavern and Momofuku, and who previously ran a clandestine late-night pizza-delivery service out of his Cobble Hill apartment.

Post Office Pies is a wood-fired pizza place located in Avondale, a neighborhood where the main drag was, until a few years ago, a ghost town. Though Post Office only opened about a month ago, the reception has already been overwhelmingly positive: "The day it opened, it shot to my most-read story — top of the charts," says Bob Carlton, restaurant reporter for the Birmingham News. On weekends, waits for a table easily stretch to an hour or more. The pizzas, baked in two handmade brick ovens burning at 700 degrees, are impressive: thin-crusted, just-charred disks (made with dough that's fermented for 12 hours) covered with stringy mozzarella and toppings like fresh sausage (also homemade) and Nueske's bacon. The high quality of the pies isn't surprising, though, given the pedigree of their chef, John Hall.

After culinary school and an apprenticeship at Luxembourg's Lea Linster, Hall moved to New York for a spot on the line at Gramercy Tavern. "It changed my life," Hall says. "That will always be home." From there, Hall moved to Per Se's perfectionist-driven kitchen, followed by a two-year stint as sous-chef at Momofuku Ssäm Bar. But it was between the Per Se job and the Momofuku gig when Hall got his first real pizza training: He ran a late-night delivery business out of the kitchen of his Cobble Hill apartment to scratch his itch for running his own business. "I was going from midnight until 4 in the morning," he says. "It was me taking the orders, making the pies, and delivering them on my bike. It would be 500 fucking degrees in the kitchen. It was like a sweat box. I'm sure I annoyed the piss out of my roommates."

Annoying or not, the idea was enough of a success that it convinced Hall he could do a standalone pizza business. But rents in New York were too high, so Hall had to consider other options. "I could have gone to the West Coast. I could have gone to Chicago," he says. Eventually, he settled on his hometown.

Helping make the move easier were Post Office Pies' other partners: Mike Wilson (who owns several barbecue spots), chef Brandon Cain (who worked for Emeril Lagasse in New Orleans), and Hunter Lake (the owner of Avondale Brewing Co., a brewery and taproom on the same block as Post Office). When the trio saw a for-sale sign in front of the 1954 post office location, they hounded Hall — an old friend of Cain's — to come home and join the team. "To be able to take everything I've learned and bring some of that experience back here," Hall says, "that makes it worthwhile." And he's already thinking ahead to his next project, a casual American spot where he plans to offer more innovative dishes.
Hall and his partners aren't alone in helping to redefine Birmingham's restaurant scene: As with other cities, there's a generational shift happening here. Mauricio Papapietro of Brick & Tin, James Lewis of the charcuterie emporium Vittoria Macelleria, and Chad Schofield and Mac Russell of Shindigs, a beloved food-truck and catering service — they're young and entrepreneurial, and like Stitt did three decades ago, they're helping define Birmingham's new restaurant identity. "It's the young guys, the 30-somethings, that now carry the torch," Carlton says. "If you're a foodie in this town, it's almost a full-time job to keep up. There are new places opening every day."

"The notion that John Hall would return home is predicated on what Frank [Stitt] started in 1982," Edge points out. "There's a long tradition of Southerners getting the hell out of the South, and for a long time there were many reasons to get the hell out of the South. But now there are people who want to return to make it a more progressive South."

Hall already has at least one ringing endorsement: Stitt himself, who once employed Hall in his kitchen at one of his restaurants, Bottega. "He reminds me of Edward Lee in Lousiville," Stitt says, mentioning the James Beard-nominated Top Chef alum who runs 610 Magnolia. "John, having worked with such great people in such great kitchens, he knows quality and he knows the hip side of it." Stitt says, before adding, "I think it's going to be a home run."