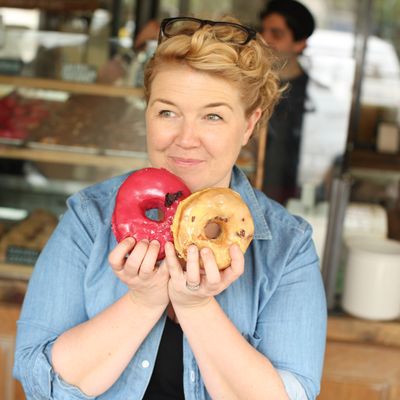 "Then, of course, we went over to
Dough
and had doughnuts."
Photo: Melissa Hom
As the founder and owner of the beloved Columbus, Ohio-based Jeni's Splendid Ice Creams, Jeni Britton Bauer spends a lot of time around sweets. "It's funny: I think of dessert in the way that people think of super savory foods," she says, "because I eat so much ice cream, I get so hungry for salt and spice, like curry. It's the antidote to sweet." So, while she was in New York to celebrate the release of her second cookbook, she made a point to hit spots like Roberta's for excellent pizza and Rôtisserie Georgette for fat-roasted potatoes that reminded her of France. (But, yes, there were some boozy sundaes at her book release party, too.) Read it all in this week's Grub Street Diet.
Friday, May 16
I have a unique way of making toast: I have this steel pan, and I cut off a piece of good bread, and I brush a little bit of water on the underside of the pan. It still crisps up and dries on the outside, but on the inside, it gets kind of steamed. I put homemade butter on it, and tomatoes and salt.
We had our monthly company lunch, and we made stuffed tomatoes. It's not tomato season in Ohio yet, but it was really hot last week, so everybody got in the mood for tomatoes — or at least I did. We got 200 or so tomatoes and filled them with grass-fed beef, and then we made a vegetarian version with Parmesan and quinoa, which was awesome. We had that with wild-rice salad and asparagus, which had a Dijon vinaigrette and eggs on it.
I didn't have dinner on Friday because it was such a big lunch, but we had Stinger cocktails. They're made of white crème de menthe and cognac. You only have one of them because they're crazy, but so delicious.
Saturday, May 17
I love onions so much. I melt them in butter and get them really, really soft, but not brown. And then I take them out of the pan and make a super-soft, barely cooked French omelette, and put those onions in the belly of it. It's the best omelette ever.
I was at home all day on Saturday. My family had a lot of pulled pork left over, so all weekend that was the snack and dinner. We made tacos with pork, cilantro sauce, roasted cherry tomatoes, and corn tortillas.
Sunday, May 18
I made Bouchon Bakery's English muffins, which were delicious, and I ate those for breakfast with marmalade.
And then, for the rest of the day, I had more pork tacos whenever I was hungry. We're selling our house, so we were in lock-down mode working on that. I do a lot of cooking at home. I don't particularly know how I balance any of it: work, cooking, children, all that stuff. It's like juggling or like surfing and sneezing. You gotta just do it. And make big portions so you have leftovers. I freeze a lot of stuff.
Monday, May 19
I had a Kind Bar on the airplane to New York. When I landed, I went to Gotham West Market because we had to prepare for my book-release party on the roof. We had some snacks: pig's head terrine, these amazing pork and kimchee rilettes, and deviled eggs. We had this great big carafe of rosé and some beers. It was really fun.
For dinner, I went to Rôtisserie Georgette. I got the rotisserie chicken with the foie gras, which was very nice. And, of course, rotisserie potatoes. When I've been at the farmers' markets in France, they have the rotisserie going, and fat dripping all over the potatoes, and I make a version of that at home a lot. So for me, it was all about the chicken fat and the potatoes. And then also we had the creamed spinach and this wonderful bright Greek wine. I could've drank two bottles of it.
Tuesday, May 20
I ate leftover potatoes in the really deep, old bathtub at the Hudson Hotel. I thought, This is the height of luxury.
Then, I went to La Colombe for coffee and meetings. And for lunch, I went to Lee Schrager's house. He had a new book come out yesterday, too, and he served recipes from it. There was this unbelievable fried chicken buffet. My favorite might have been Michelle Bernstein's Greek salad with watermelon, or the buttermilk curry chicken. Holy shit. And I made a sundae called "The Too Much," with our Milkiest Chocolate in the World ice cream, salty-caramel sauce, and Spanish peanuts.
I ate some of the sundae, and then more ice cream at the book party on Gotham West's rooftop! I made sorbet cocktails: the "Salty Bitch" with grapefruit sorbet, Dorothy Parker from NY Distilling gin, and a salted rim; and the "Rouge Your Knees," made with raspberry sorbet and Middlewest Spirits vodka. There was also Brooklyn Brewery beer, ice cream bars with smoked almonds, and Jennifer Juniper Sundaes — juniper ice cream with lemon curd, blackberries, and whipped cream.
Wednesday, May 21
I was at Roberta's in the morning for Heritage Radio's "Eat Your Words" show. I ate two different pizzas and a romaine salad. Then, of course, we went over to Dough and had doughnuts. Fany Gerson is a friend of mine and a kindred spirit. She has this one doughnut that's stuffed with passion-fruit curd, but she doesn't have it all the time. She made it for me because I told her I was coming in, and I had a bunch of other ones, too. And now I have two boxes of doughnuts, which will come on the plane.
I want to try Andrew Carmellini's new place, Bar Primi, if I don't fall over dead first. It's quite possible because I'm exhausted and I'm teaching a sundae-making class tonight. But then, hopefully, I can hightail it over and get some pasta.