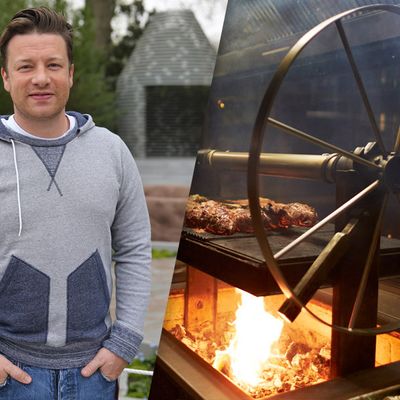 Nasty business.
Photo: Chris Jackson/Getty Images; Courtesy of Barbecoa
It's been a rough year at Barbecoa, Jamie Oliver's 4-year-old barbecue restaurant near St. Paul's Cathedral in London. First, the "cathedral to fire" literally caught fire in September, and in January, the Times has learned, health inspectors found plenty of violations inside its adjoining butcher shop, including filthy slicers, dirty packing equipment, a "heavy presence" of rodent droppings, warped floors, contaminated surfaces in food-prep areas, and inadequate plumbing, as well as meat that was mislabeled, moldy, and generally "unfit for human consumption."
The full inspection report, which was obtained by the Times through a Freedom of Information request, meant the butcher shop was slapped with an A grade. In the U.K., sanitation grades run from A-E; A is the worst. The Telegraph reports that just 19 out of 1,659 city establishments had the "hazardous" stamp on their official records. Worst of all, violations seemed to extend beyond sanitation issues: In one instance, inspectors observed workers de-boning and re-packing chicken breasts into new ones bearing extended, spurious expiration dates.
The celebrity chef's staff was able to mobilize and reopen the butcher shop within 24 hours after their voluntary shut-down, however, and Jamie Oliver's PR team was deployed to set the record straight. Without mentioning the mouse droppings or the repackaging issues, reps said such issues are rare and treated with the "utmost severity." And that mold inspectors found growing on the carcasses? Don't be silly! "The longer the meat dry-ages, the more the mould occurs," said Oliver's reps. "This is a natural process and is safe to eat."

Jamie Oliver's butcher's forced to close after hygiene inspection [Telegraph]
Related: Jamie Oliver's 'Cathedral to Fire' Restaurant Actually Caught Fire